Whenever a classic car — especially a rare or significant model — turns up in some guy's barn or similarly quaint setting, we have to wonder how the heck it got there. Who stole and stashed or just plain ol' forgot about this piece of automotive history?
Take the recent discovery of a 1967 Mustang GT500 prototype (nicknamed "Little Red"). How did this Shelby find its way into the middle of a Texas field, sans engine, transmission, and other important bits? That's what its new owner is trying to find out via crowd-sourced information.
Here's what we do know about Little Red. The second-ever serialized GT00 (the first was a fastback and the third was a convertible) disappeared in the late '60s after being used as a testbed for Ford performance parts. After being pulled from the automaker's test car rotation, the prototype was supposedly sent to the crusher (like many other pre-production models). In reality, it was sold as a used car, passed between a few owners, and then parked in a Texas field. When it was discovered, Little Red had long since lost its big-block V8, three-speed automatic transmission, and front-end components.
To find the historic muscle car, Craig Jackson (CEO of the Barrett-Jackson auctions) and Jason Billups (car restorer) tracked down the original Ford VIN and its most recent owner. To this point, car collectors had only searched for Little Red based on its Shelby serial number. With some help from Mustang expert Kevin Marti, the prototype was finally located and purchased by Jackson.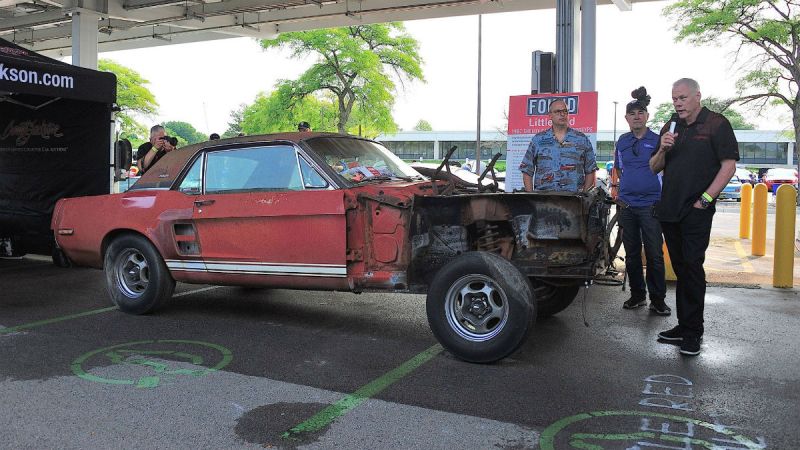 This particular Shelby Mustang is noteworthy for several reasons, including its factory-equipped dual-quad carburetors (the only of its kind), 428 cubic-inch V8 (the first Mustang coupe to get this powertrain), and its notchback coupe design (all production GT500 models wore fastback bodies).
Jackson is reportedly giving the experimental Shelby a full restoration, which should be completed around the time Ford debuts its all-new GT500 (sometime next year). The question is really how Jackson will restore the car, considering all the various parts it used during its time as a test vehicle. Whichever direction he takes, Little Red will remain an ultra-rare member of the muscle car community.
Editors' Recommendations