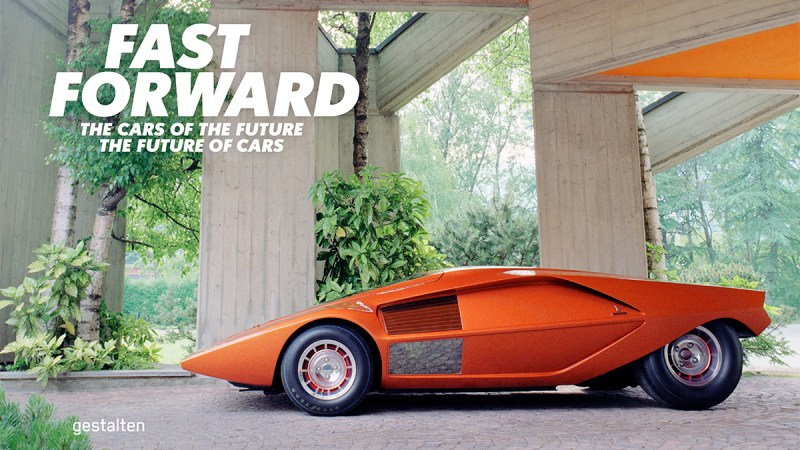 Buy the book, take the ride.
Concept cars exist in a different stratosphere from the boxes on wheels we drive from home to work and back again. These are the cars developed as though they were rocket ships or great works of art. They transcend their basic functions.
The new book, Fast Forward, by Gestalten is a timeline chronicle of these advanced whips, tracing the most iconic and mind-bending auto designs and designers from the 1930s to present day.
Both motorheads and men who simply enjoy a fine-looking car will equally enjoy Gestalten's 304 full-color pages loaded with expansive images that make us weak at the knees and trace the stories that brought these sleek rides into existence.
We were drawn to the hardcover by its vivid shots of the gorgeous Renault Trezor, prime Oldsmobile Golden Rocket, and red-headed bombshell Ferrari J50 (hello butterfly doors), and stayed for the exclusive interviews with Head of BMW Design Adrian van Hooydonk, Chief Design Officer of Daimler AG Gorden Wagener, and Ferrari's Head of Design Flavio Manzoni… to name a few.
Fast Forward also does a tremendous job at showcasing just how futuristic and revolutionary each design was for its time. And still today many of the now-vintage concept cars look like they would fit better in outer space than the Interstate.
Photo of Firebird III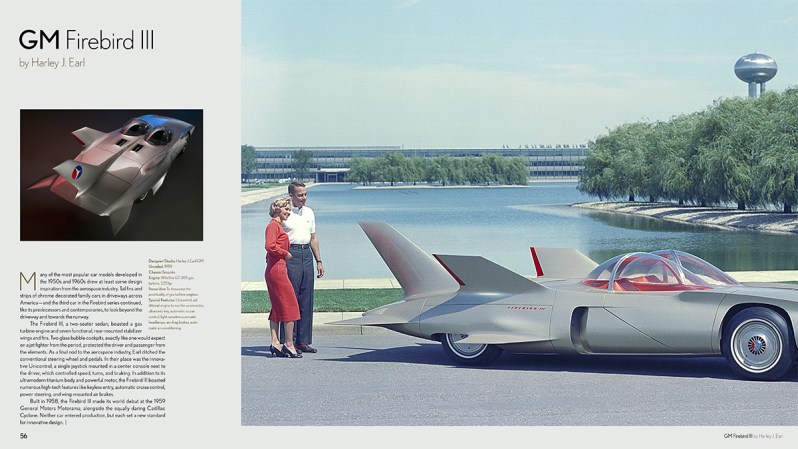 For instance, the American post-war era GM Firebird III, which looks like a blood-hungry steel shark, was built with sharp, rear-mounted wings and fins, plus two glass bubble cockpits as you might see on a jet fighter from the 50s. In fact, many of the design elements for this ride were inspired from the aerospace industry, not excluding the steering wheel; a "Unicontrol" single joystick mounted to a center console on the driver's side. My 2006 Volvo doesn't even have that. Firebird III also boasted keyless entry, automatic cruise control, and power steering. And just remember, this was 1959. The same year The Twilight Zone premiered.
Photo of Renault Trezor
Advancing forward to 2016, we get a look inside the cockpit of the Renault Trezor— a car whose entire top from grille to windows to rear lifts off like a robotic shell. Meanwhile the wrap-around windshield is tinted rosy red, the dash panel is touch-screen, oh, and she accelerates from 0 to 62mph in four seconds. More important for everyday drivers is that this wicked concept car prompted Renault to redesign their consumer offerings, infusing classic race car elements into cars for me and you.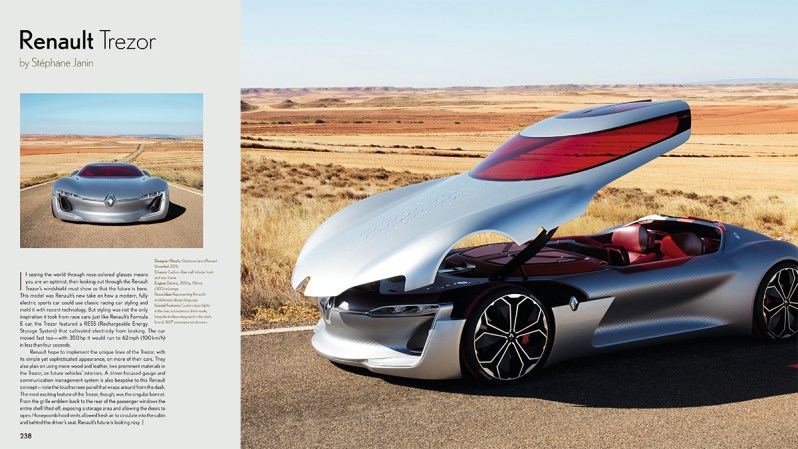 Alongside the post-war Firebird III and Renault Trezor is a slew of equally as mind-blowing rides, like United Nude Lo Res Car designed by Dutch footwear geniuses and shaped like a wheel-less geometric prism, the world's first automotive T-Top Gordon Buehrig Tasco 48, and, of course, a couple Lamborghinis.
For newbie petroheads beginning to dip your toes into the world of high-concept (high-price) and high-feature automobiles, consider Fast Forward your starting line. Meanwhile long-time car veterans can learn about the new modern machines that are changing the shape, look, and feeling of what we imaging a car to be.
Buckle up for the ride.
Editors' Recommendations