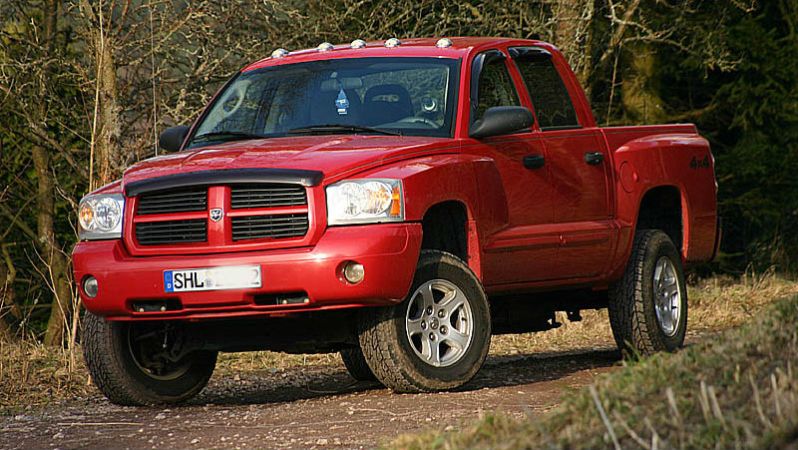 Not since 2011 has Dodge/Ram sold a midsize pickup truck. Built to compete directly with the Ford Ranger, the Dakota was introduced in 1986 as kid brother to the Ram 50.
The '90s saw an uptick of consumer interest in these "lifestyle" trucks — pickups that felt more at home on suburban streets than construction sites. Toyota had sold a small pickup in North America for a few years but introduced the Tacoma to properly challenge Ford and Ram in 1995. Nissan entered its Frontier pickup in 1997. In the late 80s and early 90s, GM sold the S-10 and S-15 trucks, but it was the Colorado and Canyon in 2003 that put the midsize fight to Ram et all.
n terms of midsize trucks GM/GMC/Chevrolet had the S-10 and S-15. Those trucks had some solid 4×4 capabilities. However, definitely not at the level of a number of other pickups like the Ranger. The trucks were being sold in the late 80s and through the 90s.
As the 2000s wore on, truck buyer appetites changed. Though the Toyota Tacoma continued to sell well, American manufacturers saw many customers graduate to larger models like the Ford F-150, Chevrolet Silverado, and Ram 1500. Chevy chose to dig its heels in with its relatively new model, but Ford and Ram eventually pulled out of the midsize market.
But the pendulum keeps swinging, and small(er) trucks are once again in fashion. Chevy and its sister brand, GMC, have seen tremendous growth in their Colorado and Canyon sales. Toyota's Tacoma, while changing little between generations, continues to top the charts. Ford debuted a reborn Ranger at this year's Detroit Motor Show that will go on sale next year. Volkswagen is even toying with the idea of bringing a little pickup to the U.S. Now it's Ram's turn.
Fiat Chrysler Automobiles' CEO Sergio Marchionne confirmed at the company's five-year planning meeting that a new midsize pickup will enter production in 2021. The name of this new vehicle is to be determined, but we can guess it will either be called the Ram Dakota or the Ram 1200 (a nameplate Ram uses to sell a Mitsubishi-bodied truck in global markets).
According to a new report from Automotive News, the smaller Ram will be built at the same Toledo plant as the current JL Wrangler and upcoming Wrangler pickup. Other details are thin, but we anticipate it will be powered by a choice of turbocharged four-cylinder or V6 powertrains. There's also a good chance Ram will offer a turbodiesel variant.
Article originally published June 6, 2018. Last updated September 18, 2018, with news regarding the RAM midsize pickup's platform and production.
Editors' Recommendations