High in the Austrian Alps on a frozen racetrack near our hotel, the outside air hovered around a frigid -5 degrees Celsius. I asked my instructor, "Now, how do we turn traction completely off?" with a mischievous smile. "Twist the central knob to Sport, then press the traction button to the right of the knob," he replies. My index finger depresses the button and the traction control light flashes on the Bentayga V8's dash. This isn't what civilized people do in their Bentleys. But 1) this isn't my Bentley, and 2) I'm not what you'd call "civilized." In a world of aristocrats and royal families, I'm the butler who's snuck into the liquor cabinet and ran off with the maid.
There was a time when Bentleys were stoic slabs of English metal and wood, tipping the scales at nearly the size of a full-grown African elephant, hand-built for nobility that prized the feeling they got whilst they peered down on the proletariat from their ivory and marble towers through their crystal monocles. They slowly moved through towns and cities like icebergs moving through a calm sea. Modern Bentleys, however, are more egalitarian in their use. They're still monumentally expensive to the general public, but these aren't cars just to look fancy AF any longer.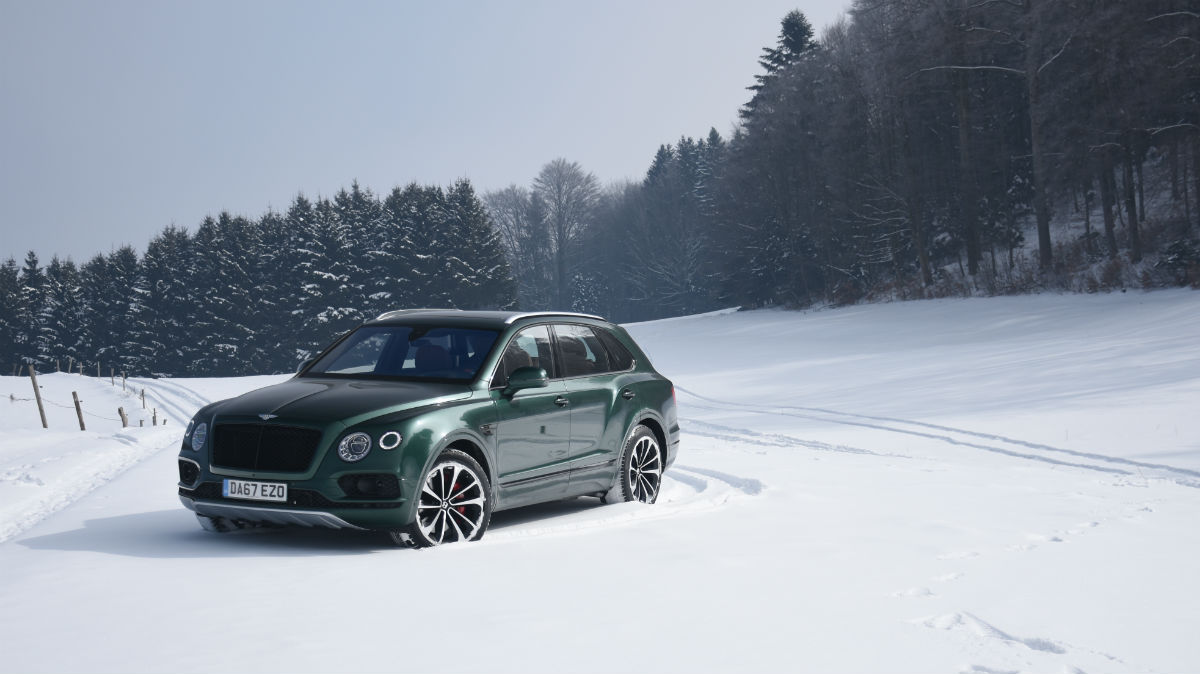 Jonathon Klein/The Manual
That's not to say, if you're lucky enough to own one, you won't still look like a boss rolling through downtown Manhattan or Rodeo Drive. But speed, power, comfort, and a sense of hooliganism have been brought into the company's mantra. This blending of old and new identities doesn't always work, but has been perfectly distilled into the 2019 Bentayga V8. While it is the least expensive Bentley in the company's lineup, its comparatively low price point doesn't concede anything to its siblings. In fact, it may be the most fun Bentley ever.
Before our date on the ice and snow in Austria, we were given the low-down, dirty details of Bentley's new V8 engine. Displacement is 4.0-liters and makes use of two twin-scroll turbochargers set in the "V" of the engine for a "hot-V" configuration. This setup reduces turbo-lag and keeps the turbos nice and happy, which in turn gives your right foot access to 542 horsepower and 568 lb-ft of torque. That immense oomph is then sent through an all-wheel drive system, giving the Bentayga the extraordinary ability of hitting 60 mph in 4.4 seconds and a top speed of 180 mph. Those metrics, however, weren't to be tested that day.
Ice is unforgiving, especially in something that still weighs nearly three tons. Quick hands and even quicker throttle adjustments are an absolute necessity. I had the hands, the Bentley had the throttle, and both made for a hellaciously fun combination. The ice track itself was short and featured one small straight where you could dig into the Bentayga's stupendous torque, a series of tight hairpins, and a set of left-right Ss meant to connect each corner together in wide, slow drifts. Bravery wasn't needed as speeds were low. Skill was, and many weren't as accustomed to the differing textures and grip of the track's snow and ice surface as others. Thankfully, my Midwest driving history resurfaced quickly.
Sashay left, sashay right, foot to the floor, and a lovely rooster tail of ice and snow was sent skyward. The torque in this behemoth is gob-smacking even on this slick track. I could feel the Bentayga dig into the snow and attempt to propel itself forward with urgency. And while the Bentayga wasn't built with the intention of its drivers rallying through Sweden or Norway, it's hugely adept in just that. While no one would likely take this advice, if properly setup with a cage, comms, and fire-suppression, the Bentayga V8 could probably hand WRC-spec racecars their lunch on any special stage. It's rally proficiency aside, it's likely the most comfortable off-roader you could ever ask for.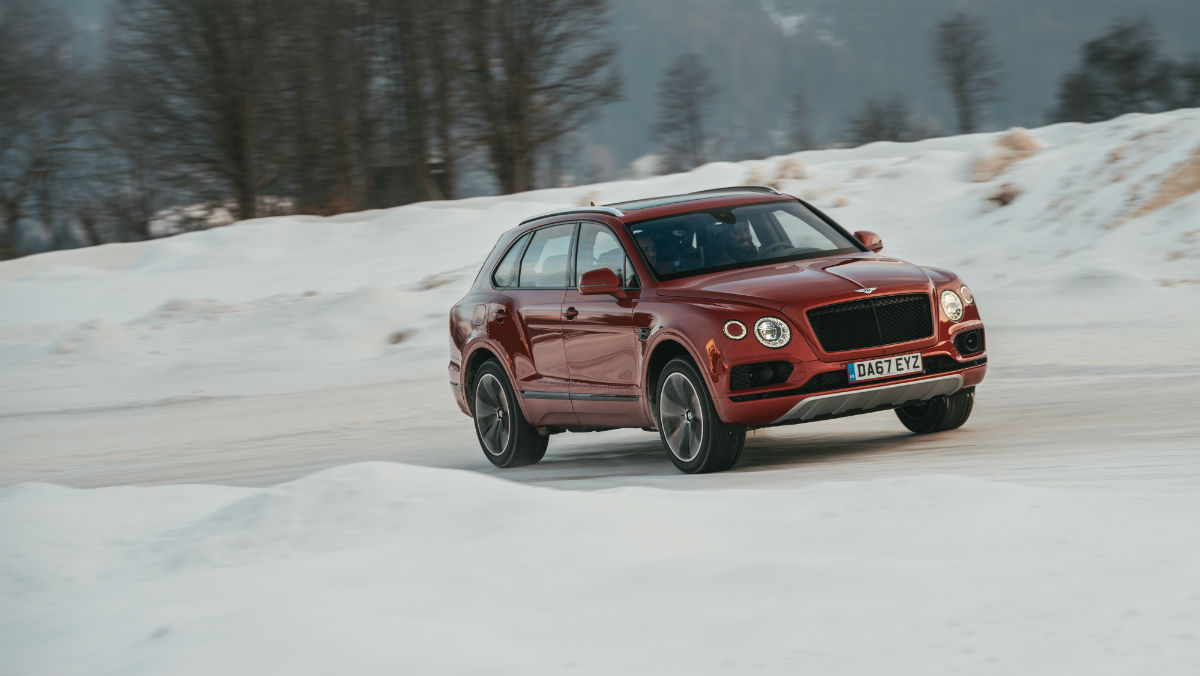 Richard Pardon
While the ice track was meant to test the Bentayga's traction control systems and torque management, it was less than ideal to find out whether or not the SUV's luxury prowess could be compromised on anything but a smooth surface. And because my date with the ice track was over, I swapped into a more loaded Ardent Green specimen and sped off into the Austrian countryside to look for more rural and tortuous highway offshoots. Within a few miles, I found a snowy field with bumps, ruts, and enough elevation change to truly test the Bentayga V8 luxury promise.
But before I get into our playtime in an Austrian field, here's one thing you should know: the Bentayga's suspension is made of magic. When I first tested the W-12 Bentayga a few years ago, the electronically controlled sway-bars and suspension blew me away. Bentley had deleted the dreaded body roll that plagues heavy SUVs. And I'm not talking about reducing it by a few percentage points. No. There's zero. Zilch. Nada. Nothing in the way of roll. Mazda's little sports car MX-5 Miata has more body roll than the Bentayga. Yet, at the same time, over rough terrain, it's as smooth as softened butter. The Bentayga V8 is no different, yet the car feels livelier and even more planted after its W-12 diet.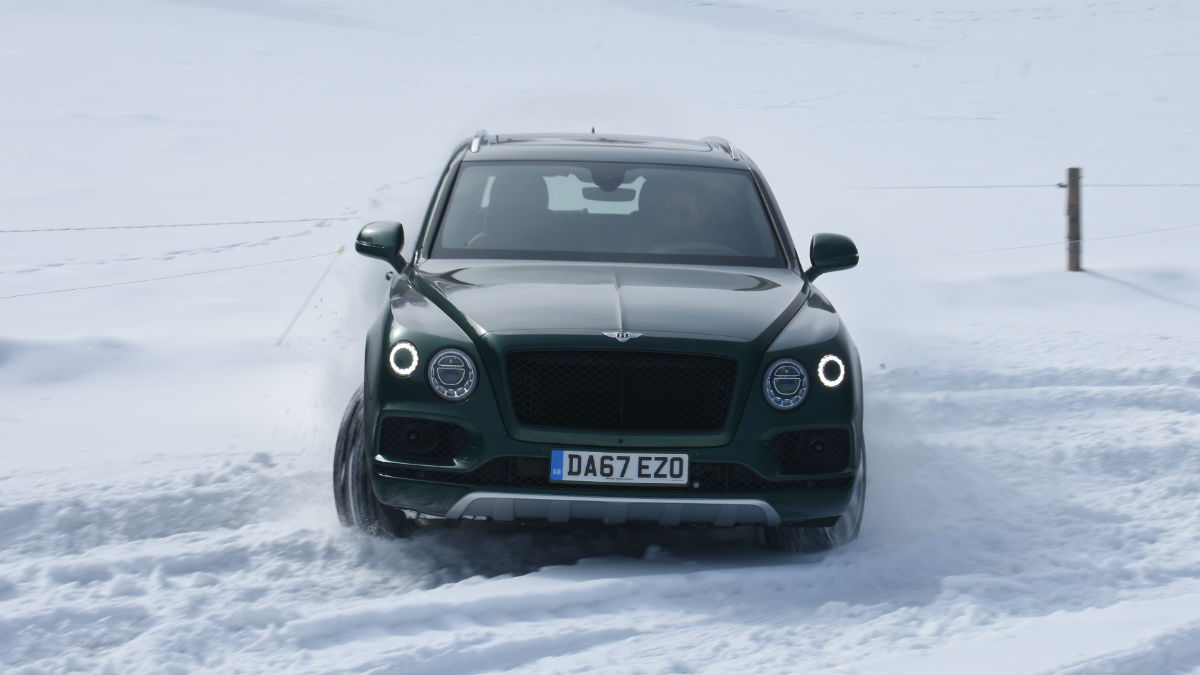 With no one in sight and nothing to hit for hundreds of yards, I made that Bentley dance through the field. Its tires hurled snow into the air, all while I sat cloistered in the sumptuous leather bucket seats, jamming out to Run the Jewels blasting through the SUV's 1,950-watt Naim audio system.
To get a better sense of the V8's character, I dropped the windows and continued my frivolity, listening to a very AMG-like soundtrack from the Bentayga's exhaust. Unlike thee German Mercedes-AMG, however, the engine has an almost Japanese tuner-like turbo pressure blow-off valve. It squealed and hissed like a coked-out squirrel every time I lifted off the throttle. This isn't a complaint — it's glorious, and Bentley's more modern clientele will love it just as they'll love the Bentagya V8 as a whole.
But with the sun setting over the Austrian Alps — a truly breath-taking sight to behold — I pulled back into the hotel and turned off the ignition sitting in the secluded quiet provided by the expert noise-insulation. And as I sat there, touching the soft leather, slick metal fixtures, gazing at the gorgeous analog gauges and central clock, I only had one thought enter my brain about the $165,000 Bentayga V8. "Bentley is going to sell every Bentayga V8 it can build. It's a riot. But I wonder what it's like in the desert?"
Editors' Recommendations