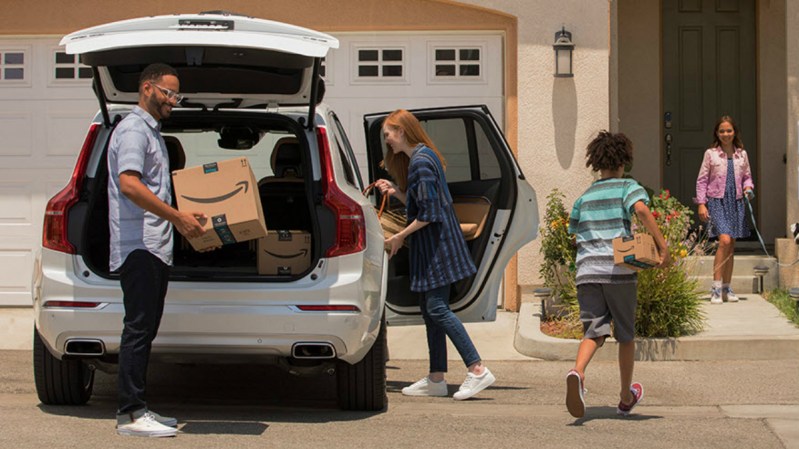 There's no doubt about it: Amazon is the cleverest e-commerce business when it comes to finding frictionless ways to consume products.
Over the years, Amazon has developed innovative procedures for buying and receiving goods, including one-click buying, dash-button re-orders, storage lockers, personalized door locks, and — some day soon — drone deliveries. There's even a vice president of delivery technology at Amazon (his name's Peter Larson). I wonder if and which universities offer that major.
Amazon never seems to tire of greasing the buyer funnel, which is part of the reason why Jeff Bezos, Amazon's CEO, is the world's richest man. Remove the obstacles and watch the cash pile in. The latest innovation in product delivery intersects with the automotive world, thanks to a partnership with Volvo and General Motors.
A new service called in-car delivery allows Amazon customers to register their Volvo or GM (Chevrolet, Buick, GMC, and Cadillac) vehicle through Volvo On Call or GM OnStar, respectively, and choose "In-Car" delivery at checkout. Same-day, one-day, or two-day shipping is available.
How does it work? You need the Amazon Key device and corresponding app. To drop off the package, the delivery person can electronically unlock the car using the Amazon Key, hand off the goods, then lock the car. Buyers get a notification via the app when their package is set to arrive and after it has been placed in the car. Here are some reviews from first customers:
It isn't a flawless system, however. The service is only offered in 37 U.S. metropolitan areas and delivery must occur at a preregistered address, meaning you can't buy something while running errands and have Amazon track you down. Additionally, Amazon Key is only compatible with car models that are 2015 or newer. That being said, Amazon plans on adding more manufacturers and cities to the program in the future,
"Simplifying the customer experience is central to Volvo's digital vision," said Atif Rafiq, chief digital officer at Volvo Cars. "Receiving a package securely and reliably in your car, without you having to be there, is something we think many people will appreciate."
Volvo has offered in-car delivery to its customers in Switzerland and Norway since 2015, but this is the first time any vehicle manufacturer has tried the process here in the U.S. Time will tell how comfortable Americans feel with letting a stranger access his or her vehicle, but the take right might be higher than anticipated.
Editors' Recommendations