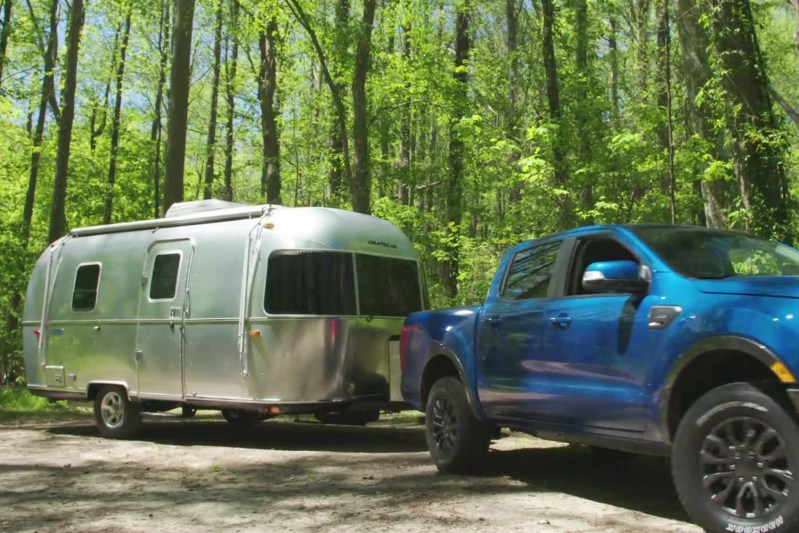 From the outside, Airstream's drool-worthy travel trailers appear to have changed little since the company launched almost 90 years ago. However, the iconic RV brand has steadily evolved everything under all that aluminum for decades. Now, it wants to revolutionize the potential of its trailers with a world-first electric-assist drivetrain.
Airstream has long been known for its showstopping, retro-cool aluminum towables. However, among in-the-know campers, Airstream trailers are also known for being heavier and more challenging to tow than comparable fiberglass alternatives. The company recognizes this and is looking hard at innovative ways to streamline its products, to make them lighter, more aerodynamic, and more fuel-efficient.
Fuel consumption and overall range are critical factors when towing a trailer long distances. It's, of course, impossible to overcome the laws of physics. Attaching a big, heavy trailer to the back of any tow vehicle is going to limit — and, in some cases, downright kill — that vehicle's range. McKay Featherstone, Airstream's Vice President of Product Development and Engineering, told CNET's Roadshow that the company is looking at ways to integrate an electric drivetrain into its campers. "If the wheels of the trailer are powered, we can help the towing experience."
The concept of an electric-drive travel trailer might sound far-fetched. However, Airstream has been at the forefront of tech-forward innovation in the industry. The company's Smart RV Control app is among the most advanced of its kind, allowing owners to monitor and control just about every aspect of their campers via a smartphone app. Several auto manufacturers also recently unveiled ingenious tow-friendly technology. GMC's Transparent Trailer uses a series of interconnected, rear-mounted video cameras to allow the driver to "see through" whatever they're towing. Ford's Pro Trailer Back-Up Assist makes parking a long travel trailer as easy as pushing a few buttons and guiding it into place.
Airstream is at least a few years off from mass-producing an electric-assist trailer. There's a large number of technological hurdles to overcome before the concept goes mainstream. Most importantly, the tow vehicle and trailer would need a way to actively communicate with one another to avoid collisions. The current seven-way plug used to power a trailer's turn signals and brake lights isn't "smart" enough for the task. Featherstone confirms that, right now, "there's no standard defined for digital communication between a trailer and a tow vehicle … There are ways to make the towing experience much, much better."
For roadtrippers who can't wait for these next-gen RVs, check out two of Airstream's most popular and affordable travel trailers available right now.
Editors' Recommendations