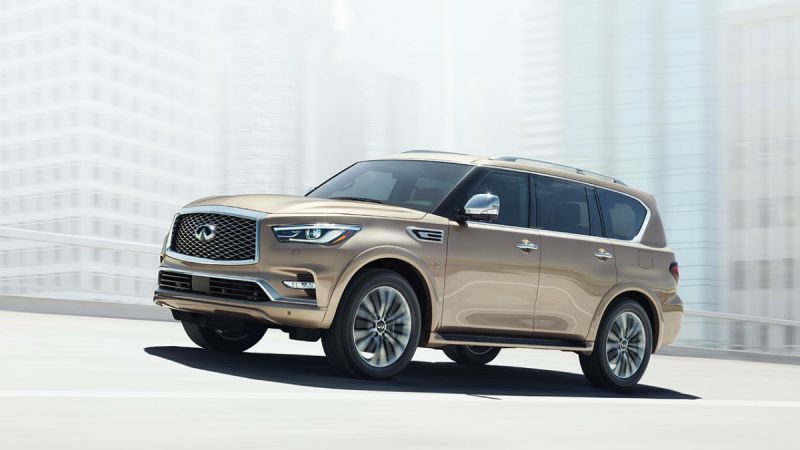 The ludicrous, 755-horsepower Corvette ZR1 wasn't the only vehicle to be revealed at this year's Dubai Motor Show. Infiniti chose the Middle Eastern oasis for the introduction of its refreshed QX80 luxury SUV.
Positioned as a more affordable challenger to Cadillac's Escalade, Land Rover's Range Rover, Lexus' LX, and Toyota's Land Cruiser, the Infiniti QX80 has been one of the Japanese luxury manufacturer's most important models. Now that the premium SUV market is among the fastest growing automotive segments, Infiniti is ready to give the QX80 a facelift.
The current generation QX80, which has been on sale since 2010, is a rugged yet comfortable oaf, but its bulbous exterior is hard to excuse. Thankfully, its biggest blemishes have been attended to for 2018. Inspired by the QX80 Monograph Concept that debuted at this year's New York Auto Show, the new QX80 sports Infiniti's trademark "double-arch" grille; thinner, piercing headlights; higher fenders; updated taillights; and a re-sculpted lower front fascia.
Other improvements to the QX80 are less dramatic. The restyled front end delivers more air to the engine, there are some new interior colors and materials, the interior gains more sound deadening, the suspension has been retuned, and there's a new streaming rearview mirror. Apart from these tweaks, the 2018 model uses the same 5.6-liter V8 engine good for 400 hp and 413 pound-feet of torque, a seven-speed automatic transmission, and either a rear-wheel drive or optional four-wheel drive setup. Hammer the throttle and the QX80 will hit 60 mph in 7.5 seconds and top out at 130 mph.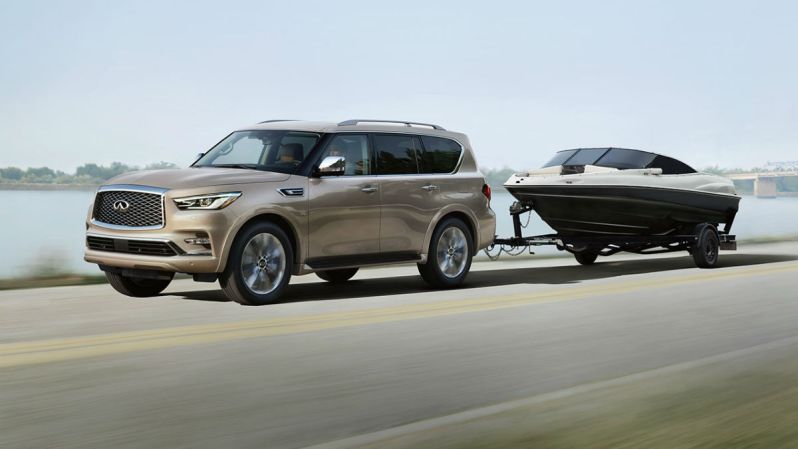 Thanks to the QX80's body-on-frame underpinnings, it is able to tow up to 8,500 pounds, making it among the most capable SUVs in its class. V8s are fun, and four-wheel drive platforms are rugged, but these elements make the QX80 inefficient to the tune of 16 mpg combined (rear-wheel drive).
Safety features include adaptive cruise control, lane departure warning, forward collision warning, blind spot monitoring, forward autonomous emergency braking, and backup collision intervention.
Prices for the 2018 Infiniti QX80 starts at $65,745 with rear-wheel drive, and $68,845 with four-wheel drive.
Images courtesy of Infiniti.