Infiniti revealed the QX80 Monograph at the 2017 New York Auto Show, but thanks to some big reveals like the Dodge Demon and Lincoln Navigator, the Japanese automaker's design study was largely overlooked.

It wasn't just the show's other highlights that caused the media overlook the Concept; the vehicle looks remarkably similar to the QX80 presently on sale. That's at least what we thought at first glance. A closer look, however, reveals unique details that signal the brand's future styling. Also, because the vehicle's shape is so close to production, we expect the next QX80 to look just like this.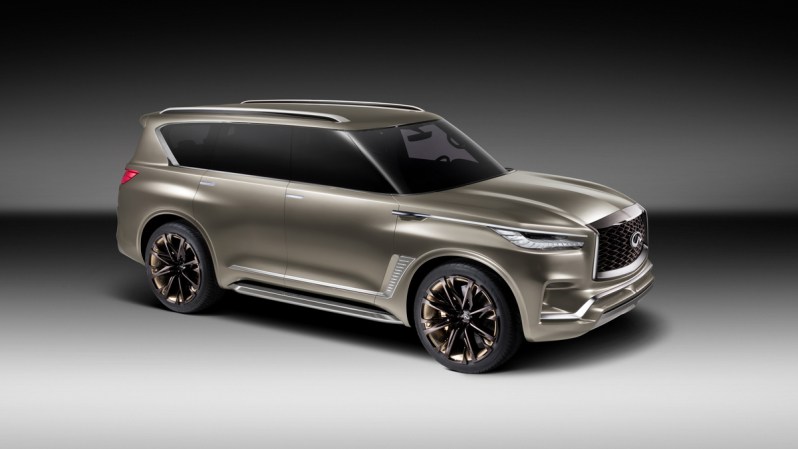 The concept comes from Infiniti's Atsugi, Japan design studio, and Infiniti calls it the "ultimate expression of futuristic luxury SUV design." Said another way, Infiniti has endowed the Monograph with its latest design cues with an eye towards a full-size SUV. This is first time Infiniti has used the term "Monograph" for a concept model, and the premium brand says it chose the word to describe the concept's singular focus on exterior design.
"We sculpted our body pure, straight, and horizontal, the muscularity both brute and sensual; part Rodin's Thinker, part Michelangelo," said Alfonso Albaisa, Senior Vice President of Global Design. Notably design traits include a satin copper exterior, double-arch meshed grille, and Infiniti's "human eye" headlights. Infiniti says the mix of geometric and organic shapes blends power with grace.
To be honest, we aren't fans of the current generation QX80. The bulbous mass of metal could hardly be called beautiful – especially compared to Cadillac's stylish new Escalade. However, the Monograph Concept is a big step in the right direction. Narrower headlights set higher on the front fascia and a more squared-off nose do wonders to sharpen the SUV's exterior.
Other design details like the artful LED taillights with integrated turn signals, brushed metal rear diffuser, and blacked out pillars point to a more beautiful QX80 to come.
"Earlier Infiniti show cars have started conversations with our customers, which gives us the chance to talk about the brand's future direction," commented Albaisa. "We have listened to our customers to discover their expectations for a large SUV from Infiniti in 2017 and beyond."
It may not have rocked headlines in New York, but if the QX80 Monograph's artistic design traits find their way into the company's next full-size SUV, it's worth some positive ink.