Just when you think Chevrolet has reached a performance ceiling with its C7 Corvette, a hotter version hits the market.
In Dubai, the home of outrageous supercars (and other displays of wealth), Chevrolet took the wraps off its all-new Corvette ZR1 — the most powerful production vehicle ever built by General Motors.
In 1969, Chevy introduced the ZR1 nameplate to top its Corvette range, and while there hasn't been a ZR1 for every generation 'Vette since, the badge has always stood for unparalleled performance. The last ZR1, introduced in 2009, exceeded all output expectations thanks to a mammoth supercharger.
Once again, Chevy has turned to forced induction to raise the performance of its V8 engine for the benefit of an all-new ZR1. There are some engine tweaks — like a switch to pushrods from dual overhead cams, larger throttle bodies, and a stronger crankshaft — but the biggest change compared to the Z06 comes from a 52-percent higher-flow Eaton supercharger.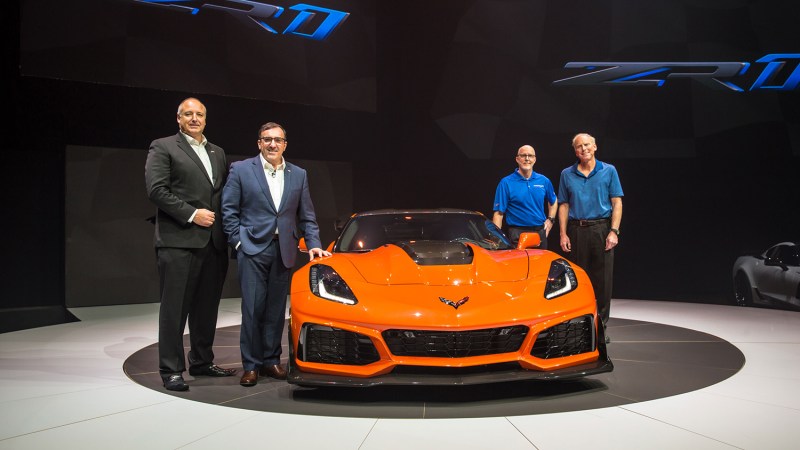 While the Corvette Z06's 650-horsepower is far more power than most drivers can handle, or at the very least use on public roads, that hasn't stopped the U.S. automaker from pushing the envelope. The ZR1 develops an astounding 755 hp and 715 pound-feet of torque. Two transmissions will be available (both pulled from the Z06): a seven-speed manual and an eight-speed automatic. Though we don't have exact specs, Chevy says the ZR1 will do 0 to 60 mph in less than 3.0 seconds and will top out at over 210 mph.
Beyond the bonkers power, the ZR1 packs a retuned suspension, magnetic ride control (adaptive) dampers, half-inch wider front tires, new lightweight alloy wheels, wider rear tires, a new active valve system in the exhaust, and an exposed carbon fiber hood.
Second to the engine, the ZR1's most impressive feature is its aerodynamics. Buyers can choose from one of two manually adjustable rear wings (the bigger of which generates up to 950 lbs of downforce at 210 mph), but every ZR1 gets a redesigned front end with much more air intake volume, a larger front splitter, and re-designed side air channels.
It's all a bit ridiculous and, ultimately, it's just a faster, uglier version of the Z06, but there's something completely badass about a front-engine, rear-wheel drive, manual-equipped, American sports car that makes 755 hp. Oh, and unlike most of the cars in the ZR1's performance territory, prices should start at under $130,000.
Editors' Recommendations