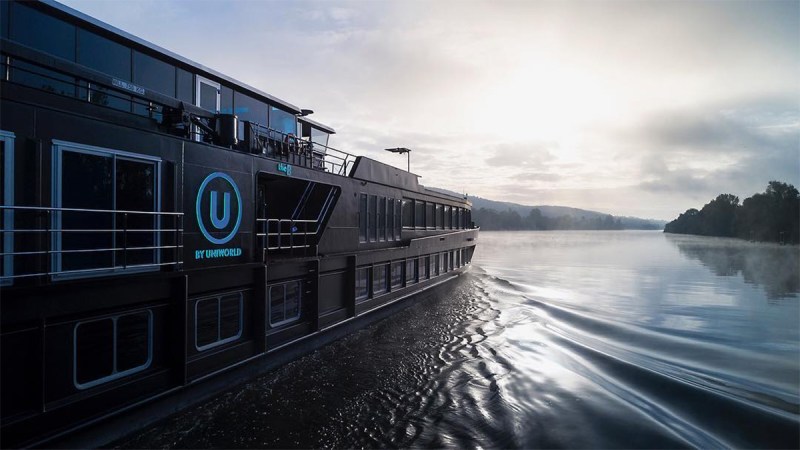 There's a reason all of the ads you see for European river cruises feature people of a certain age. The trips are slow paced, expensive, and offer little to no excitement in terms of adventurous excursions. Not to mention, what the older generation may see as luxurious design, younger folks see as basic. The problem is, the locations are stunning and worth visiting at any age. Enter U by Uniworld, the first European river cruise line designed with millennials in mind.
U by Uniworld features two sleek, matte black ships simply named A and B. To create the unique motif, designer Toni Tollman channeled mother of interior design Dorothy Draper, revamping Draper's innovative style into a eye-catching, trendy playground for millennials. From bold black and white check illuminated by neon lights in the rooftop Ice Bar to stripes and mirrored panels in the corridors, both ships were created to emphasize fun and youthfulness.
Part of the charm of a river cruise is the way a small ship allows you to get to know your fellow shipmates. The same goes for U. Create a piece of art to take home during their paint and wine classes in the lounge, take in the sites while sipping cocktails on the rooftop deck, and enjoy farm-to-table meals at one of the communal tables in the restaurant. If you need time to yourself, you can kick back in your suite. Because of the small size of the ships, there are no interior rooms, allowing each room a window to take in the sites as you sail along. The ship also features a 24-hour coffee bar to fuel up before excursions and a spa to unwind after a day of exploring.
By offering excursions suited to the more adventurous, Uniworld has targeted an untapped market in the 21-45 age group — the people least likely to book a river cruise. Already known for high-end European river cruises, the company was able to use their decades of experience to put together the ultimate cruise packages. The U ships visit 6 countries with 27 ports of call along 4 different rivers. Keeping in mind that younger people tend to want to sleep in, U excursions start later in the day, go into the night, and the ships stay in port overnight, allowing more time to explore each destination. Excursions include biking along rivers, hiking vineyards, exploring castles, rock climbing, and even a night tour of Paris. Travelers can take part in any of the included excursions or get help planning their own itinerary with transfers provided by Uniworld.
Cruises start in April and range from $190 to $275 per day depending on which excursion you choose. When you're done scoping out U by Uniworld, check out these other surprisingly adventurous river cruises (or maybe these U.S.-based ones).
Editors' Recommendations