As we begin making our initial descent, I get my first glimpse of the world's largest island. The largely glacier-covered landmass can only be reached from two locations: Iceland and Denmark. I chose Denmark, and my journey began with a transatlantic flight from the U.S. to Amsterdam included a connection in Copenhagen. After overnighting in the Danish city, I was off for an adventure in the southern fjords of Greenland, where glaciers calve, the land is indeed green, and Vikings once dwelled.
Our plane drops in over a mountain and descends quickly to a remote runway that was once a military base created by the United States leading up to their entry into World War II. The airport at Narsarsuaq is the starting point for our journey.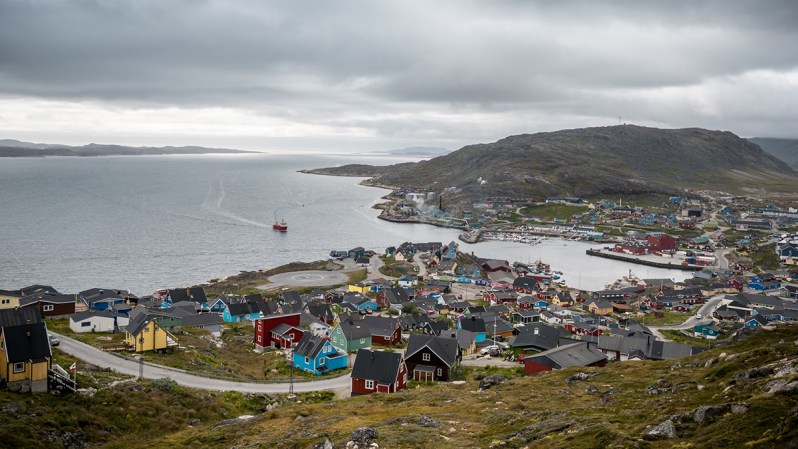 After gathering our baggage, we await for a shift in weather that will allow us the opportunity to cross the Tunulliarfik Fjord via rigid inflatable boats (RIBs) to the opposite side and the community of Qassiarsuk.
Upon arriving in Qassiarsuk, we are greeted by an ominous statue standing vigil looking over the land towards the sea. The statue is that of Leif Eriksson, son of Erik the Red, and marks the importance that the region played in the westward expansion of Vikings.
Our guide greets us as we load our gear into a small SUV and we begin the drive over the mountain to a small family farm near the shore of Sermilik Fjord. We spend the next few days residing in a small, remote hostel built by the outfitter located on the sheep farm in Tasiusaq. Power is supplied by a generator and is only turned on for a few hours a day. Our guide prepares us a meal of musk ox and pasta before we retire for the night.
Over the next two days, we hike the area overlooking the fjord and kayak along its shores. There are a no indigenous trees to this part of Greenland and the vegetation is limited to small ground cover and tiny bushes. Despite its name, the island is predominately covered in ice; only a narrow portion of its coastal area supports vegetation, allowing human existence to flourish in this otherwise barren expanse.
To assess our group's kayaking skills, we spend an afternoon kayaking along the small bay near Tasiusaq. Here, we are floating among ice giants that have broken away from the Eqaloruutsit Glacier. This constant flow of ice keeps the fjord relatively blocked, but our kayaks easily navigate the congested waterway.
The following day, we pack accordingly and set out for an overnight excursion on the fjord. It is raining and, in addition to our base layers, we adorn paddling jackets and pogies (paddling mitts) to protect ourselves from the cold precipitation. In addition to our personal effects that we have packed carefully into waterproof bags, we have also loaded both the front and rear cargo areas of kayaks with group gear including tents, sleeping bags, sleeping pads, cooking gear, and food.
We navigate our way through the iceberg field to a remote rocky beach where we set up camp in the rain before having a hot dinner in the group shelter. The sky is overcast and we retire early after a long day in the cockpit.
After breakfast the following morning, we break camp and reload the kayaks before taking a hike to the top of ridge, where we get our first glimpse of the glacier that has spawned all of the icebergs that we have glided among over the past few days. This glacier is one of many that creates the ice sheet that covers most of Greenland year round. The area around the base of the glacier is littered with ice that will ultimately make their way into the bay that we have kayaked through in previous days.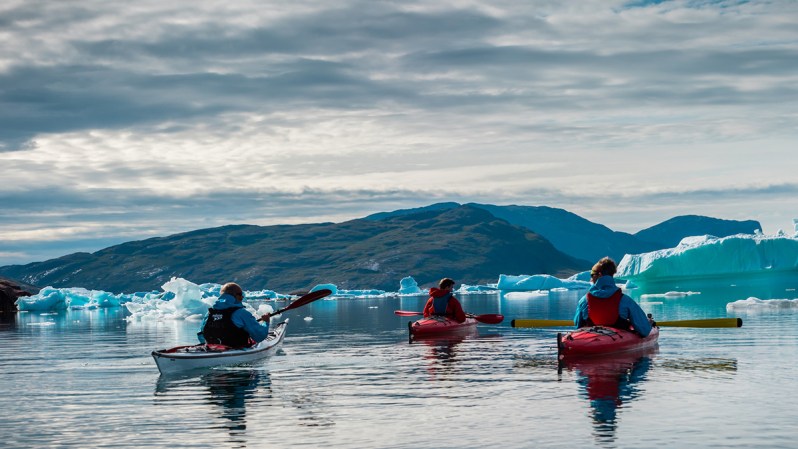 We slowly navigate our way back across the fjord. We gather our gear from the hostel and are transported back to Qassiarsuk where we spend the night at the Leif Ericsson Hostel and experience a "taste of Greenland" tapas-style meal. Our guide only tells us what each course is after we have sample the traditional food, which includes local fish, caribou, seal, and whale.
We awake the next morning to find that a small expedition cruise ship has arrived in the fjord. The passengers aboard the ship are here to visit the former site of Erik the Red's settlement of Brattahlid (present-day Qassiarsuk), which was settled over a thousand years ago. While once the home of indigenous people and Viking settlers, Qassiarsuk is now a sheep farming community that is rich in archaeological history. Among this small community sits the ruins of Viking longhouses, a church, and reconstructed replicas that mimic what once dotted the landscape.
This is just one of many Viking settlements that cover the southern landscape. While there are some overland trails that connect some of the different regions, fjords and open waterways prevent easy navigation. However, if you want to get from one place to another with any expedience, that can only be accomplished via boat. We utilize Blue Ice Explorer, a service that transports us to Qassiarsuk, Narsaq, Qaqortoq, Igaliku, and a few spots in between.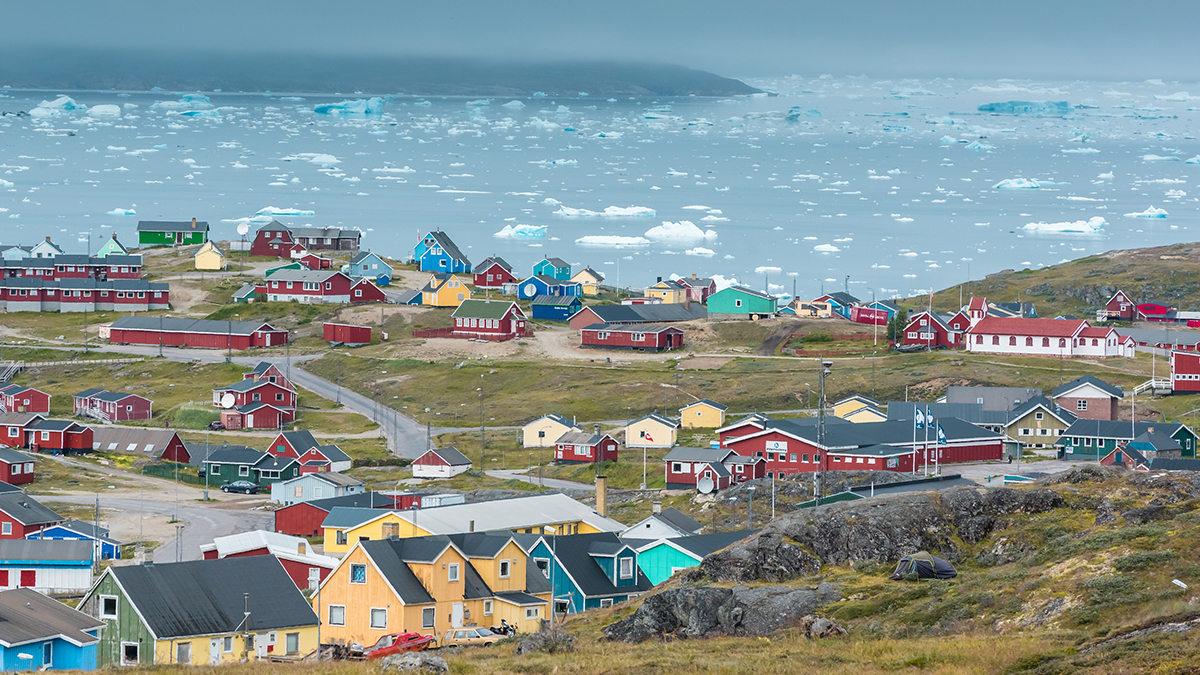 From the ship, we spot other Viking settlements. Aside from the gentle hum of the boat's engine, one could easily be transported back a millennium, as the landscape has changed very little. These views are what some of the early Norse settlers must have experienced when they first navigated these waters. We are allowed to come ashore at Hvalsey (near Qaqortoq), which is home to the best preserved Norse ruins in southern Greenland, specifically Hvalsey Church.
Departing Greenland is about as logistically challenging as getting to the island itself. On our final day, we hiked 90 minutes to the boat dock before taking the boat two hours back down the fjord to Narsarsuaq, where we arrived just over a week ago. Our boat captain navigates the iceberg field and even stops and collects a small chunk of floating ice, chips off pieces of the small iceberg into cups, and pours each of us a martini that is thousands of years in the making. This is our final toast before we return to the airport for our flight back to Denmark.
Having recently utilized one of the many online DNA services to ascertain my genetic origins, I can only speculate that the people who represent my Scandinavian roots perhaps once spent time here in the southern fjords. I leave Greenland with more questions than answers.
Get the Gear
While beautiful, Greenland can be an inhospitable environment. When planning a visit to the world's largest island, one should pay careful attention to gear selection for optimal enjoyment. Here are a few of my favorite choices for a visit to the southern fjord region.
Mammut Meron HS Hooded Jacket – $525
A good jacket is worth its weight in gold when facing extreme conditions. This GORE-TEX-strapped option can handle even the worst weather in high elevations.
Helly Hansen Odin 9 Worlds Jacket – $400
We also like this option from Helly Hansen. The waterproof, windproof material is complemented by a design that allows for comfortable mobility.
Patagonia Micro Puff Hoody – $299
This down alternative piece is the lightest, most packable insulated jacket we have tested. Paired with a base layer and a storm-proof shell, this is the ultimate mid layer.
Garmont Santiago Mid GTX – $190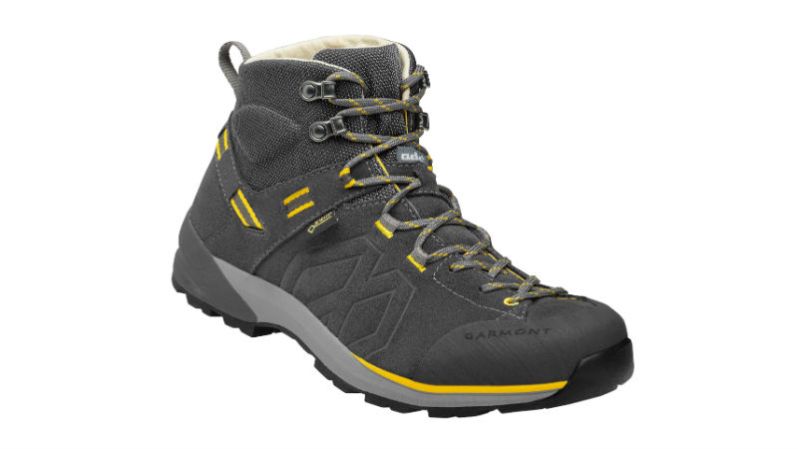 We took these mid-sized hiking shoes with us to Greenland. The lightweight Vibram outsole is great for gripping wet, slippery terrain.
Scarpa Neutron GTX – $170
For a low-cut option, go for the Scarpa Neutron GTX. The best part? It's waterproof.
Goal Zero Venture 70 Recharger – $150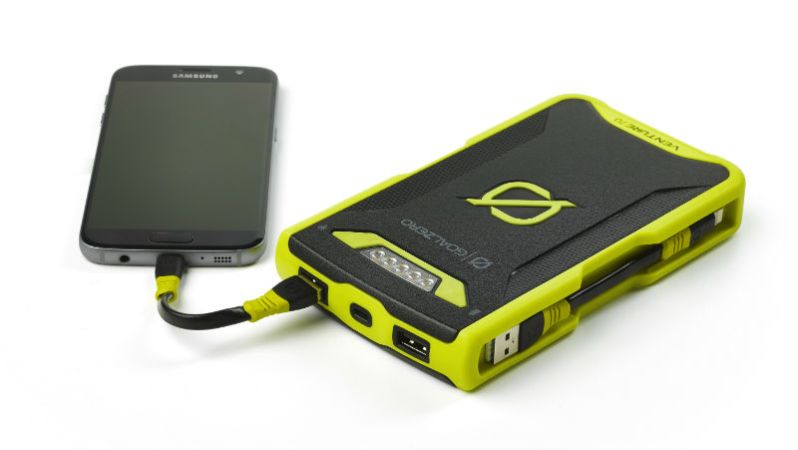 Never miss that shot because you ran out of juice. The Venture 70 is ideal for keeping phones, camera batteries, and other tech powered for when you need them most, which is why it's one of our top eco chargers.
Editors' Recommendations