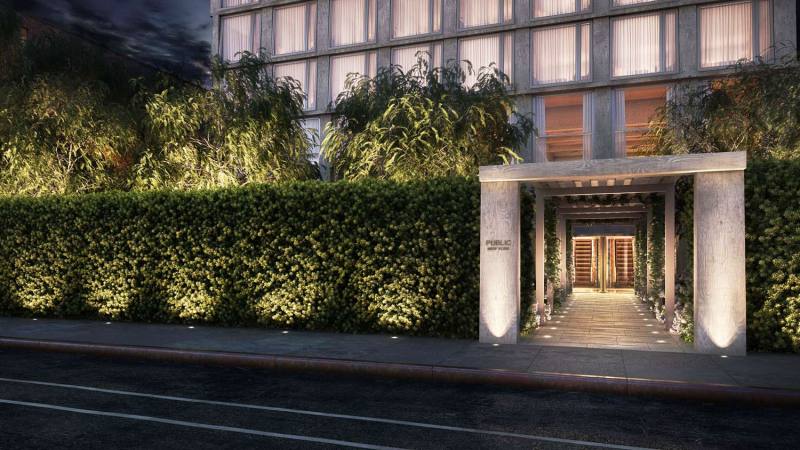 If you've ever had the luck of staying at PUBLIC in Chicago, you'll know very well what the hotel brand stands for: comfortable and cool minimalist stylings at an affordable rate. In addition the space, located on Chicago's Gold Coast, also has The Pump Room, a bustling restaurant and lounge where Frank Sinatra used to hold court in the '50s. Ian Schrager, PUBLIC's founder, clearly knew what he was doing when he created the brand.
"I wanted to create a hotel for my generation, not my parents', and one that reflected my tastes and sensibilities as well as popular culture at the time," said Schrager. "I was responding to cultural shifts that were emerging. I see the exact same opportunity now. That is the reason for PUBLIC."
On June 7, PUBLIC opens its second hotel, located in New York's Lower East Side at 215 Chrystie Street. Schrager's premise for PUBLIC is simple: luxury for all. With an average room rate of $150 a night, PUBLIC fuses together affordability with quality. How many chic hotels in New York by one of the most acclaimed hoteliers can claim that?
"PUBLIC is the People's Hotel," said Schrager. "It's about inclusivity, not exclusivity. And all of the different elements that we are bringing together in one place: great service, great style, great fun, at a great price, in totality create tremendous value," continues Schrager."
PUBLIC even has a set of starchitects behind it; it was designed by the Swiss Pritzker Prize winning architects Herzog & de Meuron. Jean-Georges Vongerichten merged together the ideas of New York and world food for both PUBLIC Kitchen and Louis, a restaurant and grab-and-go marketplace because people staying at hotels should have both options. In addition, the lobby serves as a community space where people can meet and interact. On top of that, a modular area can transition from a gallery to a nightclub to a performance space or screening room. There's also a serene garden area designed by Madison Cox.
"I recognized that there are things people just don't need or want anymore at a hotel…services and amenities that are pointless and no longer matter," said Schrager. " We live in a modern world. The services should reflect our modern way of living. People want a really comfortable bed, but they could care less about sheet thread count. They want great coffee, but delivered fast and hot, not in fine bone china."
So next time you're looking for a luxurious, yet affordable hotel in one of New York's coolest neighborhoods, try out PUBLIC.
For more information, visit publichotels.com.