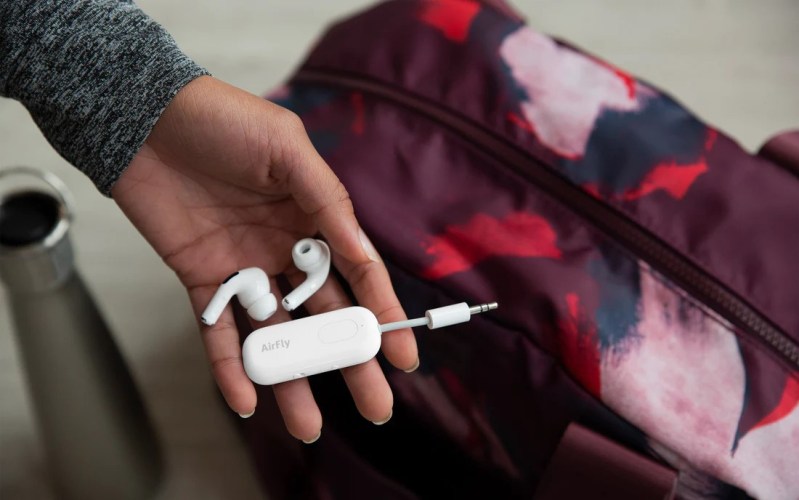 Though we all like to eavesdrop on the conversations around us at the airport, there will be a time you want to shut everyone out and listen to your music or watch your comfort show, especially on the plane. But if you don't like buying new wireless headphones to watch the in-flight movie — or just have your favorite pair you want to keep until they die — then there's a new travel accessory that will level up your wireless headphones. The AirFly wireless adapter from Twelve South is going to be your new best friend whenever you leave the house, wherever you go.
What AirFly is and how it works
Yes, at first, the AirFly seems like just another wireless adapter. But this one does much more than connect your wireless headphones to your device. This one plugs into any headphone jack. It's that simple.
Plug it into any of these devices:
Airplane screen

Laptop/gaming device

Speaker

Treadmill
Whatever you have to plug them into, wherever you are, you'll be able to block everyone else out and do your own thing.
Works with headphones from these manufacturers:
Sony

Bose

Beats

AirPods

Any noise-canceling headphones you already have, anything that works with Bluetooth
You can feel good about being financially responsible since you don't have to buy a pair of headphones made especially for this device.
Find the right version for your needs
Play Goldilocks to find your fit
AirFly SE
TwelveSouth's basic dongle lets you plug into those things like a treadmill or airplane screen.
AirFly Duo
This version lets two people watch the same thing with their wireless listening devices. No more accidentally bumping heads or ripping an earbud out of someone's ear with the Duo.
AirFly Pro
This is a fun option. In addition to letting two people listen to the same thing, plug it into an AUX IN and let your iPhone play your music through your car. Awesome!
If you're not sold yet, there's more
It won't take up any space or put you over the weight limit.
If you get nervous about space when traveling, the AirFly is small enough to pop into your pocket or bag. You won't have to worry about it tipping your luggage over the weight limit at the airport.
The battery won't leave you sweating about sound dropping off in the middle of your streaming session.
The SE will get at least 20 hours of battery life with a full charge, and the Pro stands at least 25 hours of screen time. Think of where you could fly to and still not need to charge it back up. But if you need to power the AirFly back up, that's as easy as USB-C.
The SE is only $34.99, the Due goes for $44.99, and the Pro is still a deal at $54.99.
We've all purchased a wireless adapter and had it not work, not connect, or die after one whole hour of using it. The AirFly will give you the option to watch or listen to what you want without any of those worries, and for a price that won't put a dent in your vacation budget.
Editors' Recommendations