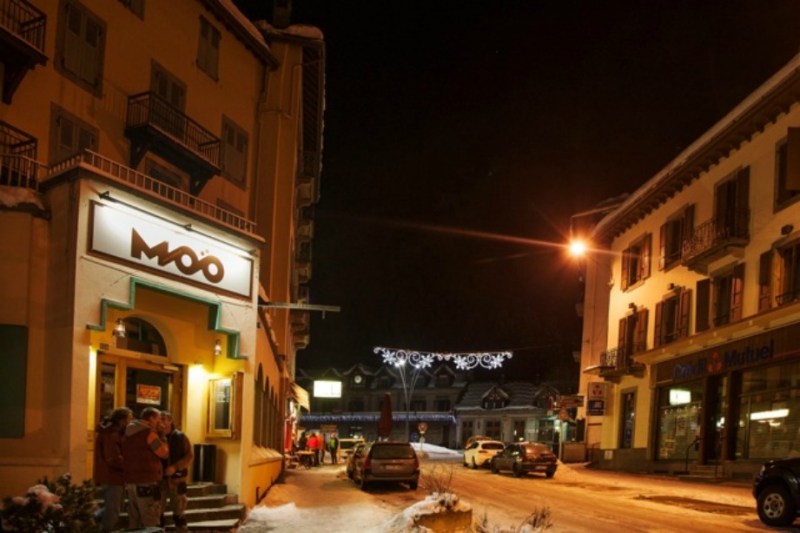 It's almost February and President's Week vacations are fast approaching, so  there is still time to fit in that big winter vacation or ski trip. One of the prime destinations for true skiing aficionados is the town of Chamonix in the French Alps.
Chamonix was home to the 1924 Winter Olympics, and has been a haven for winter sports fans ever since. Mont Blanc is the centerpiece of the town and at 15,782 feet, it is the highest European mountain in the west of Europe. There are five different ski resort areas featuring a variety of difficulty levels and terrains.
After the last run of the day, there are plenty of places to eat and drink, but the newly opened MOÖ Bar promises to provide a fun alternative to much of the tourist trap restaurants and bars that litter the rest of the town.
MOÖ Bar opened on December 15th and has already drawn a local buzz. For lunch, the restaurant and bar serves three plats du jour (meat, fish, veggie) that change daily alongside a set menu with nearly all ingredients sourced from the local town markets. At night, the proprietors want to focus on homemade gourmet burgers on house made buns. Currently, they are serving a pulled pork burger, lamb burger, scampi and scallop burger, veggie burger and the classic MOÖ burger.
[slideshow id=46]
The whole operation was the brainchild of three Scandinavian friends who have been living in Chamonix since 2001. One of the co-owners, Morten Solheim, explained how MOÖ Bar plans to stand apart from the rest the establishments in Chamonix:
"We are both a lively bar and a good restaurant, which is not common in Chamonix. Most places are either completely a restaurant or completely a bar. At MOÖ, you are welcome in both ski clothes as well as formal wear. You will always run into friendly people are guaranteed to spot some hardcore famous skiers."
With a mixture of vibrant nightlife, ski culture and overwhelming natural beauty, you won't be disappointed in this gem in the Alps.
Editors' Recommendations