The lowly yurt — a staple of Central Asian nomad living for thousands of years — has caught on in a big way in the States. The unique circular wood-and-fabric structures are an ideal way to overnight for outdoor-loving travelers who prefer the peace, quiet, and rustic charm of camping with just enough modern essentials. (Just, for the love of all things holy, don't call it "glamping.") If you're looking to skip the traditional hotel stay, check out these four luxury yurts.
Savage River Lodge (Maryland)
Staying at Maryland's Savage River Lodge is as much about what's not on the property. Surrounded by 700 acres of picture-perfect state forest, you'll feel like you have half the state to yourself. All eight units feature a king bed, gas log fireplace, floors with radiant heating, and private decks and bathrooms. The lodge's on-site restaurant serves an all-day menu of hearty, gourmet specialties. Think bacon-wrapped meatloaf, wild game sausage samplers, and mountain escargot.
Nightly rates from $260 USD double occupancy.
Treebones Resort (Big Sur, California)
Sleeping in a yurt may not feel like high-livin'. But, the location of California's Treebones Resort is guaranteed to leave you speechless. Situated on the dramatic bluffs of Big Sur, every unit at this boutique compound offers stunning views of the Pacific Ocean. In addition, all feature essential amenities like private decks with Adirondack chairs and running water. Through a partnership with local outfitter Central Coast Outdoors, guests can also easily arrange outdoor biking, kayaking, and hiking excursions.
Nightly rates from $320 USD.
Simply B Yurts (New Zealand)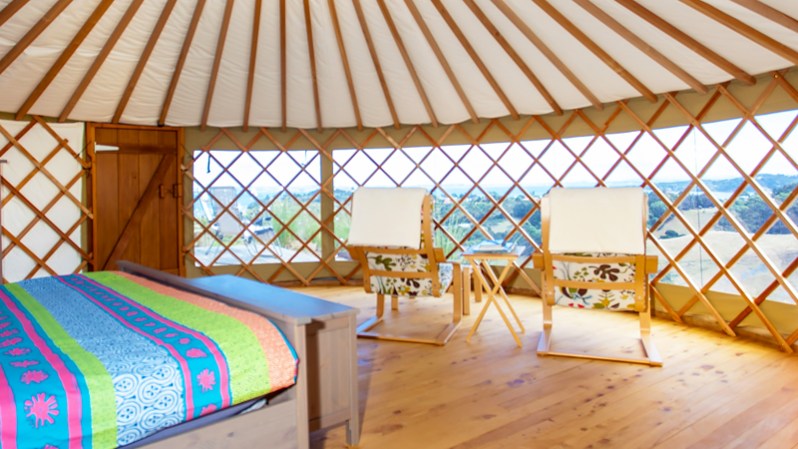 The last thing any sane traveler wants to do in New Zealand is spend time in a hermetically sealed, air-conditioned chain hotel room. Situated along the coast of Palm Beach, Simply B Yurts is the perfect antidote. The two onsite yurts offer plenty of rustic charm and a just-right list of essentials including simple furnishings, bathrooms nearby, a coffeemaker, and an open roof that's perfect for stargazing. The private deck and lounge chairs are the ideal spot for watching the world go by along one of the most beautiful coastlines in the world. The owner, the aptly named Mrs. B, also offers yoga lessons in a communal yurt nearby.
Nightly rates available upon request.
North Shore Yurt (Haleiwa, Oahu)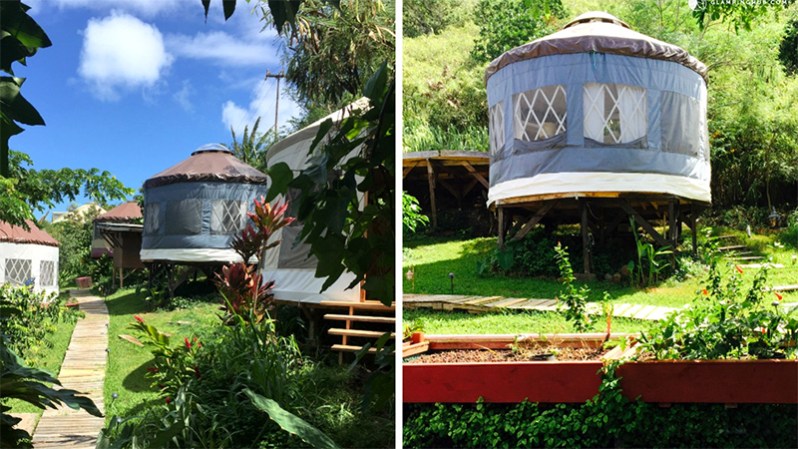 This one-of-a-kind yurt on the North Shore of Oahu is the perfect base of operations for nature-loving visitors to Hawaii. The 16-foot structure is capacious enough for a queen bed, a writing desk, and a dining room table with floor pillows. But most guests come for what's on the outside — sweeping ocean views from the yurt's private viewing deck. A slide even leads from the deck down into a natural saltwater pool surrounded by tropical fauna below. The bank of windows and high-quality, marine-grade Sunbrella fabric surrounding the unit also make it easy for guests to allow the sun, the breeze, and the outdoors in.
Nightly rates from $240 USD.
Editors' Recommendations