While the distance between Paris and London is relatively short — 288.5 miles–depending on what mode of transportation you take, you can make the trip on a nine-hour bus ride, a six-hour drive via car and ferry, a one-hour-and-10-minute flight, or a two-and-a-half hour Eurostar ride.
Now that short flight doesn't include the hour plus it may take to get to and from the airport in London and Paris, plus the annoying lines and all the time you'll spend waiting around prior to departure. If you have your own car, or if you rent one, it can be confusing driving in a foreign country, especially if you don't understand French. Plus, when you're on the London side, you have to deal with a whole new way of driving! Have you ever driven on the other side of the road in a seat that's in the other side of the car? I have, and let me tell you, it feels weird. I couldn't drive properly. Sometimes I would be grabbing for things that weren't there. And to have the gear shift on the other side? It just feels strange–as if suddenly you're using things made for left-handed people. There is of course, the bus, which may be the most cost-effective option, but nine or more hours on a smelly, dirty bus isn't a very pleasant way to cross the Channel.
The most efficient way to go between London and Paris is by rail on the Eurostar.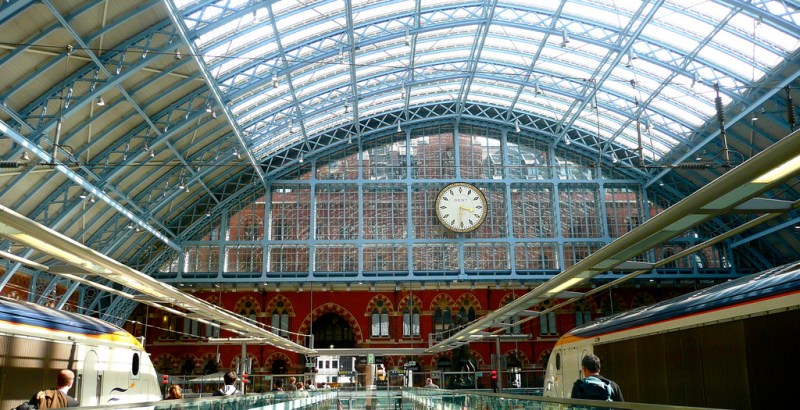 High-speed train is clearly the way to go when traveling to London from Paris or Paris from London. All you have to do is take the Metro or Underground, Uber, or a Taxi, or heck if you're close enough, you can walk straight to Gare du Nord in Paris or St. Pancras station in London. Word of caution — make sure you get there an hour early; it's not like your typical train situation where you can arrive 15 minutes before your departure and be all good. Once you're there, you go through security, which is relatively quick, and then the border crossing — make sure you have a pen so you can fill out those customs forms! And then, as soon as you know it, you're relaxing in large, comfy seats and you're ready to get to your destination.
If you've opted for an upgraded seat in Standard Premier or Business Premier, you have a shorter check-in time, plus you have outlets at your seats and a meal. Two-and-a-half hours later you step off the train and voila — you're right in the middle of London or Paris and ready to go!
For more information, visit eurostar.com.
St. Pancras Image Credit: Herry Lawford via Flickr