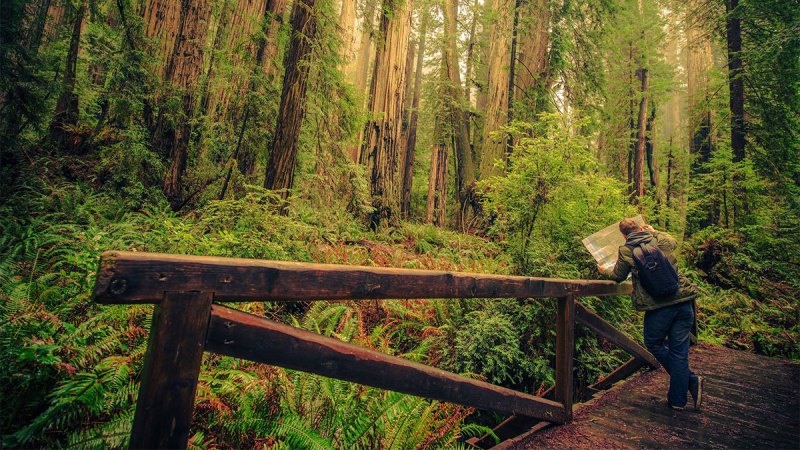 Arbor Day: the mysterious holiday of trees. No one knows who started it (J. Sterling Morton), when it was first created (1872), or when it's going to happen (the last Friday in April). All we know is on the last Friday in April we're supposed to get together and celebrate the importance of trees for 24 hours.
And what better way to to do so than by spending the weekend reveling in one of Earth's two most badass forests: Sequoia National Park or Redwoods National Park? Pick your poison for Arbor Day, April, 28.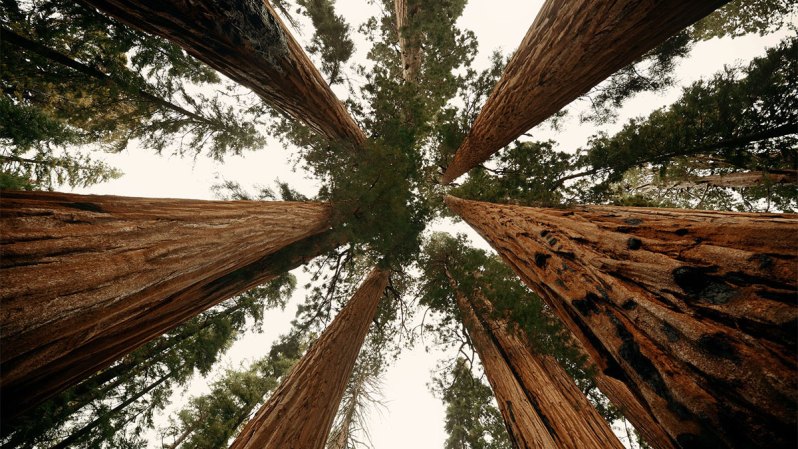 Sequoias are the biggest trees on earth, no big deal, but their overachieving doesn't stop there: they are also the largest single thing on the planet (by volume). As giant and red and majestic as they are, there's only so much tree ogling you can do before you start making the park rangers uncomfortable. So, what else do you do with your time in Sequoia?
Where to Stay
If you're not looking to camp, check into the John Muir Lodge. It has a variety of accommodation options, from traditional hotel rooms to cabins to tent cabins that stare off into the Great Western Divide. The lodge is surrounded by huge public balconies for taking in the scenery, a roaring fire in the lobby, and really terrible internet connection (kind of a good thing). It is definitely a comfortable, mostly unplugged, escape to nature for a blissful Arbor Day.
What to Do
Hiking: There are dozens of trails to choose from, ranging in difficulty and even offering paved options. Cedar Grove Trails has a not-to-miss one: Mist Falls. It's a relatively easy 8-mile round trip, but you get to see incredible rapids and the largest waterfall in the park. If you'd rather stay true to the tree theme of the weekend, check out the Grant Grove trails where you can see the famous General Grant Tree or get a phenomenal view of Redwood Canyon and the high Sierras.
Horseback Riding: If you've got your own steed, feel free to bring him/her, but BYOH is not a requirement. There are 1-2 hour guided trips that take you through varying routes. It's a fun and exciting way to experience the park. Reservations are often required.
Rock Climbing: You can't climb the trees, but if it's hard to keep your feet on the ground, scale some giant rock walls instead. If you choose this option, it will take up most of your weekend as most climbing locations are about a day's hike away. The options include Chimney Rock, immortalized in the pixels of "Oregon Trail."
Fly Fishing: While celebrating the importance of trees is what Arbor Day is all about, sexy rubber overalls, standing waist deep in rolling water like the master of the river, and perfecting the 10-2 flick is the next best thing. Doesn't matter your skill level, Sierra Fly Fisher will provide all the gear and instruction you need, offering half or full day fishing excursions in places like Lewis Creek, Bubbs Creek, or Hume Lake. Anyone 16 or older will need a fishing license (you can get one in the park).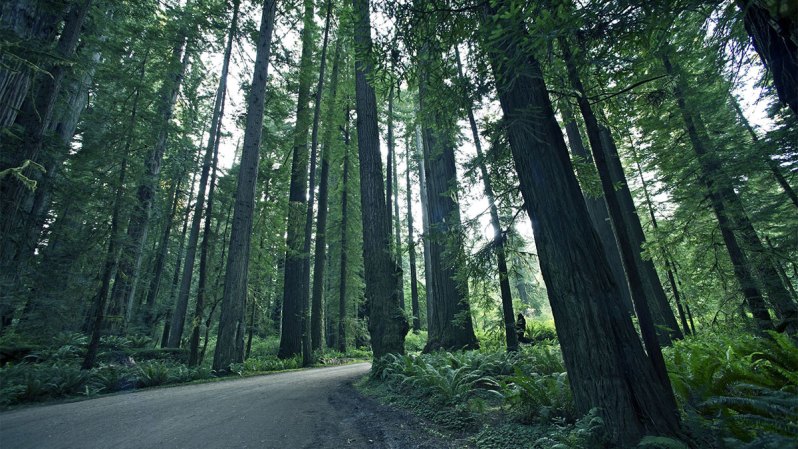 Another humble abode for some of the largest trees on Earth, Redwood is a stunning landscape in Northwestern California. Other than the magnificent trees, the park is less well-known (but should be!) for its pristine prairies, oak woodlands, wild riverways, and marine ecosystems. So don't worry, finding things to do won't be an issue. Here's a rundown on all the shenanigans situated around Redwood National Park.
Where to Stay
Developed Campground or Backcountry Camping
Unfortunately, there is no lodging located inside of Redwood National Park. However, if you contact a local chamber of commerce, they can give you information about lodging in the communities around the parks. Anyway, if you're going to participate in Arbor Day the right way, you might as well go all in with setting up digs in the wilderness. There's nothing quite like waking up to birds singing while the sun rises. Redwood National Park offers four developed campgrounds, as well eight designated backcountry camps.
What To Do
Hiking: For just $3 per person, you can experience one of the most popular hikes in the Redwoods: the Larry Bird Johnson Trail. The trail is more like a walk than a hike. It's short, level to the ground, and close to Kuchel Visitor Center, where you can delve into exhibits about the area. But if you want to learn more about trees and the impact that have on our environment, then this is the ultimate Arbor Day activity.
The distance is ideal if you want to try and experience everything on your trip. But, if your manly instincts are itching for adventure, set aside time for an overnight camping quest on Redwood Creek Trail. Here you will get a close glimpse at the vast prairie lands and diverse arboreal life of the forest.
Backpacking: If you're the kind of guy who likes to become one with nature for days or even weeks on end, then Redwood National Park has got to be on your list of backpacking goals. With over 200 miles of unique wilderness and eight designated campsites, the Redwoods has a full backcountry trip planner for your backpacking adventures.
Bicycling: The Redwood National and State Parks offer multiple trails for bicyclists looking to catch some killer views. The rehabilitated logging roads turned bike trails can be a bit of a challenge, but you won't think twice about your burning thighs as you race through the redwood forest or along the coastline.
Kayaking: Although their ranger-led kayaking trips occur during the summer, Arbor Day is a great time to start planning your summer vacation. Trees can be appreciated all throughout the year, not just on one day. Travel down the crown jewel of the National Wild & Scenic River System and the largest free-flowing river system in California, the Smith River.
Wildlife Seeing: The Redwoods is home to a slew of wildlife, including whales, sea lions, tidepools, bald eagles, Roosevelt elk, bears, the list goes on. If you're looking to experience the richness of California's wildlife, the Redwoods is a darn good place to start.
Arbor Day only comes once a year, but National Parks are forever. While you should definitely visit them all (most have trees!), there are 410 of them. Thankfully, the National Parks Service created the fantastically useful "Find Your Park" tool to help your find and care for your favorites.