On the all-too-frequent occasion that our luggage is damaged in transit, most of us are quick to curse the airlines. But, there's something to be said for embracing all those dents, dings, and scratches. Like old scars and war wounds, they're usually signs of a life and a travel resume rich with experience. Of course, if you haven't yet ventured as far as you'd like, your luggage might look a bit too fresh. Enter: Crash Baggage.
With the tagline, "handle without care," Crash Baggage encourages travelers to embrace the inevitable destruction of their luggage. The Italian brand's entire collection is delivered "pre-damaged" with the sort of wear that typically only comes with years on the road. Every bag is molded from lightweight polycarbonate that's purposely designed to look dented, crushed, and thoroughly well-worn. It seems like a strange concept. But, considering many of us are happy to pay a premium for pre-worn items like ripped jeans, tattered baseball caps, and vintage books, maybe it's not that strange.
Crash Baggage is quick to point out that its lineup is more than just a novelty, however. While the luggage is already "beaten," it's also designed to take a serious beating. The ABS and polycarbonate construction combines comfort and durability in a lightweight package. Double-swiveling, zero-weight wheels glide smoothly between gates. A matching pre-damaged handle and upper bracket also provide a stable spot to rest messenger bags and other personal effects en route. The interior keeps everything neatly in place with zippered pouches to one side and a compressible storage section to the other. A branded laundry bag also ensures clean clothes and dirty don't mix.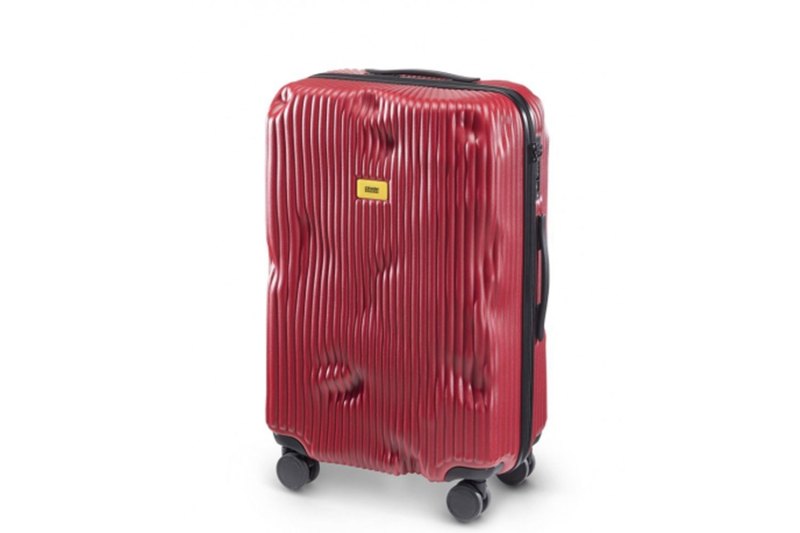 Every bag comes in Cabin (carry-on), Medium, and Large sizes, but each collection of bags features a unique aesthetic. Icon, for example, is Crash Baggage's simple, mainstay collection, while the Stripe collection adds grooves and textures to the basic line. For travelers with nothing to hide, the Share Transparent collection puts the contents boldly on display with a 100% transparent shell. Travelers can also accessorize their wrecked baggage with a daypack-style, 15-inch nylon backpack that's waterproof. Plus, the brand's color-coordinating Mini and Maxi cases are small enough to use as a toiletry bag or a tech pouch, and feature the same pre-damaged exterior.
Crash Baggage luggage is available directly from the manufacturer, with prices starting at 240 euros (roughly USD $270) plus shipping for the entry-level Icon collection. The flagship Robust collection starts just under 400 euros ($450).
If it's been a while since your last getaway, check out our guide to how to pack a suitcase, backpack, or duffel bag like a pro.
Editors' Recommendations