The lowly hamburger has come a long way since Louis' Lunch devised the original recipe in 1900. These days, it's all about gourmet, sometimes over-the-top, ingredients. We'll spare you the pretentious list of the best burgers in the United States. Just ahead of this year's National Hamburger Day, we instead bring you four of the best burgers in the country.
Burger Joint (New York, NY)
New York's swanky Le Parker Meridien seems like an unlikely host for a no-frills burger joint. But, tucked behind an unassuming curtain in one corner of the lobby lies Burger Joint. The spot is a favorite among Manhattan locals and tourists who flock to this no-longer-hidden hotspot. The kitchen keeps it simple with a brief menu of burgers, fries, and milkshakes. Don't miss "The Works" (lettuce, tomato, onion, sliced pickles, and mustard).
Related: How to Grill a Burger to Perfection
Pono Burger (Santa Monica, CA)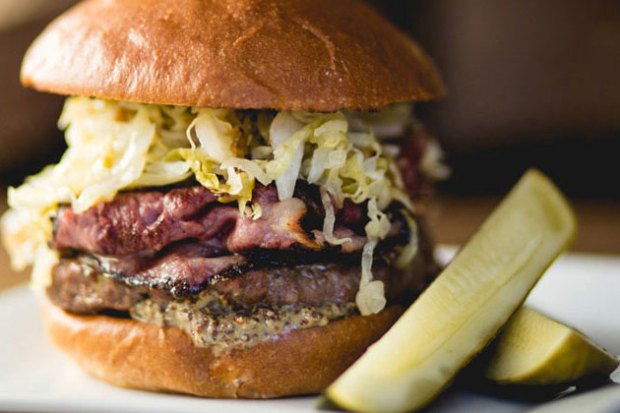 Santa Monica's Pono Burger is inspired by the Hawaiian concept of "pono" which loosely translates to "to do things the right way". Their out-of-this-world burgers are testament to their skills at achieving same. This is high-brow burger'ing at its finest with a focus on non-GMO, organic, locally-sourced ingredients. While you can choose your own toppings, the on-menu selections include spot-on blends of flavors that perfectly pair with each individual burger. The Piku Fig Burger, for example, is a unique blend of organic beef patty with drunken caramelized fig jam, brie, hazelnuts, bacon, and balsamic vinaigrette. Wash it all down with a local craft beer or a seasonal favorite drink (the pumpkin s'mores milkshake is a favorite).
Kuma's Corner Restaurant (Chicago, IL)
Kuma's Corner Restaurant is as much of an institution as any restaurant can be. This staple of the Chicago restaurant scene takes no reservations and guests are virtually guaranteed a wait. The menu boasts a healthy degree of kitsch (the burgers are named after classic rock bands), but everything is so good, we guarantee you won't care. There's nothing traditional about their menu — the name of the game here is big, bold, in-your-face flavors. The High on Fire, for example, features prosciutto, Sriracha, roasted red pepper, grilled pineapple, and sweet chili paste.
Counter Café (Austin, TX)
Austin, Texas does a lot of things right. With some of the best cattle farms in the country, it's no surprise that includes burgers. The tiny, no-frills Counter Café offers the most straightforward burger of any restaurant on this list and that can be a very good thing. The key here is to keep it simple. The Counter Burger is a just-right portion of grass-fed beef, topped with cheddar cheese and a light, airy sourdough bun. It's simple, unpretentious, and totally satisfying (not unlike Austin itself).
Editors' Recommendations