Rooftop cargo boxes have changed little in decades. The basic, clamshell designs serve as functional adult-sized toy boxes for skis, hiking gear, groceries, or just about anything else that won't fit inside a car. This year, however, Yakima is upping the ante with the all-new CBX Solar, an off-grid-friendly cargo box with the ability to power a small campsite almost indefinitely.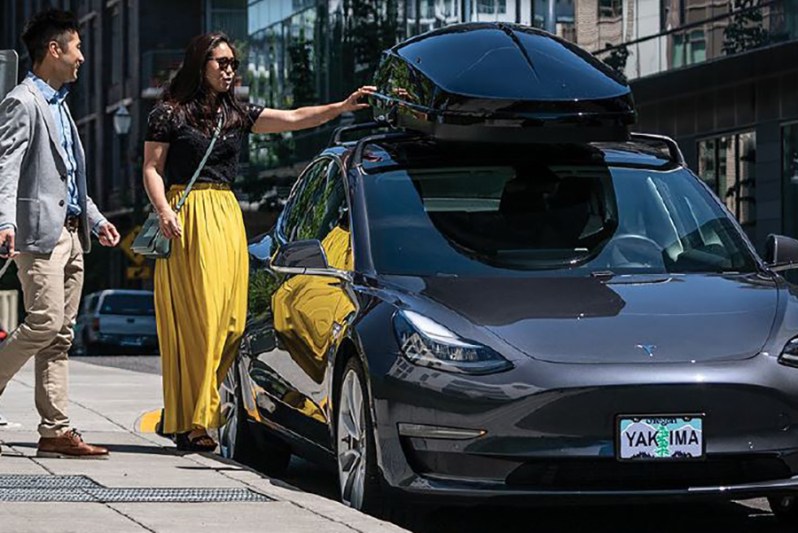 From ground-level, the CBX Solar is clearly different from most other automotive cargo boxes. The 16-cubic-foot storage capacity is ample enough for almost any sort of gear-hauling. The 83-inch by 38-inch by 15-inch form factor will accommodate skis up to 185 centimeters. Visually, the updated design changes are immediately apparent with a silhouette that's more angular and aerodynamic than traditional cargo boxes. New chrome badging and a premium microtexture elevate the overall look of the box. Also new for 2020, Yakima added removable torque knob installation hardware making it more secure and easier to install. The aluminum access handles are even more intuitive to use and to lock gear inside safely.
As the name implies, however, what sets the CBX Solar roof box aside is the addition of integrated solar charging. With the help of Sunflare, Yakima incorporated a thin, flexible CIGS (copper indium gallium selenide) top-mounted panel that's 75% lighter and 95% thinner than typical C-SI solar panels. The ultra-durable design is also impervious to high impact, wind, cold, heat, and is guaranteed never to crack. The 36-watt panel outputs five volts (with a three-amp max) through two USB ports. That's enough juice to charge most portable batteries or even run a small campsite without draining a car battery.
While rooftop solar panels aren't a new concept, the idea of integrating one into an existing cargo box is. This first-of-its-kind design helps streamline the limited rooftop space that's especially valuable to car campers, overlanders, and anyone looking to get far, far off-grid. The CBX Solar won Product of the Year at last month's Outdoor Retailer. The box debuted alongside the non-solar CBX 16 and CBX 18 cargo boxes, with 16- and 18-cubic-foot capacities, respectively. Yakima claims that all were inspired by recent automotive trends with sleeker, more future-forward aesthetics.
The flagship CBX Solar rooftop cargo box drops in stores this August with a retail price of $1,299.
Editors' Recommendations