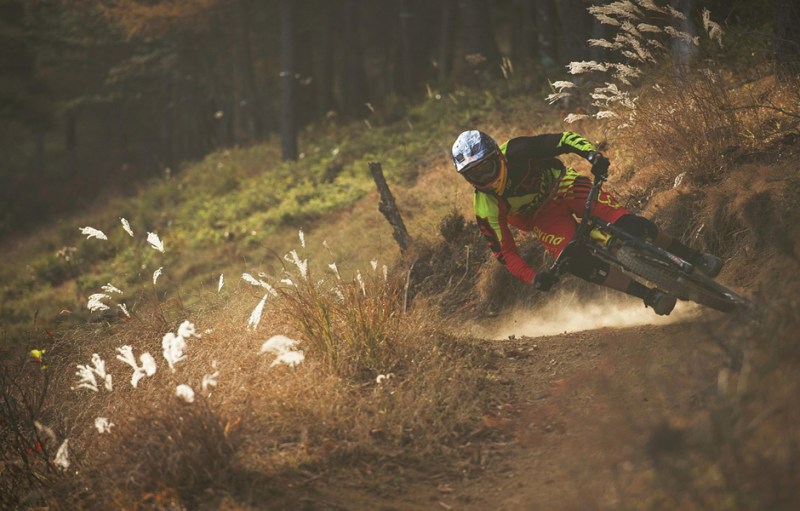 For pro mountain biker Stevie Smith, adrenaline-fueled thrills and edge-of-your-seat excitement comes at no more than a dime a dozen. It's what he lives for. So what else would you expect him to tell Red Bull — other than a resounding yes — when it asked if he'd travel to Japan and fling his mountain bike down an active volcano at breakneck speeds? To no surprise, that's exactly the answer Stevie gave. So just this past October, Smith and a film crew set out for Japan to conquer the active Mount Oyama volcano for an exclusive movie titled, Ring of Fire.
Related: State Bicycle Company debuts its Four Peaks Brewing bicycle collaboration
"I was told I was going to ride down a volcano, I had no idea what to expect," says Smith in a short video published to Red Bull's YouTube channel. "Showing up to Miyake Island and seeing the volcano was just, mindblowing."
Originally from Vancouver Island, British Columbia, Smith makes his living dominating downhill mountain bike races but had never faced anything as imposing as Mount Oyama. Sitting roughly 4,108-feet tall, the active Japanese volcano is lined with decrepit old trees and a sea of light lava rock. Smith and the film crew spent much of their time in Japan assessing the area and waiting for clearer weather (they mostly encountered thick fog). After extending his stay a few more days to wait out the fog, Smith finally got a patch of clear weather.
"Starting right off the cliff I could literally just look over and, my guts dropped every time I looked off, it was pretty ridiculous," Smith says. "There's no way to describe it, like I didn't think it would be like that at all. It was [a] straight up volcano and I was standing on the edge of it."
As he began his descent, Smith told Red Bull the lava rock initially felt a bit slippery but as he quickly began learning the terrain, it became easier to handle. The entire way down Mount Oyama, Smith had barely a trail to work with and routinely had to navigate an incredibly tight track. As told by Haruki Nakagawa in a blog post on Red Bull's website, Stevie felt utterly content by the time his wheels stopped churning.
"In the end I was totally immersed, my only concern was how far I could go," Smith adds. "There's no way anything can compare to this, it's the most unique place I've ridden."
Editors' Recommendations