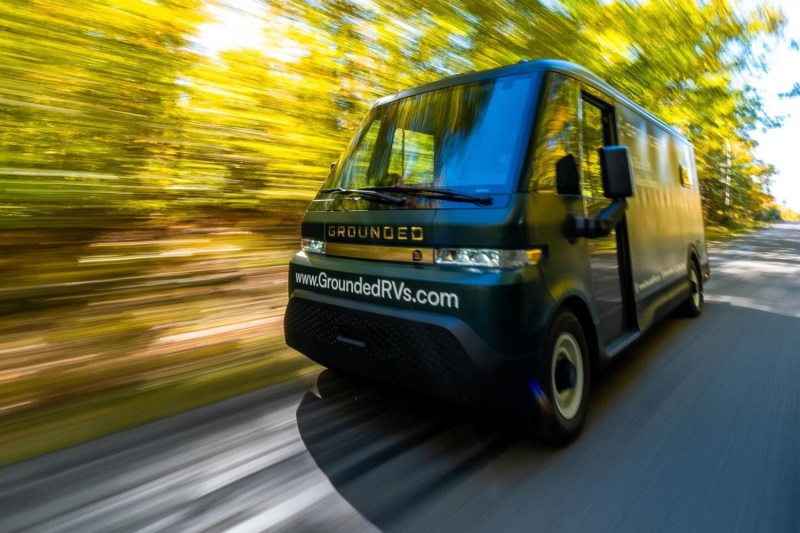 We're still in the early stages of the EV revolution, but there's no denying that the future of cars — all vehicles, really — is electric. But the EV revolution for RVs has barely just begun. Thankfully, a number of companies are leading the charge (pun intended) to develop new and innovative technologies to take recreational vehicles to the next level. Case in point: Grounded's G2 Campervan. It's an all-new, all-electric RV with all the comforts of home, a boatload of remote-controlled tech features, and a solid 250-mile range.
From the outside, the G2 camper van might look like a repurposed Amazon delivery truck. The design is low-key, bordering on bland. But that streamlined, no-nonsense profile helps keep this EV aerodynamic — an important element in achieving its 250-mile range. While that figure hardly competes with even the thirstiest, gas-powered vans capable of hundreds of miles on a single tank, it's a respectable starting point.
Grounded's G2 Campervan interior
But it's what's inside the G2 that really sets this all-electric RV apart from the crowd. Grounded built it to be completely customizable, using a modular interior furniture system that can be configured in an almost unlimited number of floor plans. Whatever your priority — more sleep space, a bigger kitchen, extra seating, etc. — the G2 can accommodate it. The system also makes it easy to repurpose the layout in the future if your needs change.
Whichever layout you choose, this EV RV delivers with all the creature comforts of home. That includes a full-featured kitchen with a sink, an induction stove, a combination fridge/freezer, and adjacent bench seating with a flip-up table for dining with friends and family. The queen-sized bed at the rear sits high on a platform, creating a cozy, nook-like "bedroom." Bathroom amenities include a dry-flush toilet (no messing with nasty black water tanks and "stinky slinky" sewer hoses) and an outdoor shower so you can lather up and exfoliate while communing with nature.
Grounded's G2 Campervan features
The G2 was built from the ground up as a next-gen, state-of-the-art camper. Grounded RVs started with the BrightDrop Zevo platform and added forward-thinking enhancements to future-proof this camper van for years to come. It relies on integrated electronics and software to take your camping experience to the next level. The dedicated Grounded+ app, for example, allows owners to view all of the G2's systems at a glance. Real-time location information, driving data, battery status, and water and fuel levels can all be monitored remotely. Lights, appliances, climate control, and even the entertainment system can all be controlled while away from the EV. It's all powered by a 640-watt rooftop solar array designed to keep all the systems humming almost indefinitely.
There's no sidestepping the fact that almost any tricked-out, van life-worthy camper van is going to be more expensive than a DIY alternative. So, it's no surprise that the one and only trim level of the Grounded G2 EV stickers for $195,000. But interested buyers can secure their order today for just $100. If van living isn't your thing, but you still have your eye on an electric RV, Grounded also has an aerodynamic towable trailer in the works that's slated to debut in 2025.
Editors' Recommendations