Over the past few years, stand-up paddleboarding — or SUP, as it's commonly known — has become as popular as kayaking and canoeing. What was once seen as a niche activity has evolved into a major market segment attracting thousands of individuals, including non-traditional outdoor athletes. Part of the appeal comes from the versatility of the sport, which can be done purely for fun or as an excellent way to get fit. SUP competitions have popped up all over the world as well, and those looking for a true challenge can even choose to paddleboard on whitewater-class rivers.
Similar to surfing, stand-up paddleboarding involves gliding along a body of water while standing atop a board. The sport can trace its origins back to Hawaii and the South Pacific, where surfers used a paddle to help maintain stability and steer themselves in a specific direction. The use of a paddle allows paddleboarders to propel themselves along without having to ride waves, allowing them to SUP on rivers and lakes, in addition to the ocean.
If you're new to SUP, your best bet is to rent the equipment a time or two before spending your hard-earned cash. Once you get serious, however, you'll likely want to own your own board. When it comes time to buy one, there are a number of factors you should consider. Our guide to the basics will teach you what to look for in a paddleboard, and we'll also recommend specific models.
At a glance
Best solid SUP:

Isle Versa Paddleboard Package 10'5″

Best inflatable SUP:

Bluefin Cruise Carbon

Best budget SUP:

SereneLife Inflatable Stand Up Paddleboard

Best for beginners:

Roc Inflatable Stand Up Paddleboard

Best for fishing:

Peak Expedition Inflatable Stand-up Paddleboard
Best solid SUP: Isle Versa SUP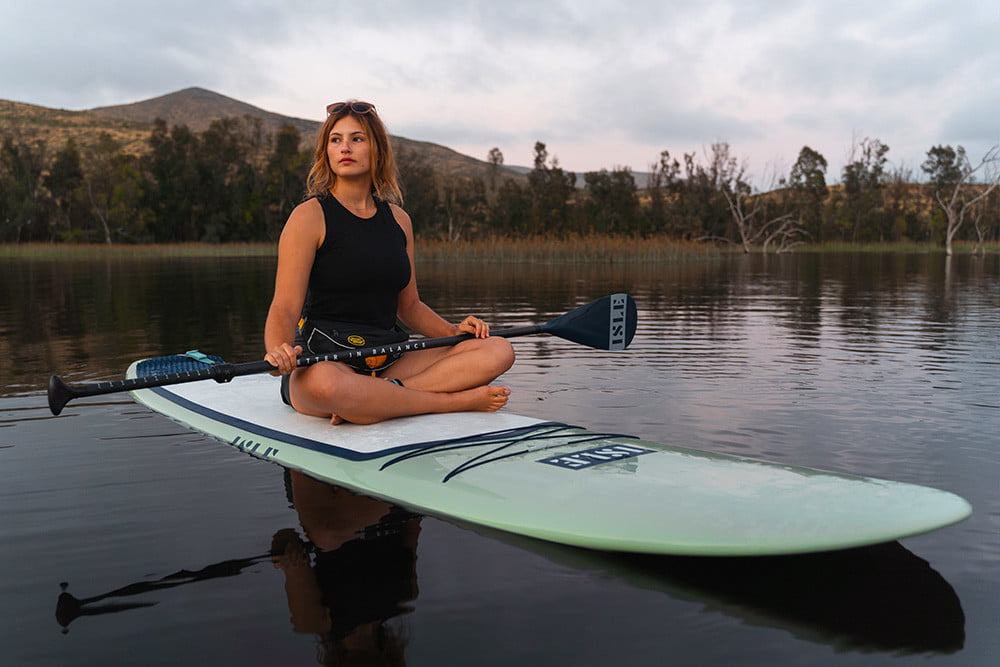 Even though its a solid board, the Isle Versa is lightweight, making it easy to load, transport and paddle. It tracks well in the water and is stable even when you get rocked by boat wakes or wind-driven chop. It includes a front bungee for storage and outstanding traction thanks to a brushed EVA pad on the board and a maximum-grip tail pad.
Best inflatable SUP: Bluefin Cruise Carbon
The Bluefin Cruise Carbon is one of the most versatile boards on our list. It is not only an excellent all-arounder, but it also comes with a kayak kit that transforms the SUP from a paddleboard to a boat. It's a rigid board that is fast and stable on the water. With five different handles, you'll have no problem toting it from the car to the water.
Best budget SUP: SereneLife Inflatable SUP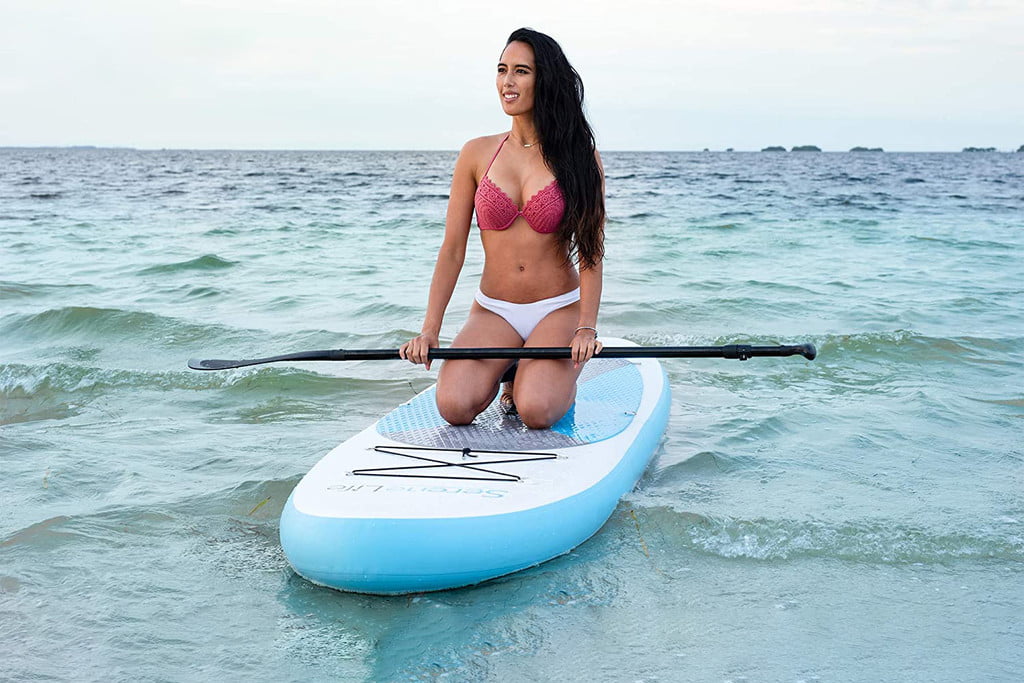 Designed for flat water, the SereneLife Inflatable SUP is ideal for beginners and families. It's on the smaller size at 10 feet long, so it is not as stable in the water as longer boards. Those who are taller or heavier will notice the instability the most. The low price (under $500) is a big selling point for this board. Those who want to try out the sport can do so without making a significant investment. It ships with everything you need to get out on the water, so you don't have to drop more cash to get a paddle or a leash.
Best for beginners: Roc Inflatable SUP
Equipped with three fins, the Roc Inflatable SUP is exceptionally stable on the water. This stability makes it ideal for beginners who are learning to balance for the first time. It is easy to inflate with the included pump and not too heavy to carry with the included backpack. It ships with a leash and a paddle, which is adjustable and comfortable.
Best for fishing: Peak Expedition Inflatable SUP
At 32 inches wide, the Peak Expedition is wider than many stand-up paddleboards. This width adds to its stability, which is critical for reeling in fish. At 11 feet long, the SUP is long enough to cut effortlessly through the water, but is not so long that it is difficult to turn. It's made from a military-grade PVC that is puncture- and abrasion-resistant and has a soft EVA deck pad for comfort. It'll handle most obstacles you'll encounter while fishing, but you still need to watch out for those hooks.
Things to consider when buying a paddleboard
Boards can be expensive, particularly if you buy one new, so consider some important factors as you browse. First, and perhaps most importantly, what do you plan to use the board for? Paddleboarding is the most obvious choice, though there are a number of things one can do with a paddleboard besides that. Some people race, some go fishing on their paddleboards, and others even do yoga. The boards come in various shapes and sizes, each tailored to a different activity, so pick one that best suits your lifestyle and needs.
Displacement hulls vs. planing hulls
It is also important to take into account the type of water you expect to be boarding on. Will you mostly be sailing on a still lake at your local park, or will you brave the open waters of the ocean? For calmer waters, a board with a displacement hull — which tapers to a fine point at the nose — is probably the right choice; they slice through water efficiently, allowing you to hit high speeds via your own paddling. The downside is that they don't tend to be as maneuverable as some other boards.
A planing hull, which has a rounder nose and a flatter bottom, rides along the surface of the water. Like a surfboard, a planing paddleboard is best suited to riding waves, where it achieves maximum speed and maneuverability. If you want to surf or do yoga on your paddleboard, the wide, flat shape of a planing hull is ideal.
Size and materials
In addition to the shape of the hull, the size and construction matter. Longer boards are better for hitting high speeds while moving in a straight line, while shorter boards will be easier to maneuver. The same principle applies to width: Wider boards will be slower but more stable, while narrower boards provide better speed.
Additionally, you'll have to decide whether you want an inflatable SUP or a traditional model that more closely resembles a surfboard. The classic SUP has a solid body that consists of a foam core wrapped by layers of fiberglass. Being rigid, these boards tend to be faster and more stable, but they require extra space for storage and are more difficult to transport.
An inflatable board is easier to transport and store. Users pump air into the board when they want to use it. Inflatable boards tend to flex a bit more than solid boards, although many companies use drop stitch weaves, where fibers lock together as the board inflates, providing more rigidity. Since you can deflate an inflatable board, they are easier to transport. If you don't have a suitable vehicle to carry a solid board around, an inflatable one may be the most convenient option for you.
Editors' Recommendations