Running with a jacket on is quite difficult, no matter how well you think your gear is equipped for the demands of the great outdoors. On the one hand, you want to be protected from the rain, snow, and hail. On the other hand, you're sweating cats and dogs and need that moisture to vent. That's where the best jackets for running come into play. Gear makers are trying hard to make jackets both waterproof and breathable at the same time, but most jackets fall toward one end or the other.
Related Guides
Hardshells are very waterproof. They'll protect you from the elements and keep the rain out through storms. Softshells are very breathable. Sweat evaporates quickly as air flows through. There's a trade-off, though. Hardshells don't breathe as well. Softshells aren't waterproof for as long.
The holy grail, which doesn't exist yet, is a jacket that does both perfectly. Some are getting close.
We don't advocate having more gear than you need to run, hike, or climb, but running is an activity where having a hardshell when you need it and a softshell for the rest of the route is the most comfortable way to go. (Who am I kidding? I always advocate for having gear to suit each situation.)
We've rounded up hardshells and softshells that will give you all the protection you need to run in any condition. These are the best running jackets for men for you to consider.
Patagonia Houdini Jacket
This jacket from the eco-conscious gear makers at Patagonia will have you moving as swiftly as, well, Houdini, thanks to its slim fit and DWR coating for maximum durability and performance through rainy conditions. Reflective detailing and half-elastic cuffs offer increased visibility and protection from the elements in equal measure, while a range of color options provide just enough style points.
Cotopaxi Monte Hybrid Jacket
When it's a midweight jacket that you seek, one designed to keep you warm on the go without overheating, this Cotopaxi hybrid jacket is a safe bet. It's made with Polartec Alpha active insulation, designed to "ditch excess heat when you're moving fast," as the brand so sagely says.
It also comes with an array of vibrant, retro-leaning colors that'll help you stand out on the road, in a good way. Even better is the fact that it should serve you well for other active pursuits aside from running, and that's the sort of versatility you can't top.
Gore R7 Fore-Tex Shakedry Jacket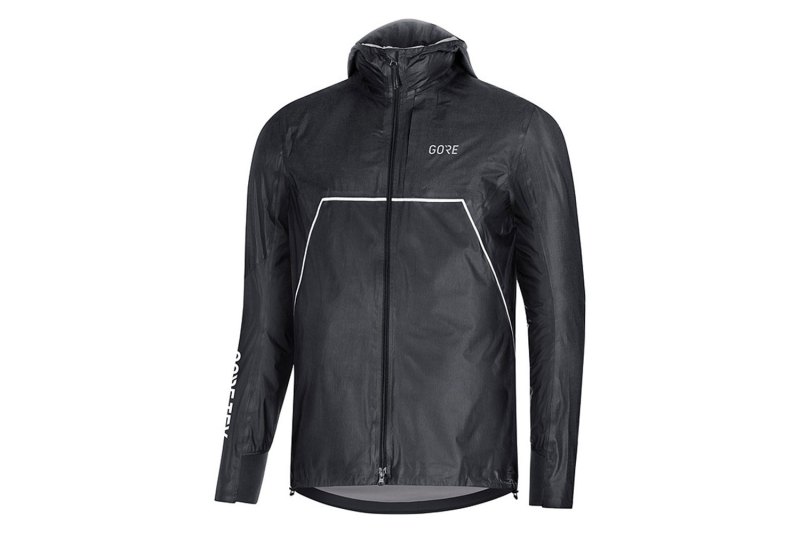 What we lovingly refer to as Gore-Tex is actually multiple different waterproof membranes: The light and packable Paclite, the durable Pro Shell, the highly breathable Active, and the original do-it-all Gore-Tex.
Each has its own purpose, but for ours, Gore-Tex Active is going to be the best membrane to be completely waterproof while still breathing during high output. The R7 jacket flips the Gore-Tex Active inside out, completely removing the third layer of the jacket. Eventually, that third layer gets wet in the rain and completely blocks moisture from breathing. Not having a third layer means less weight, with this jacket coming in at 6.6 ounces.
Salomon Bonatti Pro Jacket
Salomon is no stranger to running. It's been creating some of the best running gear out there for decades. The brand's sponsored runners run the longest trails and highest peaks around the world. The Bonatti Pro running jacket was built as protection for those long days and races.
The Bonatti uses Pertex Shield to keep it very water resistant but still breathable. Expandable sections in the back let you put it over top of a small running pack without having to take it off and rearrange everything. It uses Salomon's MotionFit patterns to make sure it doesn't restrict your movements when you run. Obviously, we can't have any restrictions when we're trying to shave seconds off the fastest known time, right?
Editors' Recommendations