This summer if you're choosing to buy a bike and you've decided on a mountain bike, there are things you should further keep in mind. One of those is being on the lookout for pedals that are exactly right for your bike. After all, the performance of your mountain bike is only as powerful as your pedals. There are three points of contact between your body and your bike but where your feet meet the pedals is the most essential. This is the point where power from your legs transfers to your bike's drivetrain and serves to propel you down the trail.
However, not all mountain bike pedals are created equal and aftermarket products are definitely a step up from stock models. Pedals come in so many different shapes and sizes, it's overwhelming to even know where to begin. To help, we've put together this comprehensive list of the best mountain bike pedals you can buy, covering both clipless and flat pedal varieties.
At A Glance:
Best overall clipless:

Shimano XTR M9020

Best budget:

Shimano M530 SPD

Best flat pedal:

VP Components VP Vice

Best of all worlds:

HT PA03A

Honorable mention:

Crank Brothers Mallet E
Best overall:

Shimano XTR M9020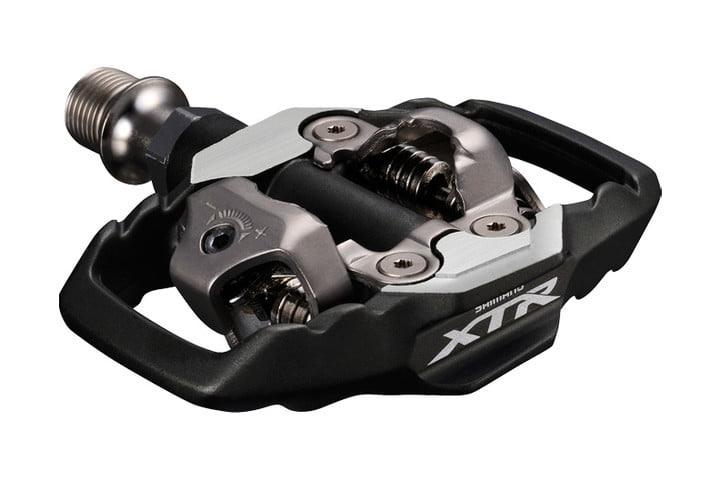 The Shimano XTR M9020 offers enhanced performance features including excellent mud-shedding, lighter weight, and ease of entry. It's great for all-around mountain bikers who want added stability. While the Shimano's SPD pedal system has long been favored by commuters and trail riders alike, the Shimano XTR M9020 is a powerful upgrade over its previous models. The pedals are dual-sided, provide a large contact plate, and Shimano even trimmed them down to just 376 grams.The body material is aluminum anodized and the spindle material Chromoly steel. A wider bearing placement allows for increased rigidity and the product assures smooth engagement and release.
With a lighter weight, smooth float, and adjustable tension, it's hard to find something not to like about these pedals — other than, perhaps, the hefty price tag. Ideal for XC riders, they have a lot to offer all-around mountain bikers, as well.
Best budget: Shimano M530 SPD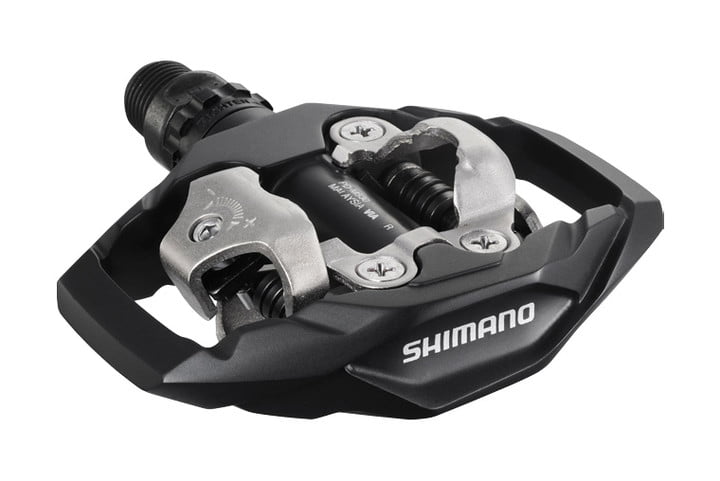 The Shimano M530 is extremely versatile and inexpensive. It's for serious mountain bikers looking for the full features of clipless pedals without the steep price tag. Although cheaper than many of its counterparts, these pedals rival higher-end models, as a larger performance area increases contact for better feel and efficiency. The M530 is a very user-friendly pedal offering easy entry and exit, along with adjustable release tension. Its lone downside rests with its functionality in sandy and dusty conditions — of which they're far from smooth — due to steel plate components, as opposed to the stainless steel variants found in Shimano models. However, it's nothing a bit of lube can't fix.
Best flat pedal: VP Components VP Vice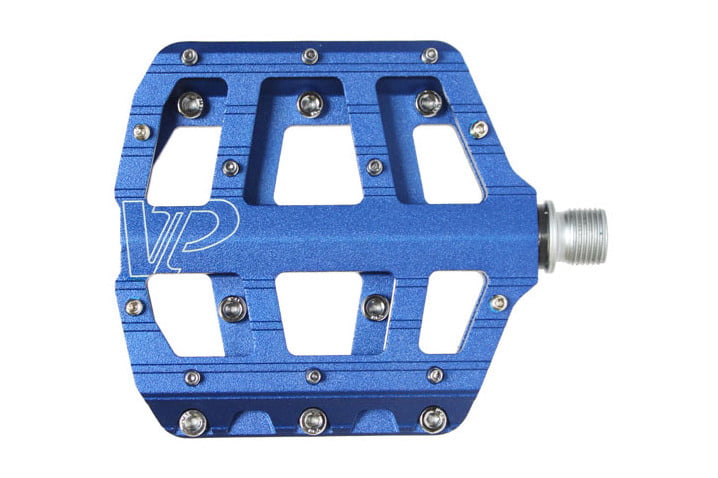 The VP Components VP Vice is a go-anywhere pedal with a strong axle at an affordable price. It's for individuals seeking daring downhill descents and equally mellow backcountry rides. VP Components VP Vice pedals are superbly constructed for a product in its price range, offering a low profile that increases ground clearance and reduces the possibility of impact with rocks and obstacles. The pedals feature a full-length forged and heat-treated Chromoly axle and an aluminum body. The product's pin pattern is remarkable, with the grippier screws placed around the elevated section of the pedal body, while its 12 pins provide plenty of room for adjustments where desired. At this price range, these pedals serve as a free rider's fantasy.
Best of all worlds: HT PA03A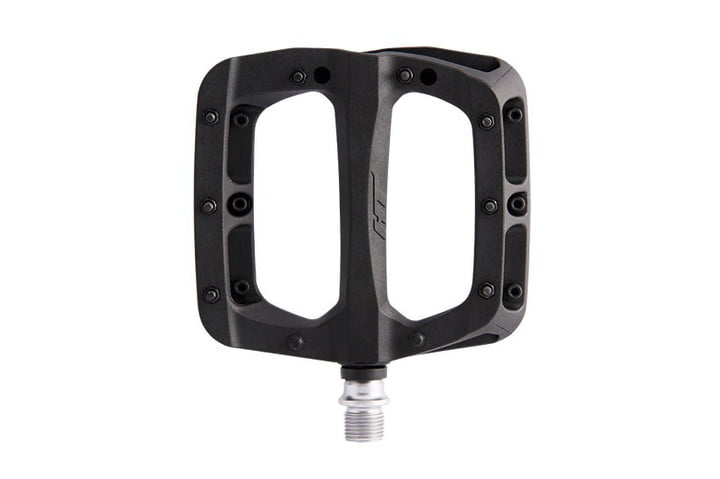 The HT Components designed a flat pedal that's lightweight, affordable, and strong. It's for riders who don't want to compromise on weight or durability and want to save a little money in the process. Most of the time when shopping for pedals, you're forced to choose between weight and durability — or to get both, you better be ready to start reaching for those bigger bills. HT Components changed this with the PA03A, a wholly unique nylon pedal system. Although they're a touch smaller than other flat pedals on the market, the traction pad provides for plenty of grip and ten aggressive pins per side ensures your feet won't slip when you're tearing down trails. The pair weighs in at less than 350 grams and while the nylon construction is a curious change from traditional alloy, we recommend giving them a fair try before passing judgment. With a price tag this low, you don't have much to lose.
Honorable Mention: Crank Brothers Mallet E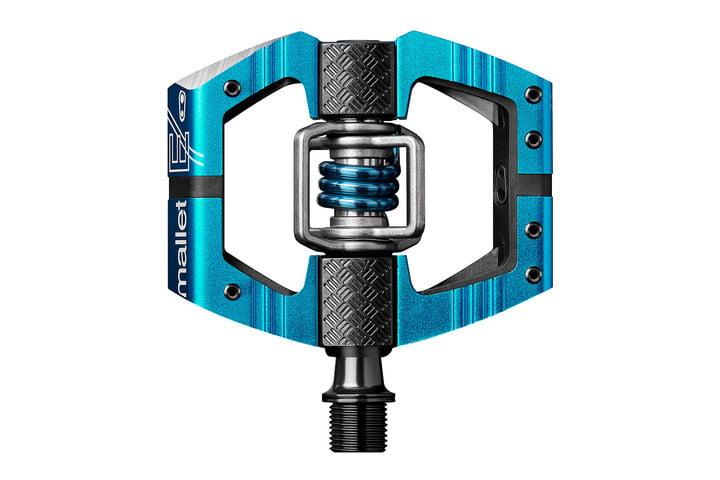 The Crank Brothers Mallet E pedals deliver superb performance in the mud and offer plenty of support. It's for ndividuals who truly like to tear it up. Ideal for aggressive trail riders, the Crank Brothers Mallet E pedals offer a superior design backed by excellent durability. The platform contains six pins on each side and an impressive traction pad which includes clip-on plastic inserts situated on either side of the spring mechanism. These let you adjust exactly how much contact you have between the pedal and your shoe.
The highlight feature of the Crank Brothers Mallet E pedals is its unsurpassed performance while riding in the mud. Clipping in and out is also a breeze, even when the product is totally caked.
What to consider when choosing a bike pedal
Clipless vs Flat Pedals
Deciding between flat or clipless varieties is the most crucial decision you need to make when purchasing mountain bike pedals. This is a debatable discussion and largely depends on your experience, comfort level, and personal preferences.
Flat pedals are as they sound, double-sided platforms on which you position your shoe. They are best used with mountain bike specific shoes designed for platforms. High-end platform pedals are equipped with plenty of contact pins to help stabilize your shoe and provide better traction. Platform pedals tend to run a bit cheaper, feature weight-shedding designs and offer great reliability but they don't afford the same efficiency or stability as clipless.
Flat pedals are as they sound, double-sided platforms on which you position your shoe. Clipless pedals clip onto the bottom of specifically designed shoes.
Clipless pedals, on the other hand, are a bit of misnomer because they utilize a mechanical attachment that actually clips onto the bottom of specifically designed shoes. Clip pedals are favored by both road and mountain bikers because of the extra power granted by the upward pulling of the pedal while climbing, equating to increased speed. They're also double sided and much smaller in size than platform pedals. The drawback to clipless pedals is that they tend to be more expensive and require some time to adjust to the system.
For those riders who want the best of both worlds, there are also combination pedals available. These are ideal for riders who commute and also take their bike on the trail. The most common types feature one side as a clipless version with a platform side designed to face upwards, offering the capacity to use either style.
Float and Tension Adjustability
The float and tension features of mountain bike pedals are yet another important aspect to consider. Float is described as how much your foot pivots when clipped in while tension is the resistance required to unhinge your foot from the pedal clip. Since determining float comes down to your specific cleat, it's something to strongly consider when purchasing a clipless pedal and companion cleat. Different cleats offer different floatation options ranging from zero to 15 degrees.
In order to disengage your foot from a clip, you need to pivot on the ball of your foot and twist your heel out. Release angle is a factor to consider here, as well, because it determines the plane on which your foot is disengaged from the pedal. When looking at purchasing a clipless style mountain bike pedal, take float and tension adjustability into consideration.
Editors' Recommendations