Industrial. Exposed piping. Plenty of wood details and even more sports memorabilia. Maybe there was even beer.
Male-focused salons and spas are in short supply. The ones that do exist often lean into that tired, bro-y aesthetic. Treadwell is breaking the mold.
The grooming and wellness hub opened its doors at two locations in Houston in 2022. When customers walked through the doors, they saw something different. Not a single piece of sports paraphernalia can be found inside Treadwell's walls. It also doesn't have frilly, furry throw pillows or in-your-face pink accent walls.
Jason Starr, a founder of Treadwell, says the marketing is aimed toward men, but the palette is gender-neutral. Think light walls and black and gray chairs that exude relaxed sophistication. Speaking of relaxation, a guy can cure a hangover with an IV drip and get a beard trim at the same time.
Starr and designer Gin Braverman discussed the space, the future of men's wellness, and how you can make the most out of your grooming and wellness time.
Men's wellness, as it should be
Braverman says Treadwell's aesthetic respects men. They don't need to justify getting wellness or grooming treatments because "there's beer and sports gear."
"I feel like we're at a point where different types of men are allowed to have different types of aesthetic preferences," Braverman says. "There's less judgment for it now. You have different types of straight, gay, and trans men. It's no longer man equals X. There's a spectrum, and they should all be given options, not pigeonholed."
Braverman took her cues from men's fashion, which often focuses on structure/architectural elements and isn't too precious. However, she didn't want to go "caveman," either.
"This is so much cooler," Braverman says. "It is more about the experience and less about the stereotype. It's about being human. Come on in and have a human experience in a beautiful space without feeling like you're being spoon-fed masculinity….I don't think people are going to revert to that."
Does ambiance really matter? Braverman thinks so, though you may not realize how much until you find something you don't like.
"A consideration for lighting, finish, flow, and acoustics are all subtle elements, but they come together to create an atmosphere that you don't realize you're not thinking about something," Braverman says.
For example, you don't have to think about an annoying echo because someone ensured there wasn't one.
Ultimate relaxation was a goal for Starr, who wanted to help men boost self-care at a time when mental health is moving to the forefront of conversations.
"People are scrambling today more than ever to fulfill obligations at work, getting kids to and from practice," Starr says. "It can be taxing on folks. We wanted to be able to provide self-care."
Still, it's about balance. Starr knows his male clients probably aren't going to book a whole "spa day" a la "girls' day out." People can be in and out in 45 minutes to an hour, enjoying multiple services simultaneously, such as a haircut and an IV drip to help them feel replenished and refreshed.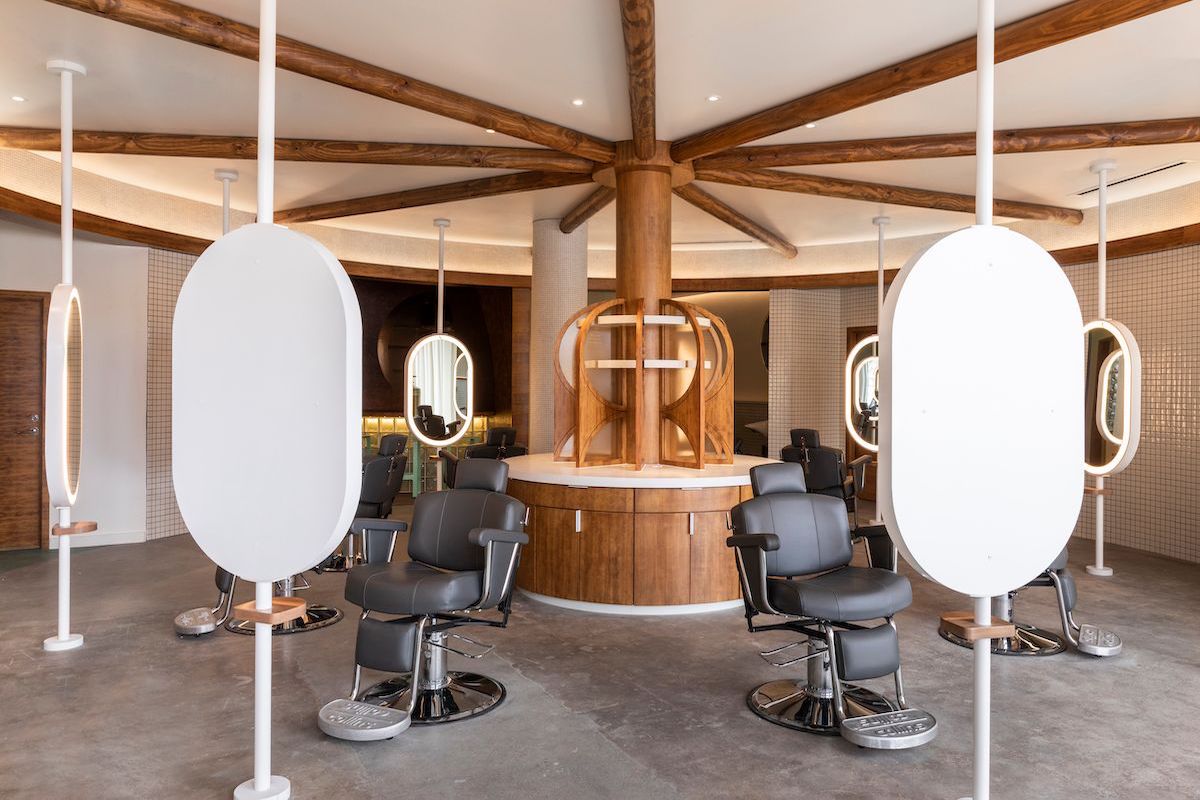 Grooming and wellness services emerging for men
Often, men's grooming centers have focused on quick haircuts. Maybe a beard trim. However, Starr recommends looking into services once typically thought of as "too feminine" and others emerging in the wellness space, including:
Manicures and pedicures. "Guys are increasingly more comfortable getting a manicure every year," Starr says. "It feels good to have fingernails and toes taken care of. It's hard to take care of yourself — getting them even and straight. It's challenging. For guys who get mani/pedis, they realize it's better than doing it themselves."
Cryotherapy. At Treadwell, cryotherapy involves exposing the body to freezing temperatures for three minutes. Why would you do that? "It's similar to when athletes sit in ice baths for half an hour. It's largely for inflammation, pain, and joint stiffness," Starr says.
IV Therapy. Drips may include vitamin C, electrolytes, and magnesium to help people feel more hydrated and refreshed.

Get the most out of your wellness/grooming experience
You're not just paying for a service when you go to a salon. Braverman and Starr agree you're paying — and going — for a vibe, a chance to relax, and tune out the world and into yourself.
Here's how to make the most of your hour to yourself.
Get curious. "Look at services and ask about things you've never had," Starr says. "I had never had a shave. I always shaved myself. There's something magical about getting a straight-razor shave from a professional barber, the quality of the shave and the experience."
Try something new. Even just going for a haircut is an opportunity to hit the refresh button. Starr says men typically stick with the same hairstyle for about a decade. If you fit that bill — or even if you don't — consider mixing it up. This tip doesn't mean telling your barber you trust them unconditionally. "A good stylist and barber won't sit you down and say, 'What are we doing today? What do you like about your hair? What would you change?'" Starr says.
Optimize relaxation. "Guys walk in right at their appointment time," Starr says. "Try to get there a little early and decompress. Turn your phone off or put it down."
Part of that is finding a spot with an ambiance that feels relaxing to you.
"Go somewhere that feels restful and calming to the senses," Braverman says.
Editors' Recommendations