The last week of October is one of the most thrilling times of the year – but removing Halloween makeup can be downright frightening. Whether you're wearing a full-face Frankenstein mask or a touch of ghostly grease paint, taking it off is nowhere near as fun as putting it on. Festive face paint can be stubborn to remove, stain the skin, and make a massive mess in your bathroom sink. But no matter how hard you party this All Hallow's Eve, it's never a good plan to fall asleep in disguise. Sleeping in any makeup is a big no-no for your skin, and heavy Halloween cosmetics can be even worse.
Therefore, it's best to have a game plan in place for removing your face this spooky season. It doesn't take much, but using the proper nighttime skincare routine can save time and stop breakouts in their tracks. Lucky for you, we've created a quick and easy guide to removing common types of Halloween makeup, from paints, crayons, and creams to special effects. And who knows? It may even come in handy if you decide to attend clown college down the road, too.
Water-based makeup removal is usually the easiest
Around October, you can find water-based makeup in costume stores and drugstore shelves nationwide. Many face paint kits are water-activated, making them easy to apply and (relatively) easy to remove. If someone else did your makeup for you, you should be able to tell if your face paint is water-based, as it will run when exposed to water rather than sticking to the skin. It also tends to crack or flake off as the evening wears on – though it typically won't rub off or transfer. If you're still unsure, some examples of water-based face paints include color pans, split cakes, and kits from brands like Mehron, Ben Nye, or Snazaroo. As such, this sort of Halloween face paint is a good choice for beginners. Still, it's not quite as moisturizing as its oil-based counterparts for those with dry skin types.
To take off water-based makeup, you can get the job done with soap and water. However, many find it even easier to double cleanse using a cream cleanser first, followed by a foaming face wash like

Neutrogena Fresh Foaming Cleanser

.

For best results, give your skin a swipe of toner with a cotton ball and follow with facial moisturizer to give your skin a boost of hydration before you hit the hay.

You shouldn't experience any staining – but if you do, you can use an exfoliating skin scrub the following morning to loosen those dead skin cells.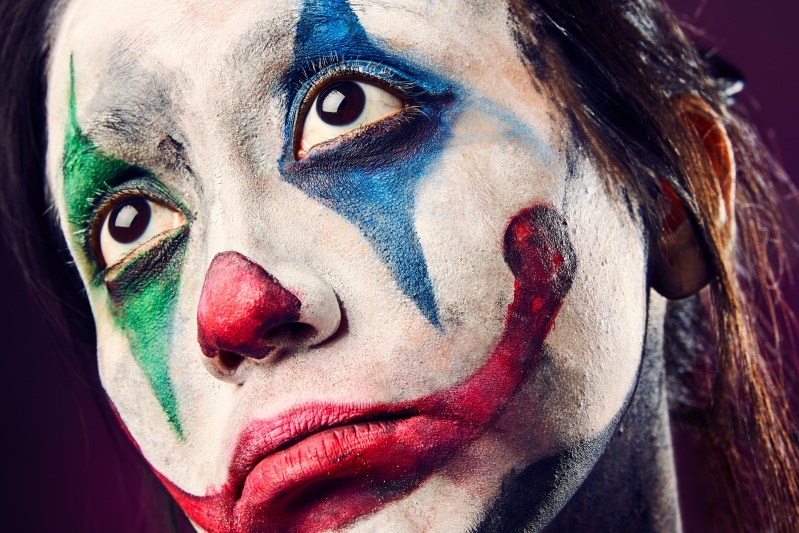 Grease paint can be ghoulish to get rid of
In clowning tradition, grease paint is the go-to makeup of choice, giving opaque and even coverage in seconds flat. It's also one of the most ubiquitous types of Halloween makeup, spotted in everything from dollar-store vampire face kits to professional palettes. Werewolves, witches, goblins, and ghouls can all benefit from the magic of grease, as it glides onto the skin with ease and stays put for hours with a bit of setting powder. However, there is a catch – this pigmented product isn't always easy to remove.
If you try to wash your grease paint off with standard gel, bar, or foam-based face cleansers, you're in for a bad time. Instead, fight like with like and grab a bottle of baby oil, mineral oil, or olive oil first. You can also use an oil-based cleanser if you wish.
Apply the oil to a cotton ball or makeup wipe, and gently buff off the face paint. It should break down very efficiently, though it will leave your skin feeling oily.

Use a Q-tip around the delicate orbital area to avoid dripping any product into your eyes, as this can temporarily cloud your vision.

Once you've removed most of the paint from your face with the oil, set aside a washcloth and grab a gentle foaming cleanser – like Neutrogena Makeup Remover – to wash off the excess residue. Be careful to keep your eyes closed as you cleanse and rinse thoroughly to avoid any burning or stinging sensations.

Lastly, dampen the washcloth with tepid or warm water and gently sweep your closed eyes and eyelashes before giving your face a final rinse.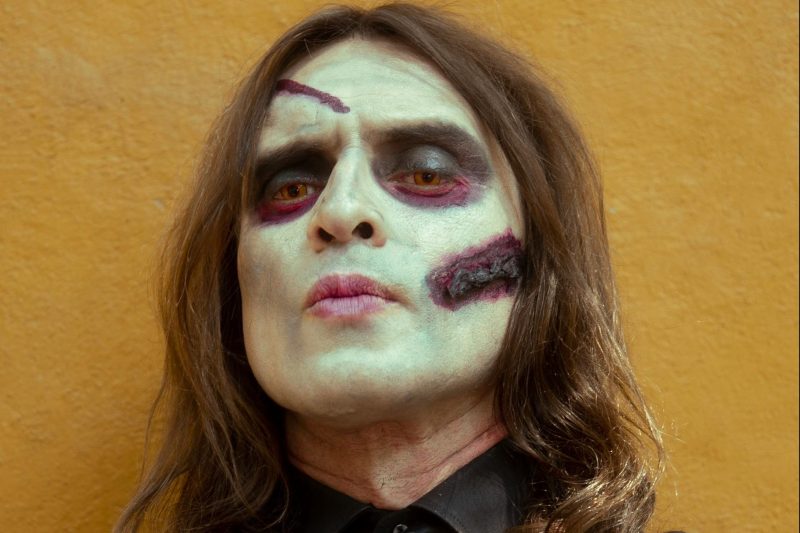 Removing SFX makeup and aftercare
Now that you know how to remove water-based and grease-paint Halloween makeup, it's time to address SFX makeup, also known as special effects. If your costume involves gory appendages or prosthetics, you might have used spirit gum or a similar adhesive to slap them on.
Spirit gum and other sticky substances come off easily with oil-based products – but if you don't have an oil cleanser, you can use household staples like peanut butter or a drop of cooking oil instead.
Simply peel off the prosthetic and massage the oil or butter into the sticky patch of skin.

Next, take a paper towel or washcloth and wipe the area clean, followed by a quick cleanse with your best face wash. Non-latex adhesives will come off cleanly with some gentle facial soap and water.
No matter what Halloween makeup you wear this year, it's crucial to rehydrate your skin after the removal process. Thick paint and prosthetics can irritate even the toughest complexions, so try a soothing face mask or serum before applying your favorite moisturizer. Finally, use a bit of emollient eye cream, as this region of the face is most susceptible to dryness.
Editors' Recommendations