There comes a point in every bewhiskered man's life when the stubble goes scraggly, the itch sets in, and a lack of grooming and trimming morphs into a full-on facial hair fracas. When confronted with this dilemma, most men are content to throw in the towel and reach for the razor, but with the right beard care products, you can take your scraggly face from shaggy to stylish.
Related: A Beginner's Guide to Beard Grooming
Started in 2013 by three friends in Montreal, Les Industries Groom, is a Quebecois company focused on producing high-quality, all-natural, hand-made grooming and beard care products for today's whiskered gentlemen. With so many unpronounceable ingredients in the mostly unregulated big-name grooming market, the guys at Groom decided to buck that trend and instead went with what they know—and what they know is natural.
Groom is dedicated to using no artificial scents, coloring-agents, parabens, or petroleum-derived products. The company makes all of their offerings "in small batches to guarantee freshness and quality," says co-founder Julien Blanchard. "We approach our products with a clear mind, free of the dogmas of the cosmetic world. We take the time to find effective alternatives to parabens, petroleum and silicon, with no compromise on the performance or quality of the products. Some of our essential oils are also harvested from local species of evergreen and our beeswax also comes from a local producer."
We reviewed Les Industries Groom's full line of natural beard care products, including their beard wash, beard oils, and beard balm. Here are our thoughts.
Beard Wash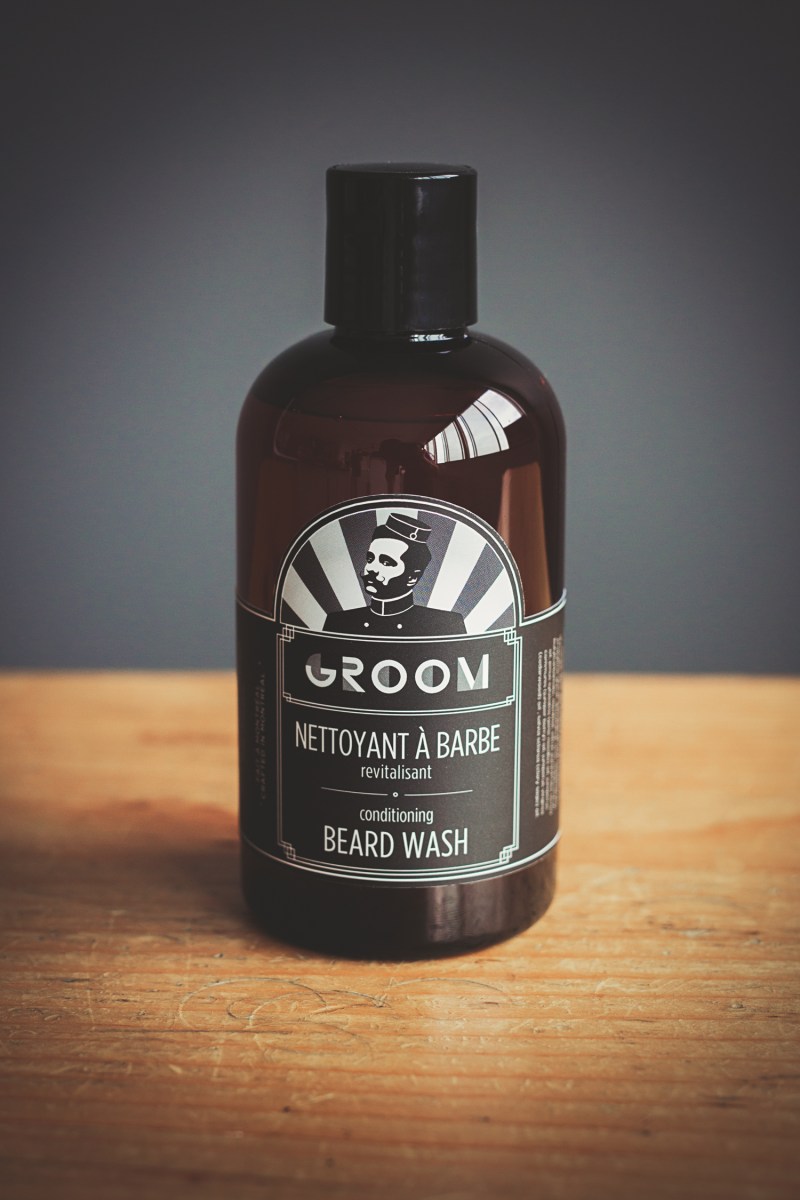 You wouldn't use bar soap on your hair, so why are you using shampoo on your beard? Shampoos are often harsh, with chemical agents used to strip oil from the hair and the skin, leaving both dry and dull. Lathering up with a squirt of Suave is also not the best method for taming your beard tangles. Instead, look to a wash specifically geared toward your facial hair.
Groom's beard wash combines the conditioning properties of natural essential oils such as pine needle oil, juniper berry oil, and cedar-wood oil, with the cooling effect of menthol for a refreshing, nourishing, and invigorating wash. We loved this wash for its minty-morning wake-up factor and its post-wash, absolutely clean feeling. Slip this beard wash into your morning shower routine and you'll be smelling woodsy, feeling spry, and looking sly, all before seven o'clock.
Beard Oil
It is a law of nature that, at a certain point, your beard will begin to itch, and not just a little. So, to save yourself all that scratching, opt instead for a few drops of beard oil. Used to moisturize and condition not only your beard, but also the skin underneath, beard oils are an essential tool in any man's grooming vanguard. After cleansing, simply rub a few drops between your hands and massage thoroughly into your beard. The oils will tame any unruly flyaway whiskers and the scented essential oils will leave you feeling energized.
Original Scent
Groom's original-scented beard oil is a fragrant bouquet of pine, bergamot, and lavender, and contains a nourishing base of argan, jojoba, coconut, macadamia, and hempseed oils. Sourced locally from a small producer that makes hemp products of exceptional quality for both cosmetics and culinary purposes, Groom's hempseed oil is used for its outstanding properties when applied to both skin and hair. Blanchard notes, "It's a dry oil (leaving no greasiness) that helps to nourish and moisturize, while also being quickly absorbed by the hair and skin. Although it does have a pleasant nutty aroma, it doesn't impact much on the fragrance."
Tobacco Scent
We were a little skeptical to take this beard oil for a spin due to it's tobacco inspired scent, but boy were we wrong. As Blanchard puts it, "The tobacco beard oil does regularly raise eyebrows just with the name of the fragrance; but to be fair, the scent is composed of 12 essential oils, among which you will find sandalwood, spikenard, pepper, vanilla and aniseed, to name but a few." With a husky aroma and non-greasy formula, Groom's tobacco scented beard oil is perfect for an occasion where you want to make a well-groomed and aromatic impression.
Les Industries Groom's Beard Oils come in a 30 or 60ml classy amber-glass bottle with an integrated glass dropper.
Beard Balm
Much like a beard oil, a beard balm is meant to moisturize, nourish, and tame your facial hair, but with one extra feature: protection from the elements. Made with shea butter, hempseed oil, coconut oil and locally sourced beesewax, Groom's beard balm is an excellent addition to your winter hair care routine. Not only does it provide a protective coating for your facial hair, but shea butter and coconut oil also soften while they condition. The balm, however, is extremely thick and sticky, so a little goes a long way. And be sure to do as the directions instruct and warm a tiny amount with the heat of your hands before applying liberally to your beard–otherwise you'll just look waxy. With a woody, citrusy scent, highlighted by notes of natural beeswax, this beard balm smells as luxurious as our beard will feel.
The Takeaway
We have to give props to Groom for their devotion to all-natural beard care products. They are an excellent example of what we can expect from cosmetic lines in the future. Lacking harsh chemicals, solvents, and scents, this beard care line can be used daily without the worry of drying or dermatological reactions. With locally sourced, natural, good-for-you ingredients, be sure to make space in your shave kit for our friendly neighbors from the north, Les Industries Groom.
Les Industries Groom products are prepared, tested, and produced in Montreal, Canada. All pricing is in Canadian Dollars. 
Editors' Recommendations