There's an art to finding the correct moisturizer for oily skin, whether you're prone to a shiny T-zone or sport more of an all-over glow. Choosing to forego face lotions entirely in an effort to reduce oiliness can backfire, as thirsty skin often produces more oil to compensate. Still, using the wrong moisturizer can lead to similarly disastrous results — or worse, clogged pores.
So how can you choose the best moisturizer for oily skin, especially when there are so many products on the market with confusing claims? Although everyone's complexion behaves a bit differently, some formulas are easier on oily skin than others. And, as touched on earlier, having overproductive oil glands doesn't exempt you from needing moisturizer in your skincare routine. But instead of collecting countless products in your medicine cabinet that just don't do the job, why not peruse our roundup of moisturizers made specifically for your skin type?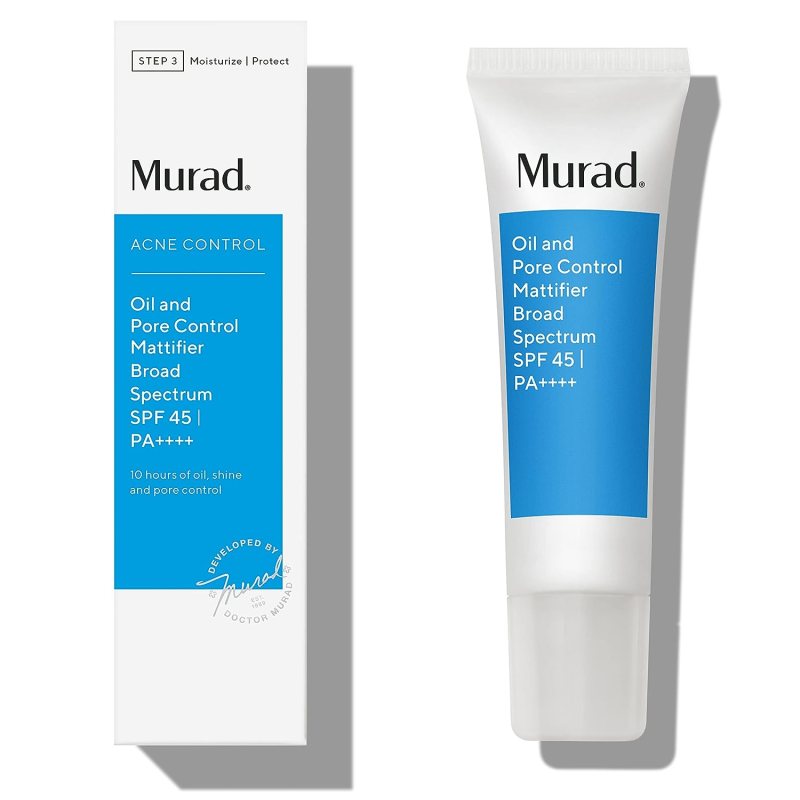 Murad Oil and Pore Reducing Facial Moisturizer
First things first: it's crucial to use SPF somewhere in your daily skincare routine to protect yourself from skin cancer, uneven texture, and premature signs of aging. To do this, you can layer SPF products like sunscreen over your moisturizer of choice, or you can select a moisturizer that contains SPF to save yourself some time. For oily skin types, few products are more effective at checking both boxes than Murad Oil and Pore Reducing Facial Moisturizer with SPF 45.
What makes Murad's Facial Moisturizer great for treating oily skin is its mattifying formula, which boasts "oil-trapping microspheres" to absorb and control shine for up to 10 hours. In fact, research conducted by Murad showed that over 90% of users felt their skin looked and felt less oily after wearing the multitasking moisturizer. While no over-the-counter product can physically change the size of enlarged pores, Murad claims that its dynamic ingredients — like African yellow wood bark — may improve their appearance.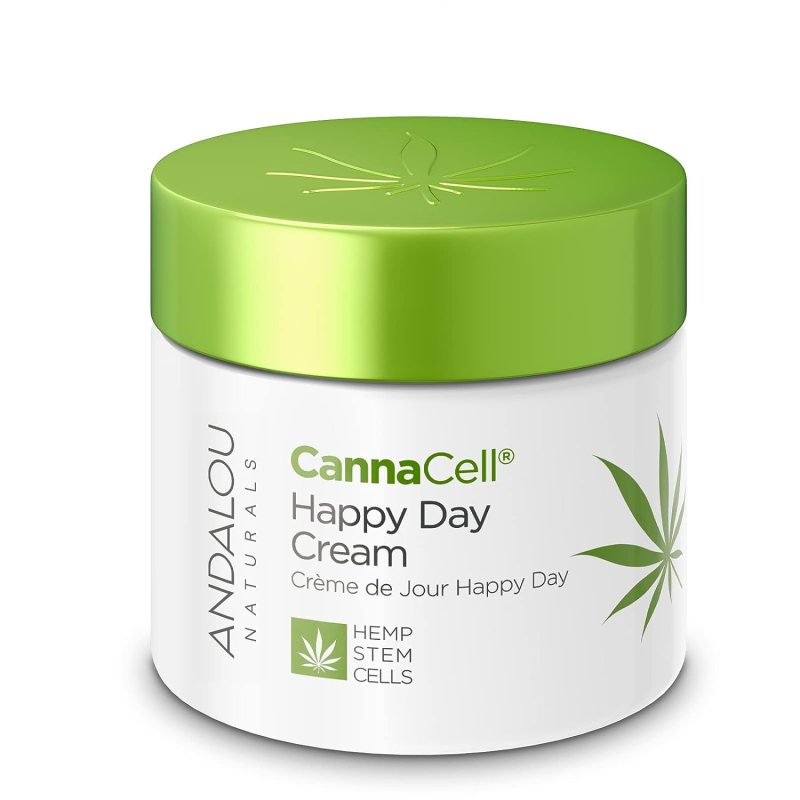 Andalou Naturals CannaCell Happy Day Cream
If you're looking for a moisturizer for oily skin with clean, natural ingredients, Andalou Naturals CannaCell Happy Day Cream is the one for you. As the name implies, the company's CannaCell Cream comes from real hemp stem cells, as well as nourishing organic hemp seed oil.
But despite its heavy-hitting ingredients, it's light enough to use on oily skin. It has a pleasant, neutral scent and sinks into the skin without leaving any greasy residue behind. Aloe is also the first ingredient in the mix, which means your skin can benefit from its soothing, calming properties. In addition to that, Andalou's cannabis-infused day cream contains vitamin C to improve tone and brightness, as well as tapioca starch to absorb oil.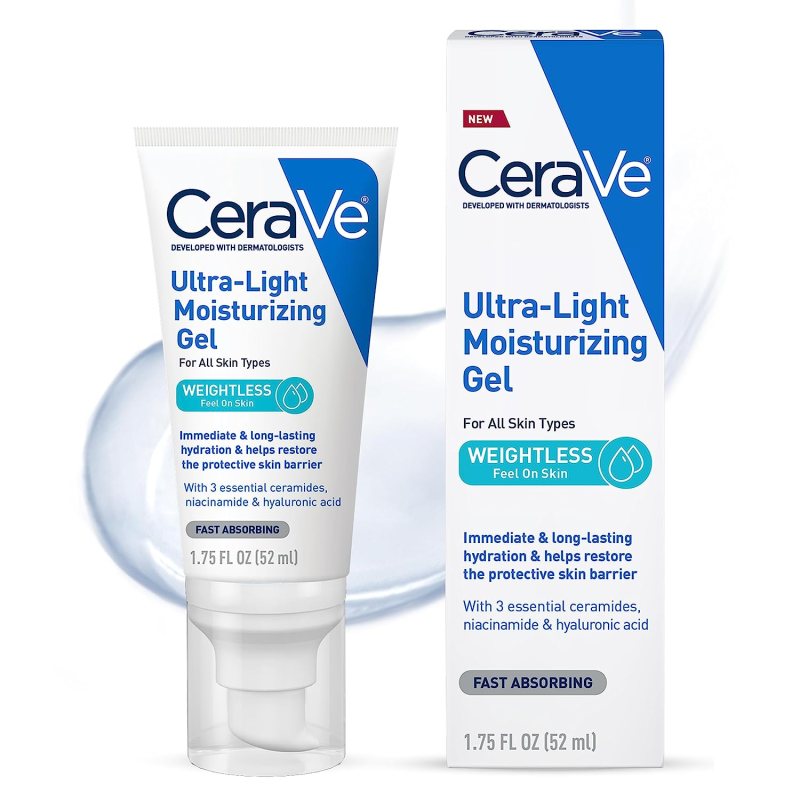 CeraVe Ultra-Light Moisturizing Gel
Can't stand the feeling of heavy skincare products on your face throughout the day? Your complexion may be better suited to a product like CeraVe Ultra-Light Moisturizing Gel. This inconspicuous moisturizer has an invisible, weightless finish but provides plenty of hydration, thanks to ingredients like ceramides and hyaluronic acid. Those with oily skin are buzzing about the novel product, with dozens of Amazon reviews claiming that it's the only one that works for their skin type.
According to CeraVe, it can diminish the look of oily skin, as its continuous-release moisturizing technology keeps sebum production balanced hours after you first apply it. Best of all, the Ultra-Light Moisturizing Gel formula is fragrance, paraben, and oil-free, minimizing your risk of developing breakouts or irritation.
Purito B5 Panthenol Re-Barrier Cream
When your skin barrier is compromised, it can feel like nothing works. Signs of a damaged skin barrier may include oily skin, persistent redness, and pesky hyperpigmentation spots, but fortunately, the condition is manageable. For many, a quick solution to address the aforementioned troubles is a high-quality facial moisturizer, like Purito B5 Panthenol Re-Barrier Cream. This vegan, cruelty-free Korean skincare product contains 10% panthenol, or vitamin B5, an ingredient that's perfect for plumping skin and tackling irritation. Plus, it also features Centella siatica, a potent botanical extract that's known to quell redness and soothe sensitivity.
Although this beloved moisturizer is super hydrating, it's perfect for those with oily skin types. Hundreds of reviewers are raving about its ability to treat everything from acne and oiliness to dullness and dry patches. And frugal skincare fans, rejoice — it's also surprisingly budget-friendly at only $16 per bottle.
La Roche-Posay Effaclar Mat Oil-Free Mattifying Moisturizer
Perhaps your biggest concern is persistent oiliness. Having a healthy glow is one thing, but nonstop shininess can be embarrassing and difficult to tone down. While oil-mattifying sheets can help mitigate this problem to a degree, they can't regulate sebum production. To keep your skin looking and feeling balanced all day, opt for a product designed for oily skin, like La Roche-Posay Effaclar Mat Oil-Free Mattifying Moisturizer.
La Roche-Posay is a French skincare brand known for its cutting-edge technology and highly effective formulas, and Effaclar Mat is no exception. It may be slightly pricier than other moisturizers, at roughly $35 a tube, but thousands of fans are in agreement: It works. Like other La Roche-Posay products, this elegant facial lotion features thermal spring water, in addition to glycerin and lipo-hydroxy acid, to hydrate and tone oily skin. And if you find that La Roche-Posay's moisturizer is a good match, you can incorporate other products from the Effaclar line to further enhance your complexion.
Editors' Recommendations