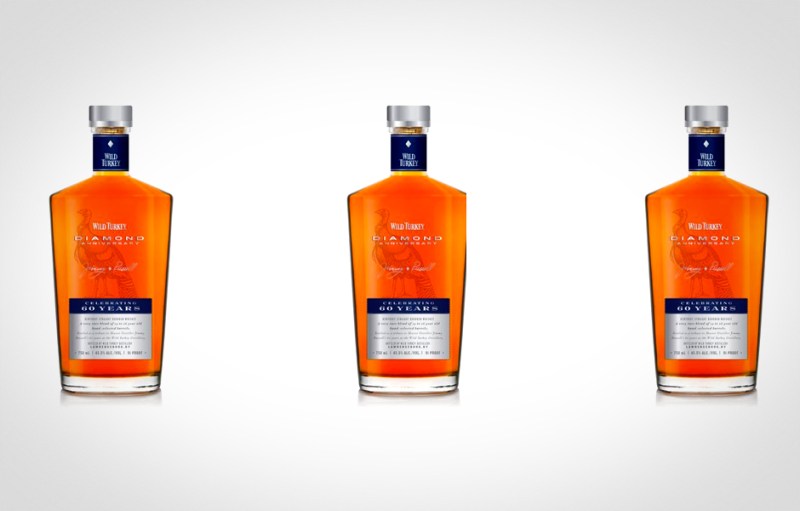 Wild Turkey master distiller Jimmy Russell recently celebrated his diamond anniversary with the Lawrenceburg, Kentucky-based whiskey company. Russell's first day on the job was way back in 1954. These days it's pretty rare that somebody is with a company for a decade, let alone 60 years, so it's a huge deal. The 79-year-old Russell is the longest-tenured active distiller in the industry and helped pave the way for the big boom in the bourbon industry dedicating , and Wild Turkey is paying tribute to him with the Wild Turkey Diamond Anniversary edition. Crafted by his son, Eddie Russell, who himself has spent 34 years with the company as his father's side, the bourbon is made from a blend of 13 16-year-old barrels, and at 91 proof, really packs a punch, and is sold at $124.99.
"When I was creating Wild Turkey Diamond Anniversary, my father's voice was in my head guiding me," said Eddie. "He taught me everything I know, so I wanted to craft something that reflected all of the invaluable knowledge he passed on to me; something that was worthy of one of the greatest Master Distillers of all time."
You may be familiar with the editions the elder Russell has launched in his 60 years at Wild Turkey: Tradition, Tribute, 17-year-old Wild Turkey for Japan, Rare Breed, American Spirit, Kentucky Spirit and Russell's Reserve, which he made with Jimmy . Jimmy also created the first the first honeyed Bourbon, at the time called Wild Turkey Liqueur (now known as American Honey), in 1976.
"We haven't changed a thing in making Wild Turkey," said Jimmy in an interview with TIME.com. "We use the same formula, the same corn, rye, yeast, barley. We make our own yeast, we have our own yeast culture. And I can vouch for our yeast, I know it'll be 60 years old tomorrow, because it was there when I got there."
For more information, visit wildturkeybourbon.com.
Editors' Recommendations