This is an admittedly odd grouping: a reinvented rye whiskey, an homage to 18th century American rye whiskey, and a bold Japanese rice whiskey. But they are united by their deliciousness. If whiskey is your game– hell, even if it's not, Redemption, Old Potrero, and Kikori are must tries.
You can now walk into a bar looking for redemption and actually find it. Redemption is a rye whiskey, made by rye lovers, for rye lovers. And non-rye lovers for that matter. It's a rye die hards can get excited about while not intimidating newbies.
Rye whiskey was the traditional go-to booze for cocktails, but it took at hit during Prohibition and was quickly replaced by the easier-to-produce-in-secret, bourbon. Now, thanks to guys like Redemption founder Dave Schmier, rye is back like it's 1919.
In 2010, Schmier purchased some whiskey from MGP and took it to the Redemption facility in Kentucky where it's bottled in small batches. Since rye is only just beginning to make its grand comeback, Redemption Whiskey uses its labels as a chance to bring new rye-lovers into the fold: batch and bottle number written on the label, as well as the mash bill. The bottles give insight into what you like and perhaps what you don't, making rye exploration a little less difficult.
Currently, Redemption offers three varieties, with Redemption Rye as the flagship, packing a whopping 95% rye and 5% barley malt mash. It is aged about two and half years in new charred oak, and is perfectly at home in an Old Fashioned. Arguably, cocktails are its natural habitat; its spicy citrus flavor makes a brighter, livelier version of the drink. But while it's perfectly suited for your cocktail, it is incredibly smooth neat. At around $30 a bottle, you can't beat it.
For those still working up to rye, fret not. A great middle ground is Redemption High Rye Bourbon: 60% corn, 36% rye, 4% barley malt and aged around a year in new charred oak. It's got the silkiness of bourbon with a bracing punch of rye that makes for a complex and delicious option. But if you're not yet convinced rye is the new black, they've got you covered with an equally good two-year aged Straight Bourbon.
"Redeem" your Manhattan with Redemption Rye's recipe:
1 oz. Redemption Rye
0.5 oz. sweet vermouth
3 dashes aromatic Bitters
1 cherry
Stir and strain into a cocktail glass. Garnish with a cherry.
Old Potrero: 18th Century-Style
Fritz Maytag, the guy behind the micro-brewery Anchor Steam, decided he wanted to make a traditional American rye whiskey, so he bought a copper pot still, (possibly a powdered wig and tricorn hat) and set about to make a whiskey early distillers like, say, George Washington, would recognize. Maytag chose to use only one grain, rye, instead of a mixed mash. He apparently has zero time for bourbons. It's rye or die.
Instead of charring the barrels like so many distilleries do, Anchor Steam does what they call "toasting," which comes from an old barrel making process. The wood is heated enough to be shaped, but not so much the wood catches and becomes charred. The result of aging for about two years in this kind of barrel means the whiskey doesn't have that sweet, oaky flavor often found in bourbons and is lighter in color. Old Potrero is an intense rye whiskey that is not the best option for new rye drinkers. Fans of the grain, however, will flip for this peppery, powerful drink. Yet again, Maytag is proving to be a visionary in the spirits world.
Old Potrero is one of the most unique whiskies on the market and will probably make you want to wear your own tricorn hat and powdered wig. Drink this artfully crafted liquid nostalgia over ice or with just a splash of water. It's currently only available in California.
Kikori Whiskey is coming out of Japan's ancient rice paddies and into your booze-soaked heart via a tumbler. Co-founded by Ann Soh Woods and Mel Woods, Kikori is a beautiful blend of East and West, creating something that's familiar and altogether entirely unique at the same time. Visu, their logo, is a woodsman from a Japanese folktale that urges people to find balance in their lives. If they want us to learn from Visu and moderate our whiskey intake, they shouldn't have made Kikori so damn good.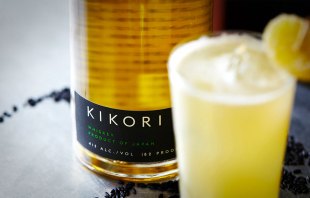 Kikori is made from 100% rice, grown in centuries-old paddies on Japan's Kyushu Island, mixed with the island's naturally purified water. It then ages in American oak, French Limousin, and sherry barrels, anywhere from three to ten years. This whiskey a lot lighter in color than others: it's almost the color of white wine and packs a powerful punch of flavors with incredible subtlety. It is immensely enjoyable anyway you want it: Kikori holds its own in a cocktail (jazzing up perennial favorites like the Old Fashioned) but is satisfying, silky-spicy and bold, on the rocks or neat. The whiskey can also be enjoyed during a meal, complementing and enhancing flavors instead of overpowering them. Did we mention it's gluten-free?
Perhaps the greatest part of Kikori is its versatility. It can be used in a variety of drinks you would never associate with whiskey. Kikori has a fantastic list of cocktail recipes, putting a Japanese twist on classics like a Whiskey Sour, but they've also invented the Kikori Coffee. Your (morning?) coffee will never be the same.
Retailing at about $40, Kikori is priced perfectly for an everyday whiskey for yourself, but also feels special enough for a gift. It's currently available in California, Arizona, Nevada, and Hawaii.
Kikori Coffee:
2 oz Kikori Whiskey
1 oz cold brew coffee
½ oz agave syrup
½ oz heavy cream
Freshly grated nutmeg & cinnamon
Method:
Add all liquid ingredients to your shaker tin, starting with the cold brew followed by the heavy cream, agave, and finally Kikori. Freshly grate the nutmeg and cinnamon into your shaker then add ice and shake vigorously. Strain into Collins glass over ice. Finish with freshly grated nutmeg and cinnamon.
Editors' Recommendations