The Sixties were a time of sexy, glamorous travel, never more missed than when sitting in today's matchbox-sized airplane seats surrounded by no smoking signs and grumpy flight attendants. But you can recapture (or experience for the first time, depending on your age) that upscale party atmosphere at Now Boarding, an air travel themed West Hollywood cocktail lounge.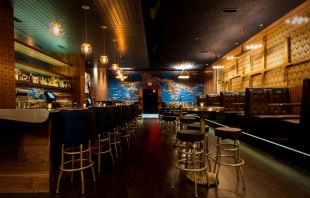 It's like walking into a members-only, swanky airport lounge when you step inside: rich wood paneling, mid-century pendant lights, tables, flight path maps, and leather seating. The booth seats even look like wide, comfortable plane seats. The walls are adorned with vintage photographs of sexy airline hostesses, as they were then called, in short skirts and pillbox hats, smiling down at you.
Even the bartenders get in on the fun, dressing as airline captains, slinging drinks and talking booze, which frankly, may even be something pilots did in the sixties. The drink menu is designed to look like the emergency information pamphlet from a plane, broken up into sections: gin cocktails, whiskey cocktails, etc. This menu is definitely read more than real emergency information pamphlets. Now Boarding serves up the classics: the margarita, mojito, and Old Fashioned, but they get creative, too. The Aviation isn't for everyone, but with gin, maraschino, lemon, creme de violette, served straight up, you'll feel right at home in your hip retro lounge. The sparkling cocktail options especially feel like 1960s recipes with a modern twist, like The Virgin Flight, which has a flower in the bottom of the glass. Not feeling a retro cocktail? Their beer list is sure to satisfy. Don't be afraid to order off menu: the bartenders are particularly awesome here (maybe it's the pilot's uniform) and will happily talk drinks with you. Plus, Monday means happy hour all night long.
What's not necessarily in keeping with the decade is the music. DJs and live bands usually play contemporary music, sometimes venturing as far back as the 90s, but you still get the occasional Dean Martin or Sinatra in there during slower times. Time to brush of your skinny tie and Twisting skills.
Now Boarding doesn't feel like a theme bar, it feels like you've legitimately time-traveled. It's devil-may-care Swingin' Sixties sexiness is contagious and the cocktails are stellar.
Editors' Recommendations