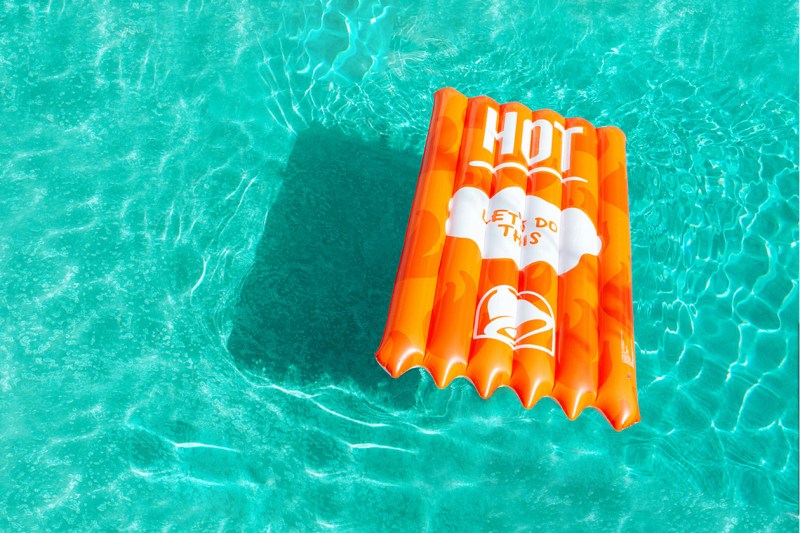 Fast food chain and all-around excellent social media player, Taco Bell, is joining the hotel game — if only for a little while. No, this isn't a joke. Yes, they will be serving tacos and Baja Blasts.
The Bell: A Taco Bell Hotel and Resort is popping up this summer in Palm Springs, California. Opening in August with room for only the die-hardest of Taco Bell superfans, The Bell is short on details at the moment, but the brand promises there will be "'Bell' hops and Baja Blasts, Fire Sauce and Sauce Packet floaties," and "exclusive Taco Bell menu items and plenty of surprises."
From breakfast to poolside cocktails, Taco Bell intends to infuse every moment of your stay at The Bell with its version of happiness, meaning there will also be a Taco Bell gift shop where you can grab their latest clothing line; a Taco Bell nail salon where ladies (or gents, if that's your thing) can get taco-inspired nail art, taco art and design in the guestrooms; and so much more.
"The Bell stands to be the biggest expression of the Taco Bell lifestyle to date. It will be fun, colorful, flavorful, and filled with more than what our fans might expect," Taco Bell's chief global brand officer Marisa Thalberg said in a statement. "Also, just like some of our most sought-after food innovation, this hotel brings something entirely new for lucky fans to experience and enjoy."
Hopefully, they'll also have the brand's own beer on tap because we are personally praying for a Taco Bell Bar, too.
The Bell will begin taking reservations in June 2019 at its official site. Head over to sign-up to be notified immediately once available. If you're lucky enough to snag a room, toss us an invite. We'd love to share a Nachos Bellgrande with you.
In case this news has given you a hankering for tacos and you're too far from a Taco Bell, make your own tacos at home (sorry TB!), check out how to make two different authentic-style tacos.
Editors' Recommendations