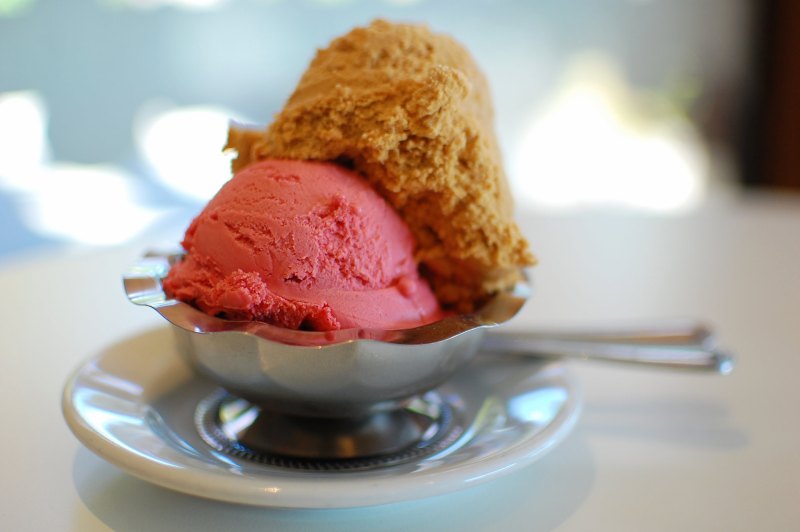 While not exactly fans of Pumpkin Spice Season, we have to give a nod to the creative genius who realized that adding the Thanksgiving spice combination to coffee would have women and teen girls (and some men) champing at the bit to get their autumnal fix every year from September through December.
Hopping on that same seasonal flavor bandwagon is Washington-based Snoqualmie Ice Cream with their two traditional seasonal flavors: Pumpkin Custard and Peppermint Stick Gelato, and their fresh, new seasonal flavor, Sun Liquor Fancy Eggnog Custard.
These limited-edition flavors are available in pints at grocery and convenience stores throughout the Pacific Northwest and can be shipped nationwide when ordered online. All Snoqualmie ice cream, custard, and gelato are all-natural and made in small-batches to insure quality. Snoqualmie products are made with more cream and less air, along with no artificial flavors or colors, no high fructose corn syrup, and are sweetened with non-GMO cane sugar all in their sustainable and environmentally conscious manufacturing facility.
Snoqualmie's pumpkin custard is made from a combination of pumpkin puree, vanilla, cloves, cinnamon, nutmeg, and ginger. The taste is almost exactly like a very cold, very delicious pumpkin pie, but not at all like pumpkin spice. There is a deep, heady flavor to this creamy, custard that live the taste lingering on your tongue (in a good way). With just the right hint of pumpkin flavor, this seasonal ice cream is a top-contender for best seasonal anything ever.
The Peppermint Stick Gelato is made with natural mint candies that are swirled into a peppermint infused gelato. While definitely full of flavor and undoubtedly pepperminty, this ice cream does not overdo it. It's like eating a hint of Christmas with every spoonful. And if you really want to get into the Christmas season, have a few bites with a shot of peppermint schnapps for that hardcore holiday spirit.

Snoqualmie's Sun Liquor Fancy Eggnog does not contain any alcohol (unfortunately). As Berry Bettinger, owner and Founder of Snoqualmie ice cream noted, "We made a really great Eggnog flavor in the past, but it had too much alcohol in it and we weren't able to sell it at retail. Our collaboration with the wonderful team at Sun Liquor has allowed us to perfect a non-alcoholic recipe with a fantastic taste, and it's a real treat – we're thrilled about it!" Sun Liquor has been making their famous aged eggnog for over a decade, and now, for the very first time, they've partnered with Snoqualmie Ice Cream to create a non-alcoholic custard version of their amazing seasonal classic. Though, you could add back the alcohol in the form of a simple whisky float.
As Erik Chapman, Head Distiller and Operations Manager at Sun Liquor, says, "We are huge fans of Snoqualmie Ice Cream. The marriage of our two iconic Pacific Northwest brands has been a really fun opportunity to create a truly special frozen treat for the holidays."
And when you taste it, you realize how truly special it is. There are a lot of ice cream and custard flavors out there (thank you Ben and Jerry's and Baskin Robbins), but none of the more traditional flavors you might have tasted before have the punch that this eggnog custard does. Every bite is rich and filling, making this a pint you can spread out over the course of a week or more. But, we aren't opposed to downing it all in one sitting. Just hit the gym afterward.
For a look at our taste-testing process, check out our recent Facebook Live video featuring a few Digital Trends staffers who so graciously offered to do the hard work of trying out ice cream. And for more information on the difference between ice cream, custard, and gelato, take a look at this page full of helpful identifying information.
Snoqualmie Ice Cream's seasonal flavors are available both online and in stores from October through December of each year.
Editors' Recommendations