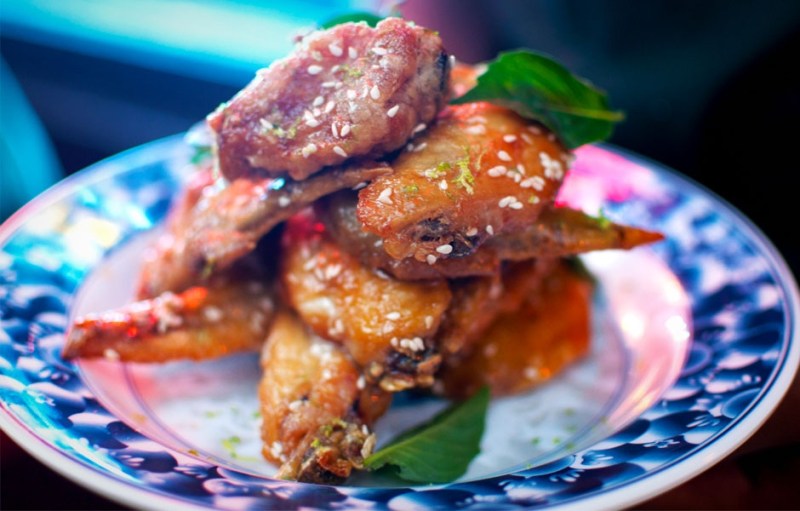 We're in the middle of football season, a time when chicken wings are of the utmost importance. Getting or making a good chicken wing may seem like a straightforward task, but sometimes it proves easier said than done. Sometimes you get wings that lack crispness, that are weighed down by sauce; wings that just don't do the trick.
To get the inside scoop on the right way to do wings, we were lucky enough to sit down with Chef Chaz Brown at Seoul Chicken, his restaurant and bar in Manhattan's Lower East Side. Effusive and charismatic, the former Top Chef contestant chatted with us while hungry patrons filled the available space at the bar to watch Thursday Night Football, plow through piles of wings, and talk fantasy football with Chef Brown himself.
After working as the chef de cuisine at Fatty Crab, Chef Brown spent time as a consultant taking on various projects. However, when the space for Seoul Chicken became available, he saw it as a way to take the familiar texture of the chicken wing and "turn the dial to someplace more exotic."
And that's exactly what Seoul Chicken is—a place where the familiar and exotic meet. There's cutting edge art by Brian Kirhagis (aka BK the Artist) hanging on the wall, as well as space for football on a pull down projector. It is a restaurant where watching the afternoon game with wings and beer can turn into cocktails, dinner and then some intimate, late-night chatter.
But back to the wings. Here are a few important tips we picked up from Chef Chaz Brown that will help improve your wing game.
Brine
At Seoul Kitchen, Chef Brown gives his chicken a twenty-four hour brine in a mixture of water, salt, sugar, cilantro root and turmeric (for color). The chicken is then patted dry and dredged with tapioca starch and rice flour, which are both gluten free.
Poach
Next, the chicken is poached at a low temperature so that it is completely cooked through. Finally, all the pieces are air-dried and receive a hard fry at 375°. The second fry focuses solely on crispness, which is in the Korean style—hence Seoul Chicken.
Flavor
Currently, Chef Brown's wings come in seven flavors: gochujang buffalo, palm sugar and kalamansi, sriacha and honey, fish sauce and garlic, Szechuan peppercorn and sea salt, habanero kimchi, and Seoul dry spice. For beginners, the palm sugar and kalamansi (a popular Asian citrus fruit)  is like an approximation of Chinese duck sauce; the Szechuan peppercorn and sea salt is an imagining of the sea salt and pepper potato chip as a chicken wing; and the habanero kimchi is just straight up spicy. Chef Brown is currently looking to replace some of his flavors—the winner of the restaurant's fantasy football league will work with him to craft a new flavor recipe.
Cooking Time
For those of you looking to impress at home or at a tailgate, Chef Brown highly recommends giving your chicken an initial slow and low cook (you can even bake your chicken first), so that the meat is done all the way through. After that, you can really focus on texture and crispness (and not doneness) in your second fry.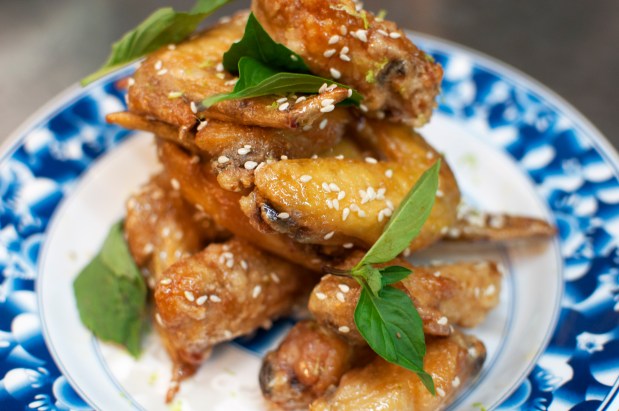 Sauce
When it comes to sauce, Chef Brown is adamant that you want to use ingredients with low water content. Ingredients with a high water content will compromise the texture of your wings. And you want to use items with a decent amount of sugar so they coat and remain on the outside of your wings. So ingredients such as Sriacha and honey are perfect ingredients to experiment with at home.
Chef Chaz Brown doesn't cook to solely impress. He wants to cook his own way and "hopefully people will like it." So far, at Seoul Chicken, it seems to be working. And if you take some of his tips, we guarantee that you'll impress your friends and fellow tailgaters.
All food images courtesy of Justine Dungo.
Editors' Recommendations