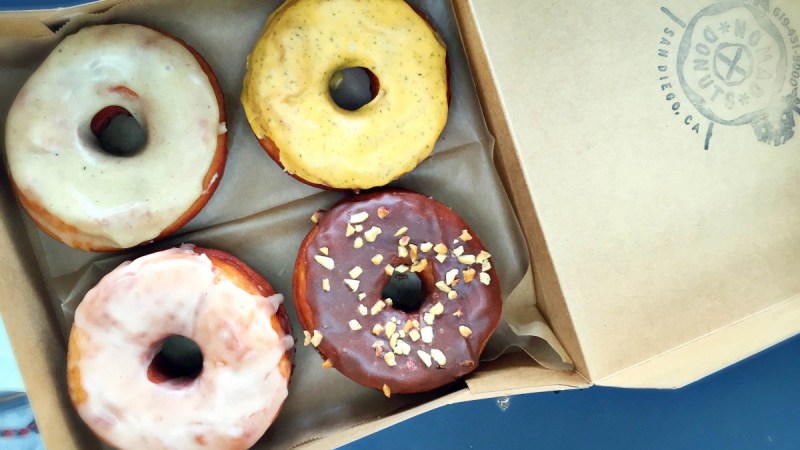 The idea of a donut shop backed by the genius of a Michelin-starred chef sounds utterly ridiculous, unnecessary, and amazing. It's a little like Anthony Bourdain opening a hot dog stand. Whatever the reason, we're thankful for the opening of Nomad Donuts, a new, independent donut shop with a surprisingly gourmet menu.
Nomad Donuts opened this month in the trendy (read: hipster) North Park district of San Diego. While the lineup changes regularly to accommodate fresh, local ingredients, every variety of doughnut is both unusual and creative. The shop is fueled partially by well-traveled CEO Brad Keiller, but primarily by his partner and Michelin-starred chef Kristianna Zabala. Her concoctions often combine disparate international flavor profiles that just work.
For example, her idea for "an inside-out sticky bun" blends a honey sesame ginger-glazed doughnut with candied kimchi bacon — all inspired by Korean barbecue. Her white chocolate mint-glazed doughnut is topped with jalapeno drizzle; he sweet, savory, and heat all culminate in a unique flavor experience. One recent sweet-meets-savory offering featured a scotch egg donut aka a fried sweet potato pastry filled with a medium-boiled, sausage-wrapped egg, all covered in a maple coffee glaze.
The shop's opening comes amid a deluge of relatively new gourmet junk food stores across the country. Last year, Black Tap Burgers & Beer created a hot new New York City dessert du jour with ridiculously decadent milkshakes that often piled things like red velvet cake, cotton candy, and ice cream into a single mug. Portland's Voodoo Doughnut is arguably the most well-known, over-the-top donut bakery featuring every ingredient from Cocoa Puffs to goat's blood to NyQuil (yes, really). There's no doubt these all make for great Instagram shots, but it feels as though there's little thought behind these novelty Franken-foods except "more, more, more!" Instead of blindly layering one ridiculous ingredient on top of the next — which has resulted in a culinary arms race of sorts — Nomad Donuts is clearly taking a more thoughtful, measured approach.
The company's new, expanded cafe includes the donuts they're so famous for locally. The shop also offers coffee, breakfast sandwiches, dense Montreal-style bagels (boiled in honey water and wood-fired), and a chef's counter where Zabala will serve one-off pastries in whatever flavors strike her fancy on any given day. The owners are working to secure a beer and wine license with the hopes of partnering with local San Diego breweries on donut and beer pairings.