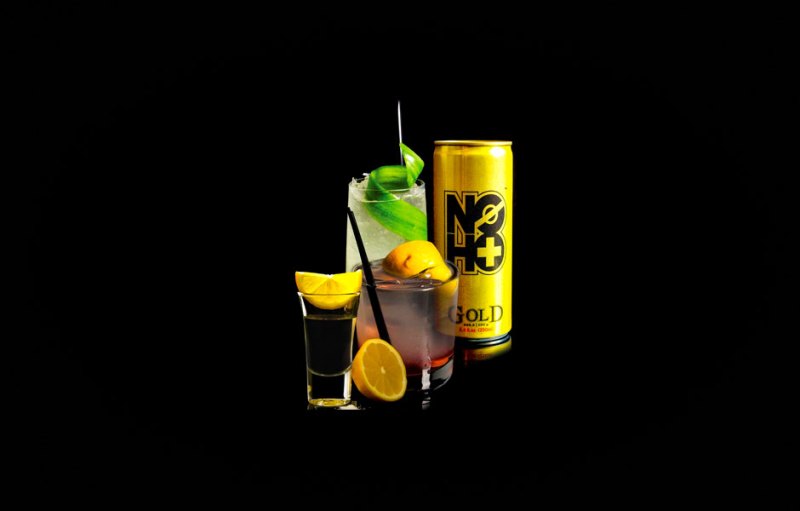 One thing everyone can agree on is that hangovers are the worst. Sure, that last, "why the hell not" drink of the night can be fun and life-affirming in the moment, but the next day you're often left feeling terrible and swearing off alcohol all together. The baggage of a hangover only grows worse as you get older, and it seems like none of the many remedies or cures ever does the trick. However, that was before we tried NOHO—the hangover defense drink that is gaining in popularity all over the country.
NOHO (No Hangover) comes in two forms: the NOHO shot and the NOHO Gold mixer. Each one is filled with vitamins and supplements that keep your body from feeling the full effects of a hangover. Both the shot and the mixer contain vitamin A, iron, magnesium, phosphorus, and zinc as well as prickly pear extract (found in desert cactus and helps hydration as well as liver cleansing) and ginger root extract (which soothes the stomach and digestive system). Neither version of NOHO contains caffeine, sugar or any other energy increasing ingredients, which means it is safe to drink.
While the website and the packaging may make NOHO seem like just another drink on display, the mixture within does work. This past weekend, we tried out the NOHO shot. Before having any drinks, we put back one NOHO shot. Then, after a few hours and few cocktails (truth be told, we did mix liquor and beer), we had another shot (as recommended by the people at NOHO) before calling it a night. When Sunday morning rolled around, there was none of the grogginess that usually comes with one of our festive weekend evenings.
NOHO Gold, meanwhile, is meant to be mixed. The sparkling, lightly ginger-flavored drink works well with a variety of liquors. Some of the NOHO recommended cocktails include the Sonoran Lemonade (Wild Turkey American Honey, NOHO Gold, lemonade, lemon garnish), The Cactus Apple (whiskey, apple pucker, NOHO Gold, cherry garnish) and the Strawberry Blonde (Southern Comfort, NOHO Gold, Rose's Lime, sweet and sour mix, lime garnish). We're looking forward to trying some of these recipes and seeing if NOHO Gold works as well as the shot.
Now, the extent of a hangover all depends on what you put into a night. NOHO suggests that one shot is more effective combating the effects of five drinks, so if you are going to go full tilt on the town, you're going to need to bring some more NOHO along for the ride.
Editors' Recommendations