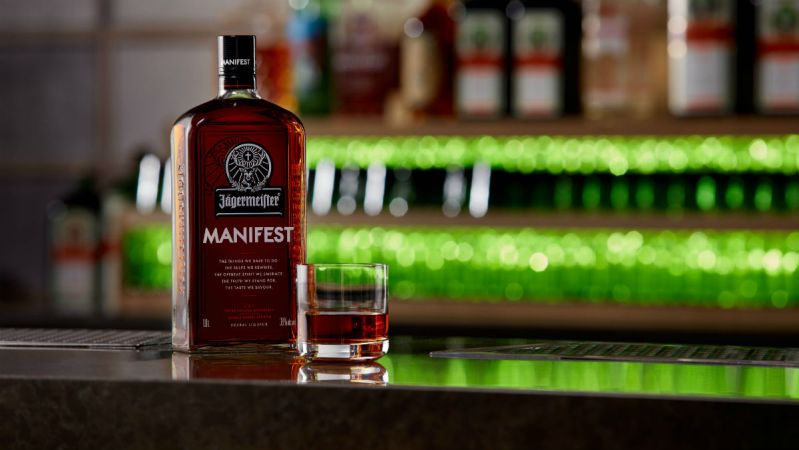 Some spirit brands put out new expressions every year and some brands put out new expressions multiple times per year. Others, like Jägermeister, wait a century to put out just their second brand extension ever. This month, the famed German liqueur released its new product: Manifest, a super-premium spirit designed not for the Jägerbombs of early aughts fame, but for sipping.
Jack Carson, director of innovation for Mast- Jägermeister US, says the liqueur is a great way for people who've not tried Jägermeister before to see the care and quality that goes into making the brand's spirits, adding, "Manifest represents a bold new proclamation of unparalleled quality and provides us with an opportunity to engage new consumers."
The new spirit (which comes in at 38 percent ABV, 3 percent higher than the original) uses even more botanicals (bumping up the number from the already-impressive 56) and increases the number of macerates from four to five.
"Our master distillers have used the utmost diligence and their wealth of experience to refine our strictly guarded Jägermeister recipe and enhance the masterly well-rounded production process," Dr. Berndt Finke, head of raw materials and manufacturing for Mast-Jägermeister SE, said in a statement.
Full-bodied and fairly robust, Manifest has sweet anise and dried fruit notes that give way to subtle spice and aromatic bitters. On the finish, you'll find vanilla and oak, coming from the small and large oak casks in which the spirit spends more than a year before bottling.
The brand says Jägermeister Manifest is best served neat, but we think it holds up well on a rock or as a component of a modified Old Fashioned.
Manifest comes in a clear bottle with a hand-applied Jägermeister emblem in a bronze accentuate. It will be available for limited release for around $60 per 1L bottle. It is also available in a number of cocktail bars across the country (including, but not limited to: Dante in New York City, The Hawthorne in Boston, Broken Shaker in Chicago, Martha in Philadelphia, Occidental in Washington, D.C., and Sweet Liberty in Miami.)
Want to know the story behind how Jägermeister got started? Check out our brief history of the herbal liqueur here.
Editors' Recommendations