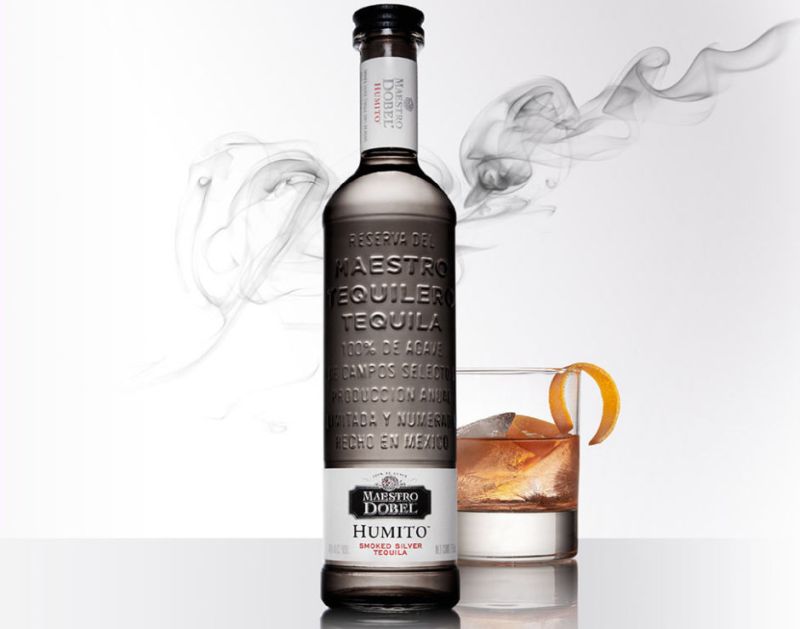 For the longest time, if you were looking for a smoked agave spirit, you went with mescal because you had to. Maestro Dobel, however, is looking to combat that with Humito, the world's first smoked tequila.
Meaning "little smoke," Humito is produced by the artisanal distillation methods used in the early days (think 17th century) of tequila production in mind. To create the smoked flavor, Maestro uses mesquite wood during the agave cooking process.
After being steam-cooked for a period of time, the mesquite wood is then introduced to the 100-percent blue agave's cooking process. Beyond this, Maestro Dobel's owner Juan Domingo "Dobel" Beckmann (who is also the eleventh-generation owner of Jose Cuervo), remains mum, citing family secrets.
Talking about tequila is fun and all, but drinking tequila, as you all know, is more fun. So we sat down and tried Humito to see what all the buzz is about.
Related: 9 Must-Have Tequila Cocktails
Nose: One of the first things to be noticed was a slight salinity. Closer to the earthiness of rock salt than the freshness of an ocean breeze, the nose then gives way to subtle citrus notes. After you get through all this, you're brought—as if taken gently by the hand—to the namesake piece of this tequila, the smokiness. It's there, but it isn't overwhelming. If you're an Islay Scotch fan, you'll be disappointed by the level of smoke here. If the feeling of swallowing a mouth of cigar smoke isn't your thing, but you still like a whiff of the stuff, then Humito will deliver the perfect amount on the nose.
Taste: From the get-go, it's easy to tell you're working with a subtle, delicate tequila. There's not the assault so closely associated with other, cheaper tequilas that could easily lead to not-so-fond memories of 2-for-1 college nights. The most prominent flavors are sweetness and citrus. To a lesser extent, Humito expresses certain vegetal or herbaceous qualities. There's a lot going on in every small sip of Humito. There is barely any burn, but as you swallow, you're going to notice the smoke again. Like a friend who's gone into the kitchen to refresh his drink during a party, he's back.
Finish: The smoke is back in town again, lingering from the time you swallowed through the fairly short finish. Warmth will pervade the mouth, but it doesn't linger too long.
Final Thoughts: This tequila is much more complex than you might realize when you first pour it. It'd be a dangerous and effective sipper—What do you mean we went through half a bottle already?—but it could work in certain citrus-based cocktails. More than likely, though, you'll find more enjoyment just adding a few drops of water, allowing the tequila to open up and really express itself. If you're a fan of scotches on the lighter side of smoky, or a fan of tequila's older brother mescal, this is definitely something to add to your shelf.
Related: Tequila Aged in Wild Turkey Casks
Maestro Dobel's Humito retails for $50.
(Photo Credit: Maestro Dobel)
Editors' Recommendations