Is there a more perfect representation of a summer party than a luau? Great food and drink, entertainment, good company. If you ask us, there is nothing better ( although a close second goes to chugging cheap beer and lighting fireworks on the Fourth of July, though).
The luau, to take a step back in time real quick, is a Hawaiian ceremonial party that dates back to the early 1800s when King Kamehameha II abolished the religious laws of the land and ate with the women, a symbolic act that was the, in essence, the first luau. Since then, Hawaiians have celebrated the luau by cooking tons of grub, bringing people together, and having a hell of a party.
This summer, Snake River Farms — the family-run business dedicated to producing the best pork and beef products in the U.S. — has made it as easy as possible to host your own luau by creating a package that includes every piece of meat you could need, as well as the recipes for what to do with those cuts.
For this special package, Snake River Farms worked with celebrity chef Lee Anne Wong, whose credits include a top-four finish on the first season of Bravo's Top Chef as well as producer, host, chef, and consultant for a wide variety of other shows over the last 12years. All in all, she's a badass.
The Lee Anne Wong Luau Feast package (which retails for $199, but sells separately for $276) includes 1 14-ounce American Wagyu black -grade cap of ribeye, 1 package of American Wagyu black -grade tenderloin pieces, 1 Kurobuta pork collar, 1 pack of Kurobuta short ribs, 1 package of Kurobuta bacon, and 1 package of American Wagyu hot dogs.
To find out how she decided on the final package and the corresponding recipes, we sat down with Wong. Overall, she says, the cuts she chose were some of her favorites.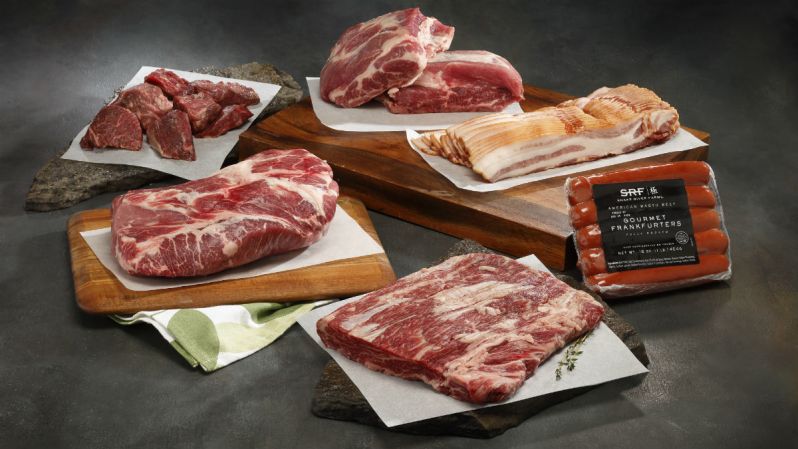 "I wanted to show how delicious non-prime cuts could be, in flavor, texture, and marbling. Cuts like the pork collar and pork short ribs take a little extra care to cook, but the end result is sure to leave you wanting more. The beef rib cap and tenderloin pieces are a fantastic introduction to the quality and taste of [Snake River Farms] Wagyu beef," Wong explains.
For the recipes — which she rates a 3-4 on a scale of 1-10 in difficulty — Wong says that she tapped into the mélange of culinary cultures that are present on the Hawaiian islands (Wong has lived in Hawaii for the last five years). The recipes were devised so that even if you don't have access to a grill, you can still make everything.
So what of these recipes? What can you look forward to if you purchase the Luau Feast? How does char siu pork collar sound? What about Kurobuta short ribs in a guava barbecue sauce? Snake River Farms was kind enough to share with us two of the recipes, which you can find below.
Char Siu-Style Pork Collar with Green Onion Vinaigrette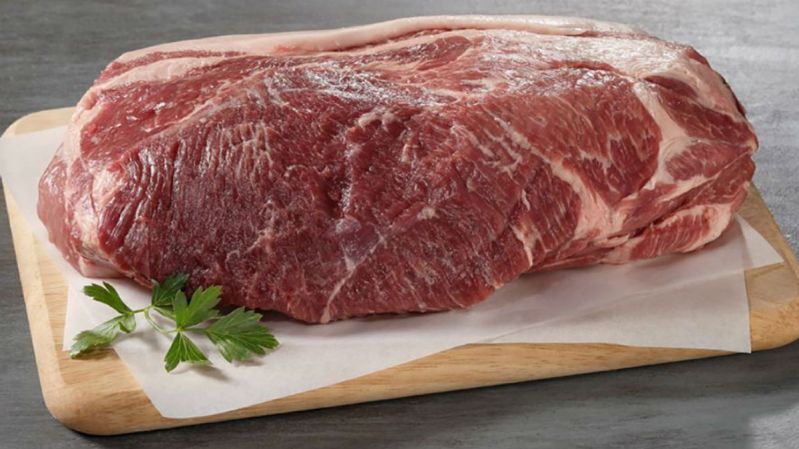 Ingredients:
1 4-lb Kurobuta pork collar
1/3 cup hoisin sauce
.25 cup honey
.25 cup soy sauce
3 tbsp dry sherry
1 tsp Chinese five-spice powder
Green onion vinaigrette*
Method:
In a small bowl, combine the hoisin, honey, soy sauce, sherry, and five-spice powder, whisking until well combined. Butcher the pork collar into four pieces/loins by making a horizontal cut in half and then a vertical cut along the same.
Place the pork collar in a gallon zip bag or baking dish and pour the marinade over the meat, gently massaging the marinade in with your hands. Cover and refrigerate for 12-24 hours.
Remove the pork from the marinade. Add the leftover marinade to a small pot or pan and bring to a boil over high heat. Remove from the heat. Set aside.
To roast your char siu, preheat the oven to 275 degrees Fahrenheit and move the rack to the upper-middle position. Set an elevated wire rack on a rimmed baking sheet and lay the marinated pork collars on the rack. Put the pan in the oven and let it roast for 45 minutes to an hour or until the meat reaches an internal temperature of 135 degrees F.
Remove the pan from the oven, then move the oven rack to the top position and turn the heat up. Baste the pork with the reserved marinade, then broil it until dark and glossy with the edges just slightly charred. Flip the meat over and baste again, allowing the second side to color and char as well.
Transfer the pork to a cutting board and place a piece of tented foil over the cooked pork. Allow the pork to rest for 10 minutes before slicing. Serve with the green onion vinaigrette as a condiment.
*Green Onion Vinaigrette
Ingredients:
2 bunches green onion, washed, roots trimmed, sliced thin, green and whites, about 3 cups sliced
.5 cup vegetable oil
.5 cup toasted sesame oil
.5 cup rice vinegar
1 tbsp fresh ginger root, finely minced
1 tbsp granulated sugar
1 tsp fine sea salt
1 tsp fresh garlic, minced
.25 tsp ground white pepper
Method:
In a small pot or frying pan, combine the vegetable oil and sesame oil and heat over high heat to 350 degrees Fahrenheit (use an oil/candy thermometer to check the temperature) or until just barely smoking.
Combine the rest of the ingredients in a large deep, heatproof bowl (glass or metal, not plastic).
Carefully pour the hot oil over the ingredients until it has all been added, it will spatter so be careful. Once all the oil is added, gently stir the mixture with a spoon. You may spoon the vinaigrette over the pork warm or allow it to cool to room temperature.
Refrigerate to store.
Allow the vinaigrette to warm to room temperature before using.
Kurobuta Short Ribs with Guava Barbecue Sauce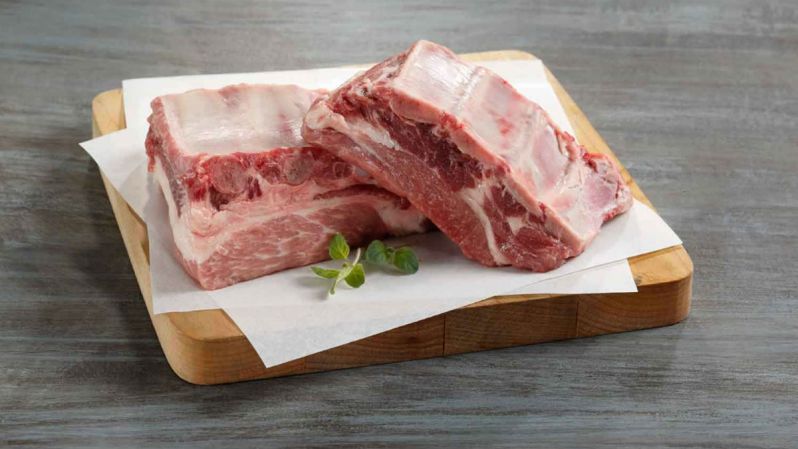 Ingredients:
1 2-lb package Kurobuta short ribs
Dry rub*
Guava barbecue sauce**
Method:
Preheat the oven to 400 degrees Fahrenheit. Pat the ribs dry. Rub the rib racks in a generous amount of dry rub. Wrap the ribs in a secure and heavy layer of food grade plastic wrap. Wrap the ribs next in a large sheet of foil, tenting the foil and wrapping the ribs loosely, though keeping an airtight seal on the foil.
Place the foil-wrapped ribs on a baking sheet. Bake in the oven on the middle rack for 45 minutes, then reduce the heat to 325 degrees Fahrenheit and bake for another hour. Remove the ribs from the oven and allow to cool to room temperature while leaving the ribs still wrapped in foil (in other words, don't open them yet!).
Once the ribs have cooled down, you may refrigerate them or throw them on the grill right away to eat! Individual riblets can be cut more easily after the meat has been refrigerated. To barbecue, heat the grill on medium high. Baste as desired with the guava barbecue sauce. Alternatively, you can deep fry the cooked ribs and toss in warm guava barbecue sauce.
*Dry Rub
(Makes 2 cups, enough for 5-6 lbs of meat)
Ingredients:
1 cup brown sugar, dark
.5 cup paprika
2 tbsp salt
1 tbsp black pepper
1 tbsp chile powder
1 tbsp garlic powder
1 tbsp onion powder
2 tsp ground cumin
1 tsp fresh minced thyme
1 tsp cayenne pepper
Method:
Combine all ingredients in a bowl and whisk well. Store in an airtight container in a cool, dry place.
**Guava Barbecue Sauce
Ingredients:
1 cup cold water
1 cup guava paste or 2 cups guavy jelly/jam
.5 cup apple cider vinegar
1/3 cup hoisin sauce
.25 cup brown sugar, dark
.25 cup tomato paste
.25 cup fresh lemon juice
2 tbsp minced onion
1 tbsp minced fresh ginger root
1 tbsp soy sauce
2 tsp ketchup
2 tsp Worcestershire sauce
2 cloves garlic, minced
1 jalapeno pepper (or to taste), minced
Kosher salt and pepper to taste
Method:
Place the water, guava paste, vinegar, hoisin sauce, brown sugar, tomato paste, lemon juice, onion, ginger, soy sauce, ketchup, Worcestershire sauce, garlic, and jalapeno pepper into a saucepan.
Bring to a simmer over medium-high heat, whisking until evenly blended.
Season to taste with salt and pepper.
Reduce heat to medium-low and simmer until the sauce has slightly thickened and is richly flavored, 10 to 15 minutes. The sauce should be pourable. If it has become too thick, thin it with some water.
Serve hot or cold.
You can pick up the Lee Anne Wong Luau Feast here.
Editors' Recommendations