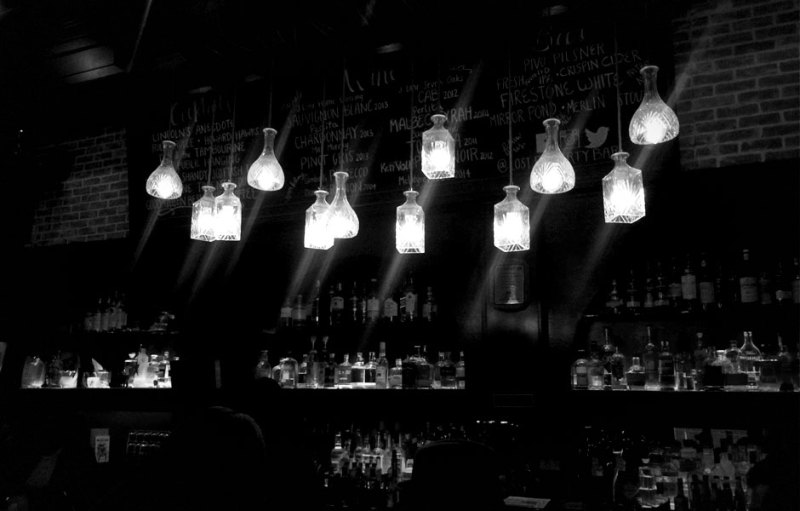 It's appropriate that Lost Property Bar is a bit tough to find. At Hollywood and Vine, it may be at one of the most famous intersections in Los Angeles, but you've still got to keep your eyes peeled for its blue sign of a question mark, cocktail glass, and suitcase.
Once inside, you're cocooned in a dark, happily-moody atmosphere of decanters-turned-pendant-lights, wood paneling, and leather sofas. The perfect background for sipping whiskey. And whiskey they have. You've got your bar classics like Famous Grouse and Jack Daniels, but with some help from the extremely knowledgeable (and friendly) bartenders, you can explore lesser known, craft and rare whiskies you may never have heard of. Have a penchant for that extraordinarily rare bottle you just tried? Buy the bottle. They will keep it for you behind the bar with your name on it and you can come in and tibble it at your leisure.
Lost Property's cocktail list is full of creative and delicious options, whiskey optional. Film buffs should try the Howard Hawks: Old Overholt Rye, Coffee & Cigarettes Rum, lemon, lime, egg white and absinthe essence. Want something whiskey free? The Rolls Royce is straight out of the 1930s with Brokers Dry Gin, Sweet Vermouth, Dry Vermouth (because why stop at just one vermouth?) and Benedictine Rinse. The bartenders will also design a brand-spanking-new cocktail just for you, based on your preferences and price point. Who knows, maybe one day it'll become a classic?
The bar itself feels thoughtfully curated by a hip, expensive decorator, yet left cluttered by the previous guests' books, jewelry, scarves and bags– but it's all up for grabs. You can take anything you want, just post a picture of it on social media with a hashtag for the bar. You don't even have to bring something to replace it or swap it for something of your own. That definitely off sets the price of a Hollywood cocktail.
Let's recap: rare and delicious whiskies, customizable cocktails, live music, and stuff you can take– you should definitely find yourself at Lost Property Bar.
Editors' Recommendations