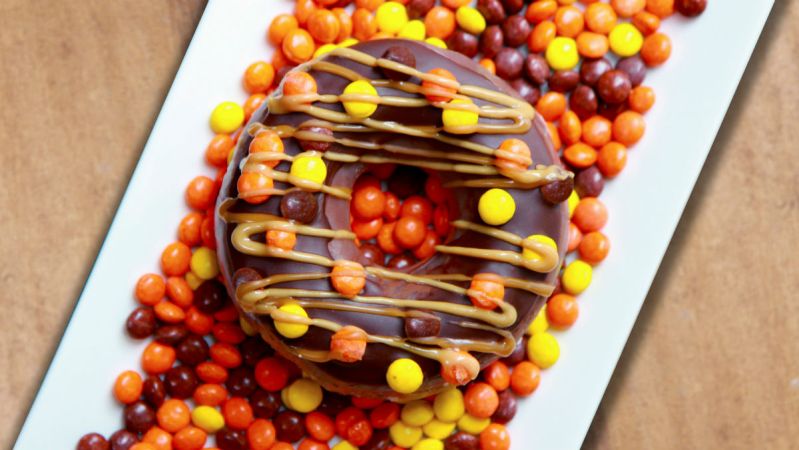 Whether you love Krispy Kreme doughnuts or hate them — and we know that everyone out there has their own very specific opinion on this, so you don't have to send comment and tell us, we believe you already — it is safe to say that the newest doughnut from the North Carolina-based chain is going to turn some heads. Krispy Kreme is then it's going to take those heads, make them feel like they just pounded an entire bag of Halloween candy, and finally leave them in a sugar-induced coma nap, curled around an empty waxed cardboard box.
For a limited time, you will be able to get your hands on a Krispy Kreme Reese's Outrageous Doughnut, which was modeled after the Reese's Outrageous candy bar. If you've never had an Outrageous bar, think of it as taking a couple Reese's peanut butter cups and putting them in a bag with a bunch of Reese's pieces and a few pieces of caramel. Then melt it all together.
The doughnut features a chocolate yeast dough (the first for Krispy Kreme) that is dipped in Hershey's chocolate fudge icing, topped with mini Reese's Pieces, and drizzled with Reese's peanut butter and salted caramel sauce.
You know, because one type of drizzle just wasn't enough. #moredrizzle.
Now for the other fun part: the nutritional facts. One of these chocolate-soaked bad boys is 300 calories (130 of which are from fat). In addition, you'll get loaded up with 14 grams of fat, 41 grams of carbs, and 24 grams of sugar. To put that in perspective, a normal Krispy Kreme doughnut has the following: 190 calories (100 from fat), 11 grams of fat, 22 grams of carbs, and 10 grams of sugar.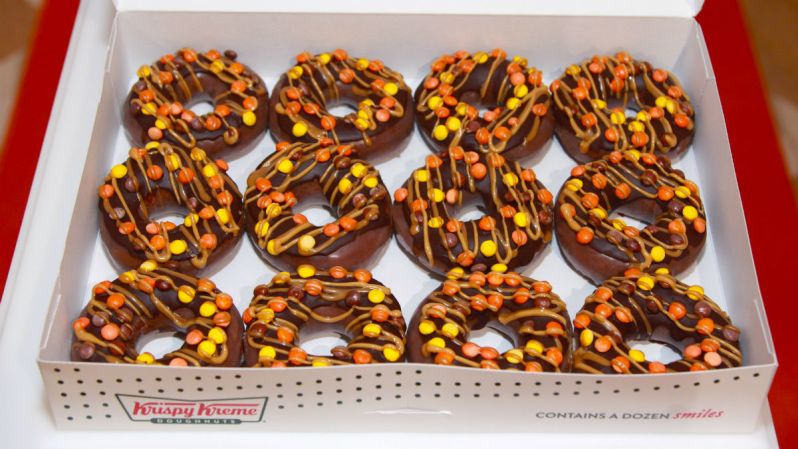 Seeing as this is the second time the two brands have worked together — last year, Krispy Kreme put out a Reese's Peanut Butter Doughnut — we can only imagine more collaborations on the horizon. If it were up to us (Krispy Kreme, are you listening?), the next collab doughnuts would be:
A regular Krispy Kreme doughnut stuffed with Reese's minis a la a stuffed crust pizza.
An eight-inch-diameter Reese's peanut butter cup that not only contains two mini chocolate ice glazed doughnuts, but is topped with an edible shot glass (made of sugar glass, of course) filled with Krispy Kreme glaze.
A double dark chocolate doughnut filled with peanut butter that is covered in powdered sugar, peanut butter chips, and the overwhelming feeling you're throwing your life away.
What do you think they'll come up with next? Tell us after you have one of these and wake up from your nap. Then, maybe, do some of these exercises.