An addiction led Jack Kuo to create his own food company in Portland, Oregon. He simply couldn't stop eating cheese puffs, but with a background in food science he knew his snack food of choice was packed with a ton of unhealthy ingredients. They don't call it "junk" food for nothing.
"I knew I could do better," said Kuo. "I thought, 'Why don't I bake my own cheese puffs with actual ingredients?'"
The result—Kuo created Fuller Foods and today markets several varieties of non-GMO Serious Cheesy Puffs without the use of artificial or "natural" flavors, coloring agents, processed starches or growth hormones. The puffs are handmade in small batches. The current flavors include Maple Bacon (crafted with REAL bacon), Sriracha, Blue Cheese Jalapeno and India Pale Ale.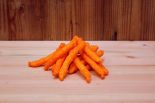 While his personal favorite is the Blue Cheese Jalapeno, he says he's very proud of the sriracha variety. "I played around with it, "he said. "It didn't take me that long. I found the right chili pepper, and yeah, I'd say it's quite an accomplishment."
When he passes out taste test samples he encourages people, once they've tried all the varieties separately, to eat a sriracha puff at the same time with a blue cheese jalapeno puff. This creates a spicy buffalo wing flavor.
"We're sort of the skittles of the cheese puff world," he said. "You know when you eat different flavors of skittles together. Same thing with Jelly Belly jelly beans."
He says making cheese puffs isn't a product, like jams or pickles or hot sauces, that often originates in someone's kitchen and then they expand to a company. Cheese puffs require special dedicated equipment, which is why most puffs are made by big companies who have the right tools to church out hundreds of pounds per hour.
"Cheese puffs are extruded. It's a mechanical process," said Kuo. "We have a super small extruder and oven. I bake a batch at a time, and we have a tumbler—a food grade cement mixer we use to season the puffs. It's all labor intensive. We have a four person team make the puffs twice a week."
Tasting is believing.
Outside of the Portland area, customers can order online at Scoutmob.com. A three pack assortment retails for $15. 
Editors' Recommendations