Sometimes, it's just too hot to cook outside. While the prospect of grilling a tri-tip steak is wonderful in theory, firing up a grill when its 100 degrees and 4,000-percent humidity can quickly sap the enjoyment from what seemed like a good idea at the time, especially when everyone else is sitting inside in the air conditioning or pounding margaritas in the pool.
When you reach this impasse, then, it's good to have a recipe that you can whip up quickly without having to worry. That's where ceviche comes in.
Ceviche is a dish that has two main components: fish and citrus. Depending on where you are in the world, the ingredients will vary slightly (lime or lemon, spice level, etc.), but in the end, you've got fish that is "cooked" by citrus. The citric acid in the chosen juice doesn't actually cook the fish meat, but causes it to become denatured, the fancy way of saying "it looks and feels like its cooked." It doesn't kill the bacteria as heat cooking would, though, so don't go picking up the clearance fish because it's a good deal.
Below, you'll find a recipe for fluke ceviche with charred avocado, brined and fresh cucumbers, pickled Fresno peppers, and cucumber broth provided by Jeremiah Del Sol, executive chef at Casino Clam Bar in Williamsburg, Brooklyn.
I know we said "fire bad" when it's hot out, and this one does involve a little bit of fire, but it's a blowtorch and we're pretty sure the fun of getting to use a blowtorch cancels out the heat it creates.
Fluke Ceviche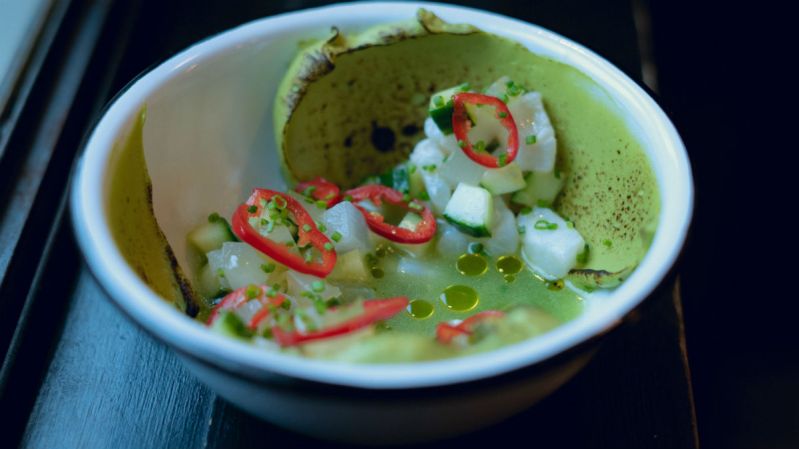 Ceviche
Ingredients:
3 oz fresh fluke, diced small
30 oz cucumber broth*
6 slices pickled Fresno peppers*
20 g brined cucumbers, diced small*
20 g fresh cucumbers, diced small
6 g lime juice
2 g olive oil
2 tbsp avocado purée*
1/4 tsp salt
1/8 tsp sugar
Method:
In a serving bowl, swipe the avocado purée with a spoon along the sides of the bowl and blow torch until charred. Place in freezer for two minutes.
In a small bowl, mix fluke, fresh cucumber, salt, sugar, lime juice, and olive oil. Let sit for two minutes, then add brined cucumbers.
Once the avocado purée bowl is chilled, place ceviche mixture in the center of the bowl and top with pickled Fresnos peppers.
Pour cucumber broth in the bowl until it covers the ceviche one-quarter of the way up.
Cucumber Broth
Ingredients:
100 g cucumber juice
10 g ginger juice
8 g jalapeño juice
8 g agave nectar
2 g lime juice
2 g salt
Method:
Juice and weigh each ingredient separately.
Whisk together in a small bowl until salt has dissolved.
Pickled Fresno Peppers
Ingredients:
4 Fresno peppers, sliced and deseeded
.25 cup Champagne vinegar
.25 cup white wine
.25 cup water
2 tbsp sugar
Method:
Put all liquids in a small pot.
Whisk sugar into liquids as you bring to a boil.
Take off heat and then cool.
Once cold, pour over sliced peppers and leave to pickle overnight.
Brined Cucumbers
Ingredients:
1 English cucumber; peeled, deseeded, and quartered
700 g water
35 g salt
30 g ginger, thinly sliced
20 g whey
Garlic cloves to preference
Method:
In a small bowl, place water, whey, and salt together. Whisk in salt until dissolved.
Place vegetables in a container with a weight on top of them, cover with brining liquid, and let sit in a dark, cool place for 1 week.
Avocado Purée
Ingredients:
538 g ripe avocado
12 g lime juice
10 g salt
Zest from 2 limes
Method:
Place all ingredients in a food processor and purée until smooth.
Editors' Recommendations