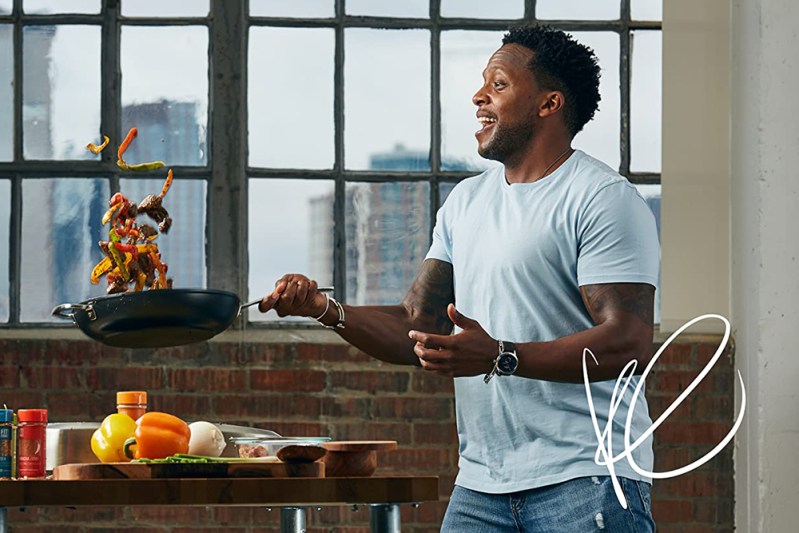 You might recognize him from his contagious pearly white smile, charismatic laugh, and most notably, his deliciously healthy dishes that go viral on the internet. Most of the world knows Kevin Curry as @FitMenCook on Instagram and Youtube. The social media veteran has 1.6 million followers and 563,000 subscribers on YouTube, and he's now giving his audience more of what they ask for. He teamed up with Amazon to launch a storefront, where he houses all of his favorite kitchen gadgets, pantry finds, fitness gear, and separately, his own brand, The Fit Cook.
Influencers are looked at as brands these days so it's only natural that his internet fame evolved into launching tangible products of his own. The @FitMenCook brand is all about making a healthy lifestyle enjoyable. "My brand is helping people live a healthier, happier, and tastier life," Curry tells The Manual. "All my stuff is designed to help people navigate wellness when it comes to food and what you're putting into your body."
The first product in The Fit Cook line is a series of gluten- and grain-free, vegan, and keto-friendly spices. From his Everyday Base Blend to his Land and Sea focused bottles, he is filling the space of health-driven seasonings that actually taste great. If you're a hot sauce fan, then you'll love the Sriracha(ish) and if you like a combo of zest and heat then be sure to try the Green Chile Lime (we heard this one tastes like Cool Ranch Doritos).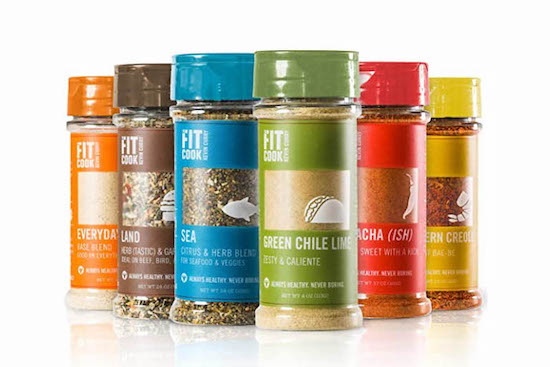 "I created these spices to show people how to flavor food because I don't think flavorful food and having to be healthy are mutually exclusive," curry says. The wellness industry gets a bad rep for poor flavor and Kevin Curry is here to bridge that gap. It might not be the woo woo Goop level of wellness, but a more attainable one for your average football-loving, beer-drinking bro. On November 15, he is launching wellness teas to further bridge that gap.
Aside from The Fit Cook store, Curry has his own influencer page where he recommends his favorite tools and gadgets from brands he knows and loves. They are all tried and true, as seen in his cooking videos, which adds another level of trust when you make the purchase because you can see it in action.
One thing the social media influencer-turned-entrepreneur emphasizes is his love for supporting small businesses on his Amazon Influencer page. "Amazon has these amazing small brands out there … and I understand they are business owners just like me, wanting a chance." He commends the shopping conglomerate for giving a variety of brands a platform to grow, expand, and gain exposure. "It's been different being a social media influencer [than it is now as a business owner] because I am building my own brand, which I've been so emboldened to do. And now, whenever I can, I am buying into small businesses because I know how it feels firsthand."
You can shop and subscribe to Kevin Curry's FitMenCook picks on his influencer page along with his "The Fit Cook" store where you'll find his spices and wellness tea launching November 15.
Editors' Recommendations