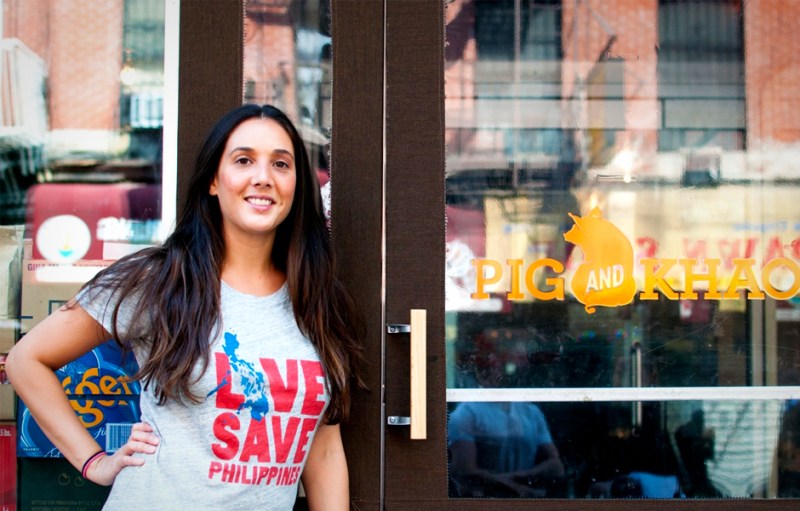 It's tough being a chef in New York City. It's even tougher being a female chef who is trying to bring Filipino food to a metropolis filled with dining options. However, that is what Leah Cohen is doing at Pig & Khao, her Lower East Side restaurant, with great success.
Chef Cohen, a Top Chef Season Five alumnus and half-Filipino, opened Pig & Khao in 2012 and has seen her restaurant slowly gain in popularity ever since—last month was her busiest to date. Graciously, she took time out to sit with The Manual at the dining bar beside one of the cooking stations in Pig & Khao to walk us through the basics of Filipino cuisine, which many would say is currently having its culinary moment.
The Flavors:
It can be daunting for the cautious eater to look at a menu with items such as Grilled Pork Jowl and Sizzling Sisig (pork head) and dive right in. But Chef Cohen explained that the majority of the Filipino flavor palette centers around vinegar (specifically coconut), soy sauce, garlic, black pepper and bay leaves—all simple, but highly flavorful and effective ingredients.
The Appetizer:
We started off with an appetizer of Chicharron—cooked pork skin, which is then dehydrated, dried, topped with five spices and a dipping sauce of straight coconut vinegar. Anyone familiar with the snack food staple pork rinds will notice the visual similarity immediately—but this is high-grade stuff, a snack that is surprisingly light and packed with flavor.
The Small Plates:
Next, Chef Cohen brought out a serving of Pork Belly Adobo, which is a Filipino staple. Nobody hates pork belly, but when it is braised with soy sauce and vinegar and seasoned with Szechuan peppercorns and crispy garlic it's irresistible. It's equally hard not to fill up on perfectly cooked jasmine rice topped with the broth the pork belly is served in.
After that, we steadied ourselves for an order of Sizzling Sisig—the much talked about pork head dish. If you hadn't noticed, pork is a big deal in the Filipino kitchen. While the Filipino's do use a healthy dose of chicken and to a lesser extent goat and beef, pork is their go-to meat. The Sising is served very hot and topped with an egg that cooks in the flatiron skillet in front of you. The entire effect is so intoxicating that after you have your last bite, you'll already be thinking about the next opportunity to order head meat.
The Main Course(s):
If you thought our excursion into Filipino foods ended there, you were wrong (did I mention that Chef Cohen is extraordinarily generous?). We were soon sampling large plates of Crispy Pata (fried pork leg) and Chicken Inasal. The Crispy Pata is rich, satisfying and served with two dipping sauces: a soy-chili sauce and a homemade pork-liver sauce. Trust us, no matter how you feel about offal, you are going to love the second one.
The Chicken Inasal was possibly the best dish of the night. Traditionally, it is served as a Filipino street food that is either roasted or grilled. Chef Cohen puts her own spin on the dish by grilling the chicken and then frying it. Filipino's love to fry their food. Why? "Because its fast," said one of the Filipino members of the staff. "And who doesn't like fried food?" added Chef Cohen. And she's right. We still can't figure out how Filipino's are so slim.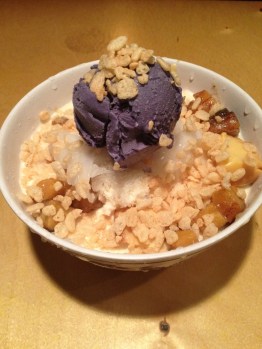 The Dessert:
For desert (yes, we piled it on), there was Turon and Halo-Halo. Turon is another Filipino street food specialty—a fried banana fritter. At Pig & Khao, though, it comes with salted caramel ice cream and chocolate sauce. For the parents out there, when it comes to this dessert, all we can do is quote Marty McFly and say, "trust us, you're kids are going to love it."
Halo-Halo, meanwhile, translates to, "mix-mix." In the Philippines, that means anything is in play—even sweet corn and sweet beans. However, Chef Cohen keeps her Halo-Halo simple. The dish is served in a bowl with a bottom layer of shaved ice that is layered with leche flan, ube (purple yam) ice cream, macapuno (coconut meat), and piniping (crispy rice). It all adds up to a dessert that surprises you with a different texture and taste with each bite. Many of Chef Cohen's patrons are already addicted.
If Filipino cuisine is indeed having its "culinary moment," then it's due to chefs like Leah Cohen and restaurants like Pig & Khao. And with dishes this good, the next time you find yourself deciding what to eat, perhaps it's time to do yourself a favor and go the Filipino route.
Editors' Recommendations