Feasting is our column dedicated to cooking, grilling, eating and discovering what's on the menu across America and the world.
We love a good tapas spread because you get to sample a little bit of everything on a restaurant's menu. But there's also something to be said for creating this meal format at home for your own dinner party. To learn how the pros do it right, we paid Chef Andrés Grundy a visit at his traditional Spanish restaurant Arriba in NYC's Hôtel Americano.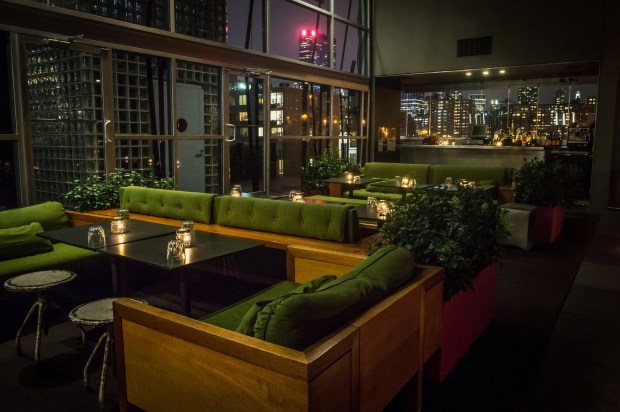 Chef Grundy has a ton of notable experience under his belt having worked for Michelin-starred restaurants in both America and Europe. Now he oversees all of the culinary outlets Hôtel Americano has to offer from The Americano — serving French fare with a Latin flair — to the rooftop tapas and tequila concept Arriba. The beautiful space has one of the best views in the city and serves traditional Spanish dishes of which we couldn't get enough.
Because we loved Arriba so much, we had to ask Chef Grundy how to perfect the tapas experience at home. Check out his advice for getting the spread right and a delicious recipe for croquetas de jamon.
When preparing a tapas spread, how many dishes should you serve per person?
I would say between two to three tapas per person, depending how hungry everyone is.
Do you have a personal "formula" for creating the perfect spread?
I like to start with cold tapas high in acidity (boquerones/guindillas peppers), move into carbs (patatas bravas/pan con tomat) and finish with heavier meaty and fried items.
What is your personal favorite tapas dish? What is the most popular dish guests order at Arriba?
Pan con tomat with a some jamón ibérico is my go-to. No competition, we move a lot of croquetas in any flavor, though croquetas made with Serrano ham are pretty nice.
Related: Feasting: How to Construct the Perfect Raw Bar
Do you ever venture from traditional Spanish dishes when coming up with new tapas?
All the time. I try to keep a traditional base and use new ingredients that match.
What beverages do you recommend to pair with a great tapas spread?
Wine, I feel, fits best. My favorite is txakoli, a white wine that becomes effervescent with a long pour.
Do you have any recipes you can share with our readers to help them create the tapas experience at home?
Like I mentioned, our Croquetas de jamon are a top seller, so I'm happy to share our recipe.
Croquetas de Jamon
Mix
200g Serrano ham, very small dice
120g butter
80g extra virgin olive oil
120g all-purpose flour
1000ml whole milk
Pinch Nutmeg
1/4 onion, small dice
Salt and pepper to taste
Breading
4 eggs
150g Panko
50g Manchego grated on a microplane
Method
– In a pot, sweat onions with oil and butter. Add spices and cook until translucent.
– Add flour and cook to form a dough.
– Add milk and jamon. Cook until liquid is thick and drips slowly from a spoon.
– Place on a tray and allow to cool completely.
– Set up a basic breading station with cheese and panko mixed together. Spoon cooled mixture into flour/egg/panko. Shape into balls and fry at 350F until crispy.
To learn more about Arriba and view the menu, visit hotel-americano.com.
Editors' Recommendations