Just because it's summer, it doesn't mean that the only thing you, as a man, are allowed to drink are ice-cold brewskis as the sun beats down on your rapidly-reddening neck and shoulders. Sometimes, even a frosty mug of a 70 IBU IPA isn't going to do it for you. Sometimes, you need to step your cocktail game up a bit and get creative. You need to get a little citrusy and a little sweet.
Summer is one of the best times to flex your mixology muscles. With so many great fruits and other ingredients available, there's literally no reason to not incorporate them into your cocktails.
Related: Clyde May's and People's Pops Bring You Whiskey Pops
Check out these manly cocktails below for great ways to get your booze on with some new takes on classic summer drinks. Pink umbrellas optional (but encouraged, because as we all know, real men wear pink. Except in this case, real men drink pink.)
If you're still not convinced that you need to break out of your beery rut, remember that not even Don Draper always drank the same thing.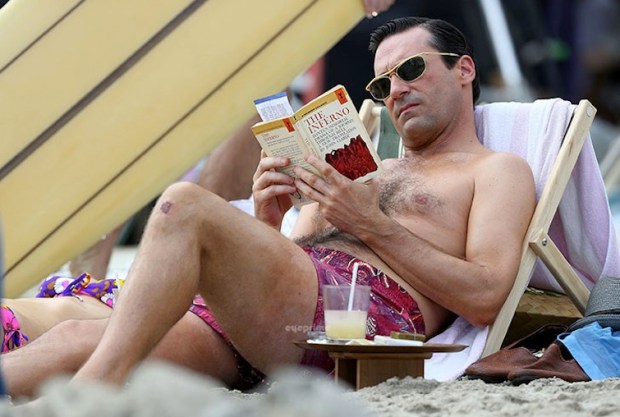 Champagne Sorbet Float
1 scoop raspberry sorbet or 1 scoop lemon sorbet
2 or 3 blueberries
Add raspberry or lemon sorbet to a chilled champagne flute and fill with MARTINI® Asti. Garnish with blueberries.
Prairie Organic Grapefruit Fizz
1 ½ oz Prairie Organic Gin
1 oz honey syrup
1 oz fresh squeezed ruby red grapefruit juice
1 large egg white
1 small wedge of grapefruit
Combine all ingredients in a shaker filled with ice; shake vigorously one minute or until cocktail is nice and frothy. Strain into a glass filled with ice and garnish with grapefruit wedge.
JBF Bramble
.75oz lemon juice
.75oz simple syrup
.75oz of blackberry purée
Shake all ingredients vigorously with plenty ice, strain into a highball glass, drizzle blackberry purée on top. Garnish with a blackberry skewer & basil leaf.
Bloodhound Shake
(Specially created by Allison Kave, Butter & Scotch, Brooklyn, NYC)
1 ounce Caorunn Gin
1/2 ounce sweet vermouth
1/2 ounce dry vermouth
2 scoops vanilla ice cream
1 scoop strawberry ice cream
Combine all ingredients in a blender until blended. Pour into a parfait or pint glass. Top with whipped cream and a slice of fresh strawberry.
Editors' Recommendations