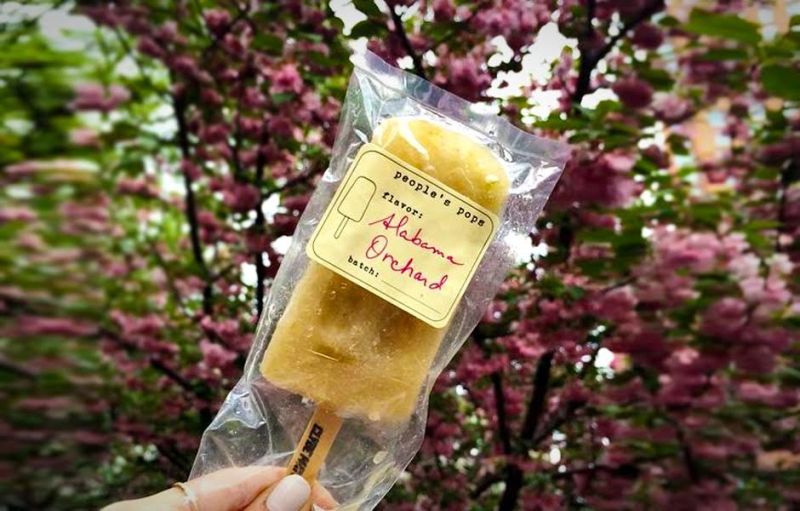 We're just a few weeks away from the official first day of summer, but hot temperatures have already had us reaching for an ice cream cone at lunch break just to stay cool. While everybody loves a little bit of soft serve, we've got a new frozen dessert for you to enjoy this summer—whiskey pops.
Clyde May's Whiskey (a favorite among those of us at The Manual) has teamed up with New York based People's Pops to create a line of whiskey infused ice pops to help you beat the heat. Clyde May's is known for their old school Alabama whiskey—with a touch of apple and cinnamon flavor in each batch; while People's Pops have made a name for themselves by taking local, sustainably grown produce and turning them into a variety of creative frozen desserts.
RELATED: Clyde May's Alabama Whiskey
This fruitful marriage (sorry, pun intended), features flavors such as Granny Smith Apple with Five Spice, Blackberry Rhubarb with Ginger, Plum Hibiscus with Bitters and Alabama Mule Pops, which features a mix of rhubarb, blackberries, ginger angostura bitters and, of course, Clyde May's whiskey.
We've got the Alabama Mule Pop recipe for you below, so you can pick up a bottle of whiskey and try your hand at making some whiskey pops. It's bound take all of your summer barbecues to the next level.
Alabama Mule Pops
Recipe by People's Pops, New York City
Ingredients
11 ounces or about ¾ pound fresh rhubarb
1.5 cups (6.5 ounces) fresh blackberries
12 grams fresh chopped ginger
½ cup organic sugar
4 fl oz. water
2 dashes of Angostura bitters
3 fl oz. Clyde May's Whiskey
Directions
Combine sugar, water and ginger in saucepan. Gently heat while stirring until sugar completely dissolves. Remove from heat and steep for at least one hour, then strain ginger from syrup. You should have about 7 fluid ounces of syrup.
Rinse rhubarb and chop into 1-inch pieces, discarding the tough or dried out ends. Place into small pan along with just enough water to prevent rhubarb from burning (about a quarter inch) and stir until the rhubarb becomes a soupy consistency (about ten minutes). Allow to completely cool. Ideally, you'll have 12 fluid ounces of rhubarb puree.
Rinse and gently pat dry blackberries, then puree. Should come out to about 4 fluid ounces of blackberry puree.
Combine cooled rhubarb, cooled ginger syrup, blackberry puree, Clyde May's Whiskey and a couple dashes of bitters. The mixture should be sweetly tart with that classic Clyde May's kick.
Pour into molds, add sticks and freeze until solid, 4 to 6 hours. Unmold and transfer to plastic bags for storage or serve at once.
Editors' Recommendations