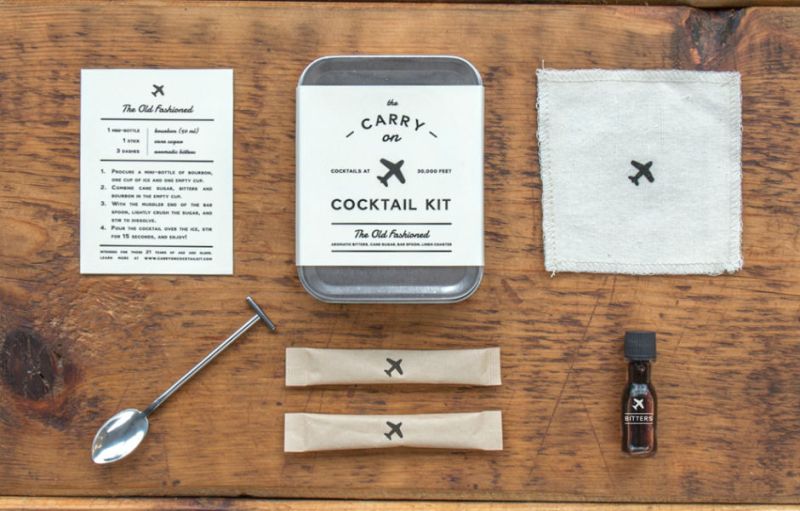 I don't know about you, but when I fly, sometimes I crave an actual cocktail. Not like a Bloody Mary that's actually a mini bottle of vodka with Bloody Mary mixer, or rum and coke, or a whiskey and ginger ale, but a real cocktail comprised of more than just a spirit and a mixer. That's what the folks at W&P Design and Punch were thinking when they came up with the Carry On Cocktail Kit.
"We felt there needed to be more options on a plane for a good drink," said Eric Prum, a cofounder of W&P Design. "We thought people would really like the idea of a making a cocktail on a plane, so we set about creating a product with the tools and components of a classic — The Old Fashioned."
So, they packaged a recipe card, spoon/muddler, a tiny bottle of aromatic bitters, cane sugar and a linen coaster into a convenient carry-on tin. They decided on the Old Fashioned because, says Prum, "it is familiar, and delicious. It is a great entry cocktail for a budding enthusiast, and bourbon can be readily found on many airplanes." No need to worry about whether you'll make it through the daunting TSA line. It will pass through with flying colors!
Prum said he recently took the Carry On Cocktail Kit with him on a recent flight and that it got the attention of the flight attendants. "They have been extremely interested and entertained by the notion of the Carry On," he said. "We literally just flew from NYC to Detroit and the attendants loved it!"
And in case you're wondering, Prum says they plan to roll out with more varieties of the Carry On Cocktail Kit next year.
For more information, visit carryoncocktailkit.com.
Editors' Recommendations